America Coast To Coast Motorcycle Ride
We are the USA Coast To Coast Motorcycle Tour & Rental experts. Whether you want to ride an incredible guided tour, or hire a bike and create your own adventure, we'll help you make it happen. Contact us!
The first time I rode a motorcycle across America, it was a miserable experience, and it was all my fault.
I had a shiny brand new BMW K1200LT, with a 6 CD changer. I had a Garmin GPS, Leatherman multi tool, a Co2 puncture kit, an iPod, 3 novels, and a huge assortment of other gadgets, brand new in the wrapping. If I encountered mechanical issues, got lost, got hurt or got bored, I was covered. I didn't forget to bring anything.
Except time.
I had to meet Tim in Las Vegas, for our first Laguna MotoGP run in 2005. Instead of taking a plane and then picking up a bike (like Tim and all the customers), I decided to ride out to Vegas from New York. I gave myself eight days – not a ton of time, but I figured I'd burn out the miles between New York and Arizona, get there fast because that's where the good riding starts, pick up Route 66. I left Smithtown, Long Island at 5:30 am on a Saturday, and hit Tucumcari, New Mexico on Monday night at 9:30pm. I was ahead of schedule, having travelled roughly 2,000 miles in less than three days.
Of course, I didn't really see a damned thing in those three days except a dozen gas stations. This being late June, the temperatures were scorching, especially thru Oklahoma and Texas. I put my helmet in the outdoor ice chests while I filled up to cool my noggin. I drank 5 liters of water a day, but never peed. The soot from truck exhausts hung as filthy mascara in my eyes. By the time I got to Tucumcari, I looked like a character in Apocalypse Now, wandering insane thru the jungle and mumbling "the horror, the horror…..".
Meanwhile, the various gadgets I had tucked into my bags stayed unopened in their plastic wrapping. I didn't listen to music because the wind noise at 80 mph drowned out the CD player. The only things that came out of the bags were the USA map, and my paperbacks, which I left wherever I finished reading them (I'll bet Raymond Chandler never thought he'd be left on a Denny's counter in Oklahoma).
And my theory about getting to Arizona quick, so I could enjoy the great riding and scenery there? Well, I was so fried that when I did see the Grand Canyon, Sedona and Route 66, I wasn't really "there". I simply hadn't given myself enough time to really enjoy the ride. Usually, I follow my instincts when I'm touring on a motorcycle. I'll detour up a dead-end road that looks interesting, stop for BBQ in a small town, go to weird little museums – but I was doing none of that on this trip, all because I hadn't given myself enough time. If you plan to cross the US in a week, rest assured you aren't going to see anything except a bunch of gas stations and fast food restaurants.
I arrived in Vegas on Wednesday, five days after I left New York. Luckily, our tour to the MotoGP races at Laguna Seca was spread out over two weeks, a pace that allowed everyone to enjoy the ride. I had originally planned to ride back to NY after the races, gave myself a week to do it. I ended up shipping my bike home ($800) and getting a one way flight to NY ($350), which was much cheaper than 7 days of lodging, fuel and food. When they were loading the BMW on the shipping truck, I thought "I've never been so happy to give my bike to a stranger."
So what did I learn from my first cross country motorcycle trip?
1) Give yourself plenty of time to enjoy the ride. The cliche "the journey is the destination" is never more true than when you decide to ride a motorcycle across America. Two weeks is the minimum and ideally you'll want three if you're doing a true coast to coast ride.
2) Bring a good map, a good book, and clean underwear: leave everything else at home, you don't need it. Actually, forget the underwear, just stop into a Target or Wal-Mart store when the pair you're wearing gets funky. They're scattered all across America (Wal-Mart and Target, not your dirty underwear).
3) Think about getting back home – do you really want to do a round trip? Renting a bike on one coast and returning it on the other is really the way to go. After riding 3-4,000 miles (depending on your route) you'll probably be quite happy to give the bike back.
4) Interstates = fast food = bad. Backroads = small town diners = good.
5) Lastly, ride with friends. On this trip I rode solo from NY to Vegas, and although I engaged in some fascinating coffee talk with truck stop waitresses (boy, that's some fancy helmet you got there), I didn't laugh much. Long, solitary days in the saddle lead to deep thought, and the enormity of America can make you feel inconsequential. You'll run the risk of a hangover or three riding with friends, but you'll have a much better time.
Hope you've found these thoughts and tips useful, comments are welcome below.
So if you're interested in an America Coast To Coast Motorcycle Ride, contact us!  We can sort you a hire bike, suggest route and places of interest, suggest what gear to bring and what to leave at home.
Ride safe!
Jim & Tim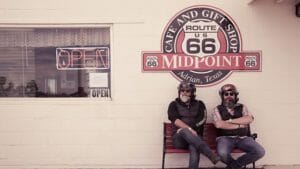 The Hairy Bikers - love them or hate them they certainly know how to plan a good road ...