America Coast to Coast Motorcycle Tour Photos
On June 23, 2011, we departed Boston Massachusetts and the Atlantic Ocean, headed for The Pacific. Ten bikes were on the journey, with riders from the United Kingdom, Australia and the United States. The tour finished in San Francisco, 4,200 miles later. We developed and ran this trip for EagleRider, the world's largest motorcycle tourism company.
We got to see the USA up close, in a way that few Americans rarely experience. Big cities, one horse towns, mountains and deserts were all a part of it. And along the way, we met dozens of wonderful people.
You can see photos from the trip in our Flickr gallery, located here.
We'll be posting about the places we saw in the coming months. If you have any questions about our USA Coast To Coast motorcycle journey, please feel free to post a comment on this page.
If you're interested in going Coast To Coast with us, or are planning your own trip and would like to get a quote on a rental or self guided tour, please contact us here.
America Coast to Coast Motorcycle Tour Photos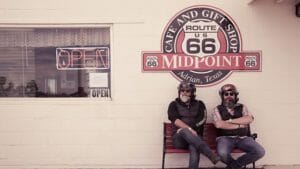 The Hairy Bikers - love them or hate them they certainly know how to plan a good road ...