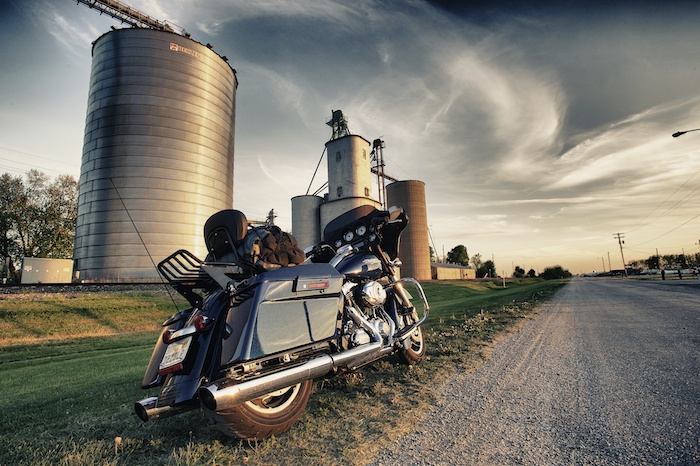 Touring in America: Choosing The Right Bike. If you live outside North America and are planning a motorcycle tour of the USA, you've got a bunch of options to consider – where to go, what to see, what to pack, and what to ride. We'll deal with that last question in this post.
American roads are quite different than those in Europe. From a motorcycle seat, the USA is a lot bigger than it appears on a map, and there can often be hours of riding straight roads before you get to the good, twisty stuff. Unfortunately, the speed limits in America are fairly low, usually a maximum of 70 mph even on A roads and unpopulated areas like the desert (and sometimes less). If you typically ride a sportbike at home, or even a sport tourer like a Honda Pan European, your natural inclination would be to rent something similar. However, in America these bikes are not the best tools for long distance touring – a Harley, or a big touring bike like a Gold Wing or BMW 1200RT is what you need.
Harleys were built for the open roads of the USA, and the stereotypes about them are largely true – they don't handle, stop, or go as well as a Japanese or European sport touring bike. But strangely, that's a good thing! Things happen slower on a Harley, which means you enjoy the scenery, become one with the bike and relax. The slow potato-potato cadence of the Harley's v-twin just feels better than a multi-cylinder bike, which shows much higher revs than a Harley at the same speeds. At 70mph, a six speed H-D will be showing around 2500 rpm on the clock, and this is less fatiguing to the rider. This will pay huge benefits over long days or weeks on the road. You won't be going 120 mph on a Route 66 tour, that's for sure!
So, if you've decided to rent a Harley Davidson for your motorcycle tour of America, which model should you choose?  We suggest keeping it simple: choose one of Harley's touring models, such as a Road King, an Electra Glide, Road Glide, Street Glide, or a Heritage Softail Classic.The touring models (with the exception of the Heritage Softtail Classic) all feature rubber mounted motors, floorboards, and the classic Harley Davidson touring frame, which provides superb road feel.
Our favorite bike for touring in America is the HD Road King. The Road King has a low center of gravity, and great handling even at parking lot speeds. We've enjoyed some very spirited rides on twisty mountain roads while on Road Kings. Pillion comfort is good, with floorboards for the passenger and a backrest. The detachable screen provides decent weather and wind protection but overall, the Road King has a very "open" feel. We prefer the standard version of the Road King to the "Classic", because the classic features spoked wheels with tubes that are more susceptible to puncture.
If you're taking a passenger, the Electra Glide has an added topcase for superb luggage capacity and the best pillion comfort of any bike, bar none. We've had Electra Glide pillions tell us that they took a nap during a long ride! While we don't recommend taking a nap while riding, the E-Glide's 3/4 topcase backrest is quite like an easy chair for pillions. Long days in the saddle will be much easier on passengers if you choose the Electra Glide. The "bat wing" fairing of the Electra Glide provides superb wind and weather protection as well.
The Heritage Softail Classic is a bit different: it uses a softail frame and a counterbalanced motor, which means the big v-twin is bolted directly to the frame without the rubber isolation mounts of the Touring models above. This provides a more "raw" riding feel, which some people prefer. These bike also feel a bit faster, a bit more "hot rod". The Heritage has a detachable windshield that provides decent wind and weather protection, and the pillion seating is good: there's a fixed backrest on EagleRider rental bikes that gives great lower back support. The Heritage also can have tubed tires if it features laced wheels, making it more susceptible to punctures.
We also quite like the Honda Goldwing GL1800, and the BMW 1200RT, which are available for hire at select EagleRider locations. These bikes have a lighter feel than most Harleys, better acceleration, handling and brakes. But that doesn't necessarily mean they're more fun, or a better tool for the job, just different.
We are an official EagleRider Tour Operator. As guides, we can choose any motorcycle we want from the rental fleet – and we almost always choose one of Harley's touring models. Of course, it's your holiday, we'll help you sort the bike that works best for you. Contact us!
Hope you found this helpful!
Cheers,
Tim & Jim
Motorcycle Touring in America: Choosing The Right Bike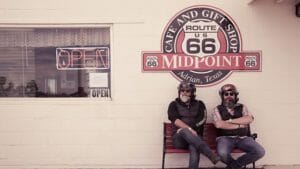 The Hairy Bikers - love them or hate them they certainly know how to plan a good road ...