Self Guided Motorcyle Tours:
Southwest Summer Special Tour
• 16 Days / 15 Nights
• Distance: 2624 Miles / 4228 Kilometers
• Seasons: Summer
• Temperature: 60° to 120° F / 16° to 49° C
Pricing: (exchange rates fluctuate daily, contact us for the best current price) 
1 Rider/1 Bike/Single Room: £3585 GBP /$5450 USD
1 Rider/1 Bike/Shared Room: £2598 GBP /$3950 USD
1 Rider & Pillion/1 Bike/Shared Room: £3782 GBP /$5750 USD
Special Pricing Valid Between June 1st and 31st Only:
1 Rider/1 Bike/Single Room: £2697 GBP /$4100 USD
1 Rider/1 Bike/Shared Room: £1875 GBP / /$2850 USD
1 Rider & Pillion/1 Bike/Shared Room: £2894 GBP /$4400 USD
(Note: this self guided tour is also available in split portions – an 8 day L.A. to Vegas route, or 9 day Vegas/San Francisco/Los Angeles route. Contact us for details and pricing on these shorter versions.) 
Want to see the what the Wild West has to offer, but Guided Tours aren't your thing? The Southwest Summer Special Self Guided Tour through California, Arizona, Nevada and Utah is a self guided journey through the best of the Wild West! Solitary deserts, vibrant cities, deep canyons and high mountains – this Self Guided motorcycle tour has everything. You will see all the attractions of the South-West during this 16 day adventure: Grand Canyon, Bryce Canyon, Monument Valley, Death Valley, Yosemite, Los Angeles, Las Vegas and San Francisco. In between over two thousand miles of fantastic roads and breathtaking scenery and just before the finish line the ineffable beauty of the California coast line on Highway 1 through Big Sur. Choose the dates that work for you – we recommend any time between mid-May and mid-October. Convenient bike pickup at EagleRider's HQ, located minutes from Los Angeles Airport (LAX).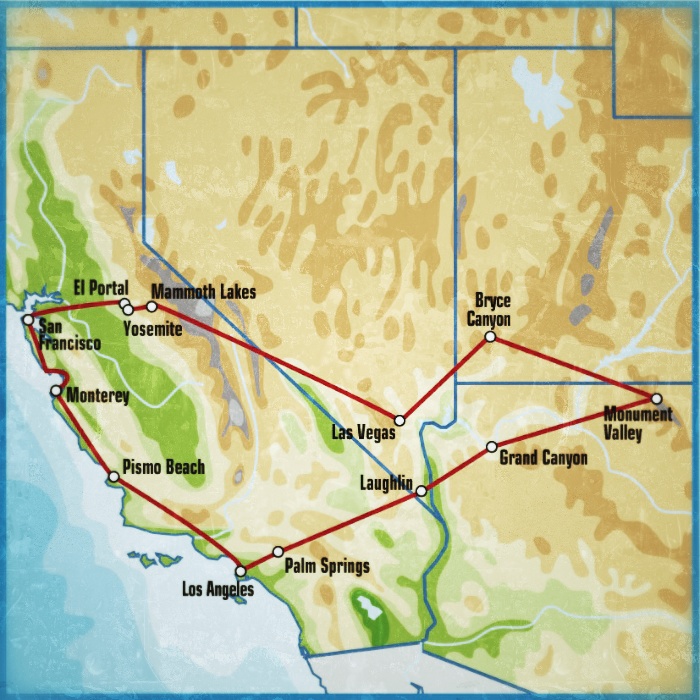 Southwest Summer Special Self Guided Tour Itinerary:
Day 1: Los Angeles Arrival Miles: 1 Kilometers: 2
Arrive at Los Angeles International Airport and transfer to your hotel. Overnight.
Day 2: Los Angeles – Palm Springs Miles: 190 Kilometers: 306
This morning you pick up your bike at EagleRider's Los Angeles store and head south through the winding mountain road down to Lake Elsinore. You soar like an eagle through the roads of San Bernardino National Forest and further into Palm Springs, where spend the night.
Day 3: Palm Springs – Laughlin Miles: 232 Kilometers: 374
Take a loop through Joshua Tree National Park, and enjoy the amazing colors and fantastic rock formations! At Twentynine Palms your trip gets legendary appeal, as you enter Historic Route 66 in Amboy, your road all the way up towards Laughlin. Cross the state line into Nevada and arrive in Laughlin, where you overnight.
Day 4: Laughlin – Williams Miles: 185 Kilometers: 298
Your ride continues on legendary Route 66 into Arizona, stop for wild animals in Oatman and ride further on to Kingman, which is considered to be "The heart of Historic Route 66", as it's situated in the middle of the longest remaining stretch of the old "Mother Road". From Kingman you head for Seligman, another one of those longest surviving stretches of Route 66, which heads off in a northern loop through the Hualapai Indian Reservation. Make a stop at the famous "Snowcap" in Seligman and continue to Williams, which will be your stop for the night.
Day 5: Williams – Monument Valley (Mexican Hat) Miles: 270 Kilometers: 435
This morning you should rise very early as you are in for the majestic Grand Canyon; be prepared for one of the greatest sights man has ever seen! Spend the morning at the Grand Canyon to get some fantastic views and perhaps catch one of the first helicopter flights over the Canyon. Cruise along the South Rim for a few miles and leave Grand Canyon National Park at the East entrance. Now it's off to the incredible Monument Valley. You are travelling through Navajo Country here. The classic Wild West landscape of stark sandstone buttes and forbidding pinnacles of rock, poking from an endless expanse of drifting red sands, has an archetypal image. Only when you arrive at Monument Valley you will come to realize how much your perception of the West has in fact been shaped by this one spot. Such scenery does exist elsewhere, of course, but nowhere is it so perfectly distilled. Ride over to Mexican Hat, where you overnight.
Day 6: Monument Valley (Mexican Hat) – Bryce Canyon Miles: 300 Kilometers: 483
From sleepy Mexican Hat, briefly a frenzied gold-mining camp, continue to the Valley of the Gods, where much of the movie "Thelma and Louise" was filmed, and cross the Colorado River where it pours into Lake Powell. Lake Powell has 1960 miles of shoreline, which is more than the entire Pacific Coast and 96 water-filled side canyons. Ride along the southern tip of Capitol Reef National Park, on to Glen Canyon National Recreation Area and roar on up to the Devil's Backbone through the Escalante Wilderness en route to Bryce Canyon, where you overnight.
Day 7: Bryce Canyon – Las Vegas Miles: 250 Kilometers: 403
This morning take time to visit the amazing Bryce Canyon before you continue to Zion National Park. Besides seeing the most beautiful rock formations found anywhere on earth, you are in for a most challenging ride here – the switchbacks of Zion! Compared to Yosemite and the Grand Canyon, Zion exudes a stronger sense of nature. From Zion it is only a short ride into the neon and gambling oasis of Las Vegas. Overnight.
Day 8: Las Vegas Miles: 1 Kilometers: 2
This day is for relaxing, gambling, exploring or whatever your heart desires. Keep in mind you will have an early start on the following day!
Day 9: Las Vegas – Mammoth Lakes Miles: 315 Kilometers: 507
You are leaving Las Vegas and head west – across Death Valley – the hottest place on earth! It's almost entirely devoid of shade and its sculpted rock layers form deeply shadowed, eroded crevices at the foot of sharply silhouetted hills, their exotic mineral content turning ancient mudflats into rainbows of sunlit iridescence. After riding a series of mountain curves, you've fallen hundreds of feet below sea level and find yourself right in the basin of Death Valley. Continue west and ride along Sequoia National Park up to Mammoth Lakes, a place that is famous for skiing in the winter and mountain biking in summer. Overnight.
Day 10: Mammoth Lakes – Yosemite (Coarsegold) Miles: 160 Kilometers: 258
Leaving Mammoth Lakes continue a little further north and then enter the infamous Tioga Pass to cross Yosemite National Park. You push your Harley through the winding granite canyons…muscle flexing turns are rampant for the first several miles, and the road demands attention as you enter the mother of the mother of all National Parks. Yosemite conjures up thousands of images and raises expectations to dizzying heights and when you are there it is just as beautiful, wild, tame, rich, and sublime as you'd expect. You overnight at the West Entrance of the park.
Day 11: Yosemite (Coarsegold) – San Francisco Miles: 220 Kilometers: 354
The morning sun's rays cast a golden shimmer on the meadows and you ride along Yosemite National Park for a while and then head west towards San Francisco. You cross San Rafael Bridge, which will take you into Marin County, an unabashed introduction to Californian self-indulgence: a pleasure zone of conspicuous luxury and abundant natural beauty, with sunshine, sandy beaches, high mountains, and thick redwood forests, often ranked the wealthiest county in the US. Ride south to pretty, smug little Sausalito, a quaint seaside town, once a hotspot for drunken sailors, bawdy saloons, today a very refined place that makes you feel like being at the Cote d'Azur. Cross the Golden Gate Bridge and arrive in San Francisco, your stop for the next two nights.
Day 12: San Francisco Miles: 1 Kilometers: 2
This day is at leisure to enjoy the beautiful city of San Francisco, a funky, individualistic, surprisingly small place – certainly the most liberal city in the US. San Francisco has a European flair and lots of opportunities to do some sightseeing. How about a trip to Alcatraz, a Bay Cruise, Cable Car rides, or a Napa Valley wine tour?
Day 13: San Francisco – Monterey Miles: 118 Kilometers: 190
Today you ride along the rugged coast and get a first taste of one of the best motorcycle rides in the world, as you head down south on legendary PCH (Hwy 1) along the Pacific Ocean. Breathtaking views of the coves and inlets of the Pacific are yours en route to Monterey. Monterey is home to the world famous Laguna Seca Automobile and Motorcycle Racetrack and the spectacular "Aquarium of the Sea. The coastline here is simply spectacular and there are plenty of opportunities for great photo stops. You overnight in Monterey.
Day 14: Monterey – Morro Bay Miles: 130 Kilometers: 209
Your journey continues on scenic Hwy 1, along the edge of the cliffs of the Big Sur Coast – 90 wild and undeveloped miles of rocky cliffs form a sublime landscape where redwood groves line river canyons and the Santa Lucia Mountains rise out of the blue-green Pacific. Roughly midway along the Big Sur Coast you come to Esalen, which is named for the long gone native tribes who once enjoyed its natural hot spring, situated on a cliff top high above the raging Pacific surf. Cruise past San Simeon, Cambria and into Morro Bay where you stay for the night.
Day 15: Morro Bay – Los Angeles Miles: 250 Kilometers: 403
Take Hwy 101 and head towards Los Angeles. At Santa Maria you cut inland to enjoy the great back roads and scenery there. In Santa Barbara we recommend a stop at the pier before cruising straight into Malibu, the infamous beach colony. Twenty miles from here you will come to Santa Monica and Venice. Santa Monica is LA's oldest and biggest resort – once a wild beachfront playground, it's now a self-consciously liberal and healthy community. Venice Beach is probably the reason why most people come to Venice – nowhere else does LA parade itself quite so openly as along the wide pathway of Venice Boardwalk. From here you ride over to Hawthorne, where EagleRider's headquarters are located. Now it's time to return your motorcycle and transfer to your hotel. Overnight.
Day 16: Los Angeles Departure Miles: 1 Kilometers: 2
Today your tour will come to an end with your departure flight back home. Of course, you can always choose to add a few day's bike hire and explore the Los Angeles area too!