Should I bring my own helmet when I hire from EagleRider?
The question we get asked by customers more than any other, whether they are doing a guided tour or hiring a bike is:
"Will EagleRider provide a helmet for me, or should I bring my own?"
And we always give the same answer: "Yes, and yes."
We're not trying to be cheeky, quite the contrary. But "yes and yes" is the correct answer. Every EagleRider location has a selection of helmets of various sizes for men and women that are provided as part of your motorcycle rental (or tour). As you can see in the photo above, there usually are quite a few to choose from, so if you don't bring your own, EagleRider will provide you with one (in fact, in most cases helmets are required by law, and the motorcycle insurance covering your rental requires that a helmet is worn at all times when riding). So yes, EagleRider will provide you with a helmet if you need one.
But take a close look at the photo of the helmets at the top of the page, taken in EagleRider San Francisco. All the helmets are "shorties", which cover only the top 1/4 of your head. These helmets are street legal, meeting the require minimum safety requirements. That's where the second "yes" comes in – we're not real big fans of riding with the minimum safety required.
Shorty helmets look cool, and in the humid summer they're a lot more comfortable than a full face helmet. That is, until a stone comes up off the highway at 60 miles an hour and hits your neck. Or a giant moth sees your headlight and, thinking reincarnation is imminent, flies into your face. Shorty helmets will never provide the same level of protection as a full face helmet. Some folks love the feeling of freedom that riding without a helmet provides, and a shorty is the closest thing to going helmetless you can wear and still be legal. But that minimal feeling provides a lot less safety than we're comfortable with, especially if the helmet doesn't include a face shield.
We also find that the wind gets under shorty helmets easily, and they levitate at higher speeds, so the strap chokes you, and the shorty floats like a bad toupee over your head (is it sinking in that we don't like shorty helmets?) We personally recommend full face helmets (although Tim has ridden with a 3/4 helmet, he's changing to a full face Arai this year.)
Your helmet may be a nuisance to carry halfway around the world, but when it's on your head, you'll be glad you brought it along. The padding inside the helmet usually molds to the user over time, providing a natural custom fit. You won't be fiddling with it when you're riding. And you'll know that whatever your helmet smells like inside, you're the one who made it that way. Of course the EagleRider rental helmets are cleaned after each use, but if you start thinking about how many other people may have worn it before you…..better to bring your own.
Of course, if you're on a spontaneous trip, and didn't have time or room to pack your helmet, then the EagleRider helmets will suffice. Many thousands of customers use them each year with no complaint. So again, if you need a helmet, EagleRider will provide one with your rental (riding jackets are also available at additional charge.) But our recommendation is to bring your own personal helmet and riding gear along with you.
Thinking of hiring a motorcycle in America, or perhaps trying an EagleRider guided or self-drive tour? We've got the most competitive rates – contact us!
Should I bring my own helmet when I hire from EagleRider?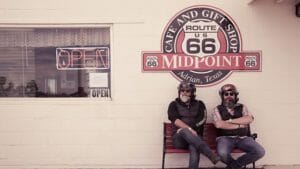 The Hairy Bikers - love them or hate them they certainly know how to plan a good road ...