Anybody Been With The Lost Adventure? Read on….
When we were thinking about putting customer testimonials on our website, we thought to ourselves, let's not do it like everyone else. So many motorcycle travel sites have quotes from people you don't know, and will never meet. And the testimonials often sound a bit too good to be true.
So we thought, what's the best way to make potential customers feel confident about the experience they'll have booking with us. We've been running tours in America since 2005 (actually, Tim started running tours to the Pyrenees all the way back in 1998) and have many happy customers. But instead of putting quotes on our website, we thought we'd instead share some photos we've taken on our tour over the years. Many who started as customers are now close friends – isn't that the best part of motorcycling?
Click here to view our Flickr gallery of tours we've done over the years.
We've ridden hundreds of thousands of miles in America, and we're always discovering new things. Route 66 is a great place to start, but there are so many other beautiful and interesting places to see, amazing roads to be ridden. Of course, if you need a reference, for EagleRider tours or for The Lost Adventure, let us know, and we'll gladly put you in contact with someone who's been away with us. And of course, if you're interested in a guided or self guided tour, or motorcycle hire, Contact Us!
Thanks!
Jim & Tim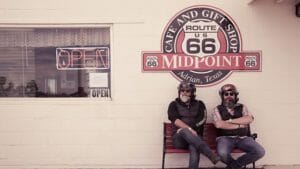 The Hairy Bikers - love them or hate them they certainly know how to plan a good road ...