Why riding a Harley Davidson is different
(If you're interested in hiring a motorcycle for touring in the USA, please contact us. We're an official  EagleRider tour operator with the most competitive pricing on rentals, guided and self guided tours, and we'd be happy to help you plan your trip – to contact us, please click here.)
Hardcore Harley Davidson riders are adamant that their bike is different than any other motorcycle on the road. If you cast aside the brand identity, is there any real truth to that? Are the actual dynamics of riding the bike truly different than any other motorcycle? In a word, yes. If you've never ridden a Harley before, you may be in for a shock the first time you saddle up. Even riders with lots of experience on cruiser style motorcycles have an acclimation period with a Harley.
First off (and this applies to almost all cruiser-style motorcycles, really), you've got far less ground clearance than a typical sports, adventure or sports touring motorcycle. Cruisers sit closer to the ground, and Harley tourers like the Road King and Electra Glide have floorboards, which stick out far further than a footpeg for instance. This means that you've got to be cautious at first, and feel out the limit in corners. The floorboards are hinged and will come up a bit as they scrape, so the sound and the sparks provide a warning. The exhaust pipes hang very low on these bikes and are the next thing to ground out, which can lever the bike off the road – so pay attention to your floorboards.
The big touring Harleys have a heel & toe shifter for changing gears. If you've not ridden with this setup before, it can be a bit odd getting used to downshifting by stamping your heel. Also, riders with big feet can find the space between the levers a bit cramped. After years of riding sports motorcycles, I found the heel & toe system to be a bother, so I removed the heel portion, raised the toe shifter a 1/2 inch so I could get my boot under it, and shift normally – toe up, toe down. This is a very easy change that can be done with an Allen wrench (although you're NOT allowed to modify rental bikes.)
Very important on any modern fuel injected Harley is to follow the proper starting procedure, and wait until the engine light goes off before firing the ignition. The engine light remains illuminated while the fuel injection is priming, and if you fire the bike before it is completed, it can run rough. So watch for the engine light to go out, then press start. It is critical.
Another thing that is totally different about riding a Harley: you'll use the back brake, often. In fact, in stop & go traffic and at low speeds on rough roads, I use the back brake more than the front. The Harley back brake is not as powerful as that on a typical sportsbike; plus, a Harley tourer weighs a lot more. Consequently, it's a lot easier to use the back brake on an HD without locking it up (unless you stamp on it in a panic of course). The long, heavy and low posture of a big cruiser requires that you balance the brakes when you're stopping. The forks on a Harley are typical sprung very softly, so when you grab a handful of front brake, the nose of the bike dives dramatically as the weight of the bike transfers, far moreso than on a typical sportsbike. On slippery surfaces, this can cause a crash. You have to use the back brake to balance the weight transfer on a big cruiser.
Using the back brake can be counter-intuitive to anyone who primarily rides sportsbikes. I remember being pulled off the track by a California Superbike School instructor (superb riding school, btw) during a session because he saw me use the back brake, and wanted me to explain why (I was using it to settle the rear suspension in some corners.) Keith Code in fact was adamant that you should use the front brake almost exclusively, not only on the track but the street as well. But IMHO, this just doesn't work as well on cruisers with stock suspension. The good news is: it only takes a short while in the saddle of a Harley to get used to using the back brake, and then you don't think about it.
You'll also need to adapt to the slower handling on a Harley, and slower speeds in general….in fact, most things happen more slowly on a Harley Davidson. You don't throw the bike into a corner, you roll it in. You don't twist the throttle to the stop, you ride the wave of torque, and short shift the bike to accelerate quickly. You don't grab a handful of brake lever just before you turn into a corner, you trail brake and roll thru. Somehow, on wide American roads, this all seems to make sense. You keep the revs at around 2800, maybe 3200 if you're going to pass someone and want to get good pull as you accelerate. If you rented the bike, you're probably on vacation anyway, so what's the point of rushing?
The last thing about a Harley that really makes it different is the sweet scent of burning licorice…ok, oil….that wafts from the air filter. If you're close behind another bike, or sitting in heavy traffic, you'll smell it for sure. We'll see riders pull over, get on their bellies on the ground to check for leaks, but there never are any. 99% of the time, it's residual oil in the air intake on the right side of the motor. It's true that you'll probably never smell oil riding a Honda, but for some reason on a Harley the scent is almost…welcome. Hence the phrase, "that's not oil you smell, it's character!"
Between the two of us, Tim and I have owned or ridden nearly almost every style and brand of motorcycle, and given a choice when touring America, we'd pick a Harley every time (the Road King is Tim's favorite, mine's the Electra Glide). Of course, variety is the spice of life, and we've had customers rent Hondas (Goldwings) and BMW's (1200 GS) on tours too. We've also ridden a Triumph Bonneville on our 2011 cross country tour, which we loved.
Hope this was helpful to you –
Best,
Jim McDermott
Why riding a Harley Davidson is different
[one_fourth]
[/one_fourth] [one_fourth]
[/one_fourth] [one_fourth]
[/one_fourth][one_fourth_last]
[/one_fourth_last]
[one_fourth]
[/one_fourth] [one_fourth]
[/one_fourth] [one_fourth]
[/one_fourth][one_fourth_last]
[/one_fourth_last]
[one_fourth]
[/one_fourth][one_fourth]
[/one_fourth][one_fourth][/one_fourth][one_fourth_last][/one_fourth_last]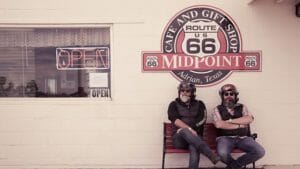 The Hairy Bikers - love them or hate them they certainly know how to plan a good road ...