RIDE FROM THE PACIFIC COAST TO THE HIGH DESERT
Enjoy the best of the American South West from the saddle!  Solitary deserts, vibrant cities, deep canyons and high mountains this 16 day guided motorcycle vacation has everything. You will see all the attractions of the South-West: Grand Canyon, Bryce Canyon, Monument Valley, Death Valley, Yosemite, Los Angeles, Las Vegas and San Francisco. When you have experienced the South West you will have traveled over two thousand miles of fantastic roads and breathtaking scenery including the ineffable beauty of the California coast line on Highway 1 through Big Sur as the final leg of the tour. EagleRider's Wild West Guided Tour is amongst the most spectacular they offer.  This ride can be done as a two week ride from LA to LA or as a one week from LA to Las Vegas or Las Vegas to LA.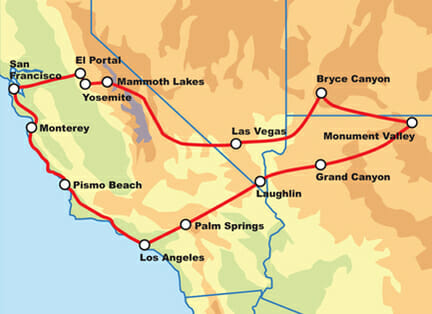 The riding is varied – twisty mountain roads, high altitude runs through ancient forests and thru deserts where the horizon stretches out as far as the eye can see. This is a big trip, and truly encompasses all they key highlights of the American West. The natural landscape that will unfold before you every day will be new, yet somehow seem familiar – probably from all the films, photographs and advertisements with this same scenery. We've all lived with these places for so long in our memories, to be riding amongst them gives a "pinch me, I'm dreaming" feeling. The weather stays very good in this part of the US until late in the year.
Read Wild West Stories...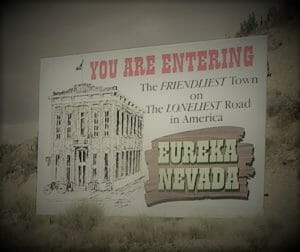 Eureka ! Picture this: you're somewhere on a lonely stretch of road in Nevada, astride an imposing train-like ...