Interested in riding the Mother Road, the famous Route 66 on a motorcycle? We can help make your dream come true. Whether you prefer a premium Guided Tour, a Self-Guided Tour with bike and hotels pre-booked, or a straight bike rental for this year or beyond, we can sort it for you. We've ridden Route 66 ourselves multiple times and have helped thousands of motorcyclists all over the world make their dreams of riding "The Mother Road" come true.
EagleRider's World famous Route 66 motorcycle tour travels the original Route 66, known as the "Mainstreet of America" or "Mother Road". 2400 miles long from Chicago to Los Angeles, it crosses three time zones and 8 States: Illinois, Missouri, Kansas, Oklahoma, Texas, New Mexico, Arizona and California. Route 66 has been the path of migrants, dreamers, desperadoes and an entire generation of vacationers discovering the way west. The 1950′s were the Route 66 glory days, when thousands of cars rode bumper to bumper behind each other to experience the Western frontier. Hotels, motels, gas stations, classic restaurants, and the "New" America sprang up everywhere. Much of Route 66′s classic roads, restaurants, gas stations, and nostalgic landmarks are preserved just as they were in the 1950's. A motorcycle tour of Route 66 is about nostalgia, a journey into the past where a time long since past becomes tangible - you'll feel a part of it.
Riding Route 66 isn't technically challenging for a competent rider; that said, it's very easy to get lost. The road is no longer complete, with some sections dead ending in the middle of nowhere. The first time we rode 66 ourselves, we did a lot of cursing and doubling back as we tried to follow it. Like a living thing, 66 evolved over the years. America was growing; people were headed west, and as new sections were added to accommodate them, older portions of the road were sidetracked or abandoned. So Route 66 circa 1921 was very different than circa 1952. Which version of the road should you follow?
Well, EagleRider has perfected their tour over many years, enabling you to enjoy your ride and see the best of Route 66 without all the dead ends and turnarounds. On a fully Guided Tour, you just follow the leader and enjoy, while on a Self-Guided tour, you have detailed directions so you'll know exactly where you're going with no guesswork. Like exploring off the beaten track? Then do a bike hire, bring a map, and have at it! We've done it all three ways, and which way is "best"is really down to individual taste. Read more about Route 66 Motorcycle Hire and Rental.
Read Stories and Riding Tips For Route 66!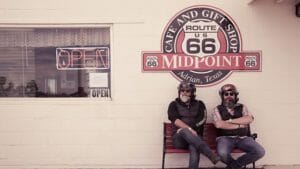 The Hairy Bikers - love them or hate them they certainly know how to plan a good road ...