Route 66 One-Way Rental
14 Days Hire  ·  Pick Up: Chicago  ·  Drop Off: Los Angeles
Rate Varies Depending on Motorcycle
Exchange rates have been very volatile – we strive to provide the most competitive rates on the internet!
Basic insurance required for you to legally ride is included in the price above. Optional additional insurances which cover theft, damage to the motorcycle, rental reimbursement and addition incident coverage is available, click here for more details.
The great thing about renting a bike and riding Route 66 is that you choose where you stop and for how long. There are so many things to see that it would take several months of riding 66 to take it all in. When you do a Guided Tour with a large group, stops are planned, but if you're on a Route 66 Motorcycle Hire, you can be spontaneous. So if you see an abandoned fuel station and want to explore it, or want to relax for a few hours with a good book at a vintage diner, it's no worry.
There are a large variety of motorcycles to choose from: Harleys, Honda Gold Wing, BMW RT & GS, and several Triumph Motorcycles. And you can rent one-way, meaning you pick up in Chicago and drop off in Los Angeles, no round trip required. You can even choose to do a reverse 66, from Los Angeles to Chicago.
We've ridden Route 66 with no accommodations booked, riding until we were tired or found somewhere cool. It's a real adventure when you have no itinerary.
Hire rates vary depending on the model of motorcycle, number of days rented, time of year and optional insurances chosen.
We've also put together a 13 day hire special with EagleRider, plenty of time to enjoy Route 66 and take a detour to Las Vegas or perhaps the Grand Canyon. The Lost Adventure is an Official EagleRider Tour Operator, carrying EagleRider's full line of rentals, as well as their Guided and Self-Drive Tours.
Read Stories and Riding Tips For Route 66!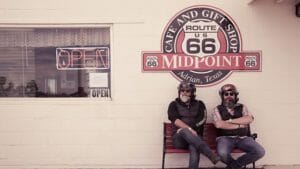 The Hairy Bikers - love them or hate them they certainly know how to plan a good road ...