Crossing America on a motorcycle is the dream of many a rider. There's something romantic about traversing the USA on two wheels, perhaps because it's fairly challenging due to the sheer stamina required to ride 4,000 miles. There's a lot to consider when planning a coast to coast trip – do you use your own bike, or rent one? How will you get back home when the ride's done? What should you bring, and what should you leave at home? How long should you take, and what route?
(Want to ride Coast to Coast for a super discounted rental price? Click here for details!)
We've ridden across America several times, and have compiled some of the things we've learned in the list of tips below. So here goes, 50 Tips for Riding A Motorcycle Across America:
#1 Stop putting it off, life is short! Don't forestall joy.
#2 America is a lot bigger than you thought.
#3 Take at least two weeks to do the ride, ideally more (see #2)
#4) When choosing a bike, bigger/more expensive does not automatically = more fun.
#5 Regarding accessories: more farkles = more distractions = less fun.
#6 Interstates = ZERO FUN
#7 Interstates save time, but do you really want the trip to end sooner?
#8 Make sure your tires have at least 3-4000 miles of life left in them.
#9 If you ride a sportbike, they won't!
#10 If you can read a map, you don't need a GPS unit. Plus maps look better with coffee spilt on them.
#11  Butlermaps https://www.butlermaps.com, they ship to Europe, not on Amazon, Michelin maps are also great and easier to find, get them from Amazon.com
#12 If you're riding in summer, buy a cooling vest, they're awesome. We like these.
#13 Bring earplugs and don't be lazy about wearing them if you value your hearing.
#14 People will be asking you to tell them about this trip for years, so:
#15 Start and end your trip in an interesting place.
#16 Take plenty of photographs and video (iPhones are great for both)
#17 Make sure to note the names/locations of the places that resonate in you
#18 Blog about your trip while on the road (if you do that kind of thing)
#19 Bring a smartphone so you can Tweet/Facebook/Youtube realtime when you stop.
#20 Consider riding for your fave charity
#21 Learn about how to raise money by contacting the charity (they often have instructions on their website)

#22 Use a smartphone with GPS so you can easily geotag photos
#23 When you upload your pics to Flickr etc, use the geotags so people know where the photo was taken
#24 In some rural parts of the country, cell reception will be non existent
#25 Best months to cross the USA on a motorcycle: May to October
#26 If you bring rain gear or heated clothing, you won't need it
#27 If you don't bring it, it will be cold and pouring every day of your trip
#28 Weather band radio is very useful, especially during tornado season in the midwest
#29 Hi-viz bike clothing makes you look like a tool whether you're in NYC or Yellowstone
#30 If you set up camp in known grizzly bear country, and play acoustic versions of Death Cab For Cutie songs by the fire before going to bed, you 100% deserve to get mauled
#31 It's a long ride, and you'll be tired at day's end. Motorcycle camping is for the young, the poor, and the acutely adventurous.
#32 For everyone else, Best Western, Motel 6 and Super 8 are the better choice.
#33 Breakfast buffets in America are almost always overpriced and underwhelming.
#34 Eat a light breakfast, light lunch with healthy snacks as needed until dinner.
#35 Save the heavier meals for nighttime.
#36 Do not drink any alcohol until after the bike is parked for the day.
#37 If you ride a Triumph Bonneville, old guys are going to come up and tell you about their old Trumpets every time you stop.
#38 Music that goes well with a Cross USA ride: The Band, Bob Dylan, Ryan Adams, Wilco, Eric Clapton, Willie Nelson, Mark Knopfler, Jackson Browne, Emmylou Harris, Lucinda Williams, Ry Cooder and The Grateful Dead.
#39 Music that does NOT go well with a Cross USA ride: Rihanna, Lady Gaga, Leona Lewis, Ke$sha, Jay-Z and Justin Beiber. Or anything from "Glee".
#40 Which books you bring are important. Books about traveling seem to read really well on long trips, especially if you're riding alone.
#41 Books we like: Paul Theroux's "The Great Railway Bazaar"; Ted Simon's "Jupiter's Travels"; "One Man Caravan" by Robert Edison Fulton Junior, or "Bonneville Go Or Bust" by Zoe Cano.  Another obvious choice would be anything by Bill Bryson.
#42 Go to bed early (by 10pm) and be on the road no later than 7:00am. It's a treasure to watch the world wake up, as an observer, on a motorcycle.
#43 You'll take your best photos around dawn and dusk, that's when the light is best. Think about that when you're deciding where you're going to be at those times.
#44 If you can take a month of longer for the trip, using your own bike makes sense financially versus renting. But remember that you have to get your bike back home once you reach the opposite coast. Shipping can be expensive, and it may take several weeks to get your bike back.
#45 East to West, or West To East? Well, America "opens up" as you head East to West. West to East, it gets more congested and populated. Psychologically, East to West "feels" a bit better because of that.
#46 Northern or Southern route? Great things to see if you use either…some suggestions follow.
#47 Start in Boston. Head down through New York State, over to Chicago, the Black Hills of South Dakota, Salt Lake City, finish in San Francisco
#48 Start in Washington DC. Head down the Blue Ridge Parkway into the Smokey Mountains, over to Nashville, then pick up Route 66 in Oklahoma and follow it to Los Angeles.
#49 Start in Los Angeles, follow Route 66 in reverse to Texas, then head to the Gulf Coast, see new Orleans, finish in Orlando Florida.
#50 Rent an EagleRider bike from The Lost Adventure! We've got the most competitive rates, we're ridden Coast To Coast several times, and can give you tips and advice to help you plan your journey. We can book your hotels too.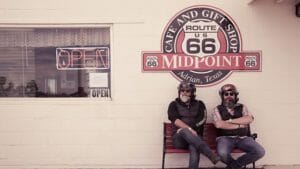 The Hairy Bikers - love them or hate them they certainly know how to plan a good road ...