For the majority of my hotels when going to coast to coast I'll stick to the small cheap chains to keep my costs down but every trip I try and fit in one or two that are a bit special or a bit different -you might even spot a theme running through them. The following are 5 of my favourite hotels that I have stayed in over the years.
Jerome Grand Hotel, Jerome, AZ.
Set up high in one of the quirkiest towns around is this hotel – formerly the United Verde Hospital built for the workers of the nearby mine. I'd passed this many times before finally staying here. It's elevator was Arizonas first self service one. You get a key to use it! The lobby was ER and the restaurant was its dispensary. Rumours abound of hauntings and there have been several suspicious deaths – I have to say I heard strange knocking noises from the adjacent room but I think that was a honeymooning couple.
El Cortez, Las Vegas, NV.
Set in down town Vegas about a block from the Fremont Street Experience this is an absolute gem of a place to stay. Opened in 1941 and so one of the oldest hotels and casinos still going. Cheap as chips, close to everything you need like the legendary Hogs & Heifers dive bar. Far better than the mass tourist experience of the Strip – treat yourself to some vintage Vegas.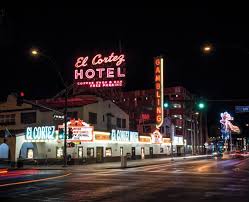 The Copper Queen, Bisbee, AZ.
The opposite end of Arizona to Jerome is the town of Bisbee, a stones throw from Tombstone. Being an old mining town it is not dissimilar to Jerome in vibe and The Copper Queen has a similar "old world" feel to the Grand Hotel – a Motel 6 it's not. Also allegedly haunted its wooden stair cases etc. really do transport you back in time. All the bars, eateries etc. are a short walk and again the whole town has a charm very different to the younger American towns you'll visit.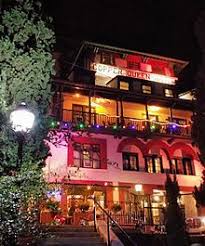 The Queen Mary, Long Beach, CA.
One of Britains finest exports to the USA 🙂 Some real vintage luxury to stay in. A floating hotel, restaurants and musuem all in one. Many room fixtures, such as the toilet, are the original ships fixtures adapted for modern, docked use. The rooms aren't huge, being the original cabins but they make up for it in character. Walking around the various decks etc. you really get a feel for how it must have been making an Atlantic crossing back in the day. Long Beach itself is well worth a wander and exploration.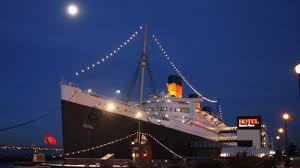 The Hotel Vendome, Prescott, AZ.
Prescott – one of my favourite places in Arizona to visit not only for Whiskey Row but whole place has that old frontier town feel and architecture about it. The Vendome is yet another haunted hotel – this time by a cat! Many original fixtures such as the cast iron radiators, old claw foot baths etc. again make this a must stay. I don't if the barmaid Barbie is still there but her tales of old Vegas from where she had come enthralled us while we sampled the extensive bourbon selection.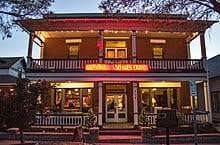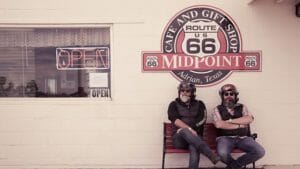 The Hairy Bikers - love them or hate them they certainly know how to plan a good road ...