Guided Trips Canada & Yellowstone Guided Motorcycle Tour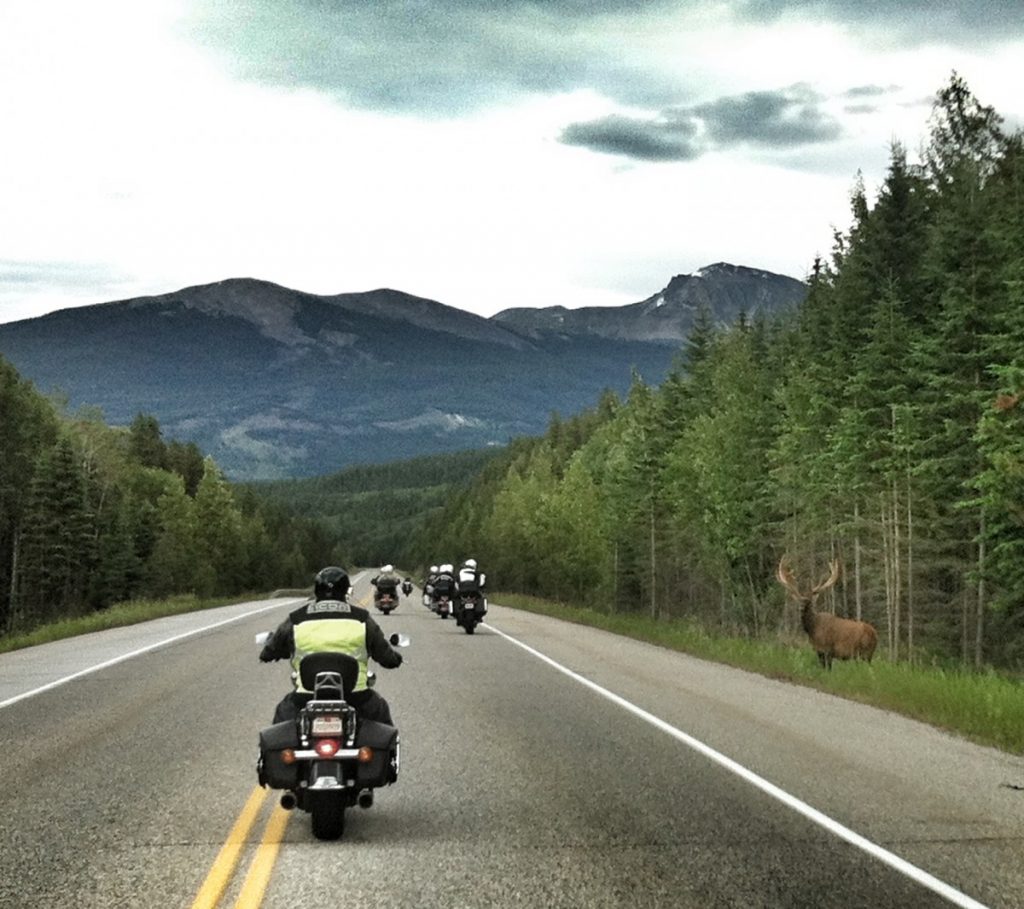 NEW FOR 2016
Guaranteed 1st Choice Bike
Free Whitewater Rafting Adventure
Canada And Yellowstone
16 Day/15 Night Guided Motorcycle Tour
Distance: 2748 Miles-4426 Kilometers
For the day-by-day detailed itinerary of this tour,

The EagleRider Canada & Yellowstone Guided Motorcycle Tour is fully guided tour criss-crossing the North American Continental Divide. Water falling on your left will ultimately end up in the Gulf of Mexico or Atlantic, while water falling to your right will flow to the Pacific. You'll ride through the high passes and deep twisting valleys that separate the ranges that comprise the Rockies. The tour begins by the emerald waters of Seattle, Washington and heads to the visual splendor of the Cascade Mountains, then ascends the Canadian Rockies to bask in the natural beauty of Lake Louise and Banff, Alberta. We'll cross the Canadian border, and head through the razor sharp peaks of Glacier National Park. You'll experience the majesty of Yellowstone National Park in the best way possible: on a motorcycle. Your journey culminates with a ride through one of the most stunning landscapes in the United States, Rocky Mountain National Park, before ending in beautiful mile high city of Denver, Colorado.
In 2011, we spent several days riding in Yellowstone National Park, and were enthralled by the incredible scenery and regular encounters with wildlife. The Canada & Yellowstone itinerary was devised to provide sensory overload each day you're in the saddle, with glorious roads and epic scenery from beginning to end. To watch a video testimonial on riding in Yellowstone, (thanks to our good friend Nick, a retired Police Officer with extensive experience motorcycle touring in America, for providing his thoughts.)
The Lost Adventure, Ltd. is an official EagleRider Tour Operator. EagleRider is the largest motorcycle tourism company in the world. For more information, or to book a spot on our Canada & Yellowstone Guided Motorcycle Tour, contact us!
What's Included in the Guided Tour:
• All hotel accommodations
• Late model motorcycle rental
• Unlimited mileage
• Free fuel & oil
• Welcome & Farewell Dinner
• Helmets for driver and passenger
• Daily breakfast on riding days
• Professional Tour Leaders
• Support Vehicle equipped with spare bike and room for additional luggage
• All taxes, fees, and environmental surcharges
• National Park entrance fees
• Hotel Parking fees
• Discounted Activities
• One Way Transfer fees (when applicable)
• Transportation between hotel and EagleRider location
• Custom Riding Jacket
• Pre-programmed GPS unit (upon request)
What's Not Included in the Guided Tour:
• Airfare
• Food and snacks (except welcome & farewell meals)
• Beverages
• Tips
Canada & Yellowstone Guided Motorcycle Tour