EagleRider Route 66 Guided Tour Intinerary
Day 1 : Chicago Arrival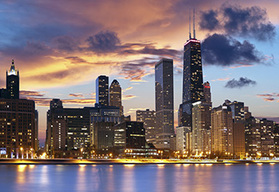 Congratulations! After months of anticipation, the day to embark on this incredible journey has finally arrived. Take the shuttle or a taxi to the hotel in Downtown Chicago and check in to your luxurious room. An EagleRider Tour Leader will be in the hotel lobby from 4pm to 6pm to greet you and take care of a few small details before we take to the open road in the morning. Tonight you will have the opportunity to meet your fellow riders as we enjoy our first of many great meals together at a lively restaurant in the heart of "The Windy City".
Day 2 : Chicago – Springfield, IL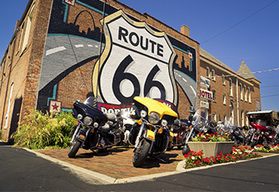 Today we put rubber to the hallowed pavement of Historic Route 66 for the first time. After picking up our bikes at EagleRider Chicago we start on the 2400 miles of concrete, steel and the grandeur of Route 66 that lies ahead. The great city of Chicago disappears behind us as we set our course west for an unmatched adventure full of beauty, history, and plenty of fun. Our first stop today will be the well known Route 66 Museum in Joliet, Illinois, a must for anyone traveling this great road. We'll be sure to wave "Hello" to the Gemini Giant standing guard at the entrance to Wilmington and Route 66 West. The Standard Oil gas station in Odell reminds of days gone by and the many gas stations that stayed open day and night to serve the endless streams of cars and families heading west to find their fortune.
Day 3 : Springfield, IL – St. Louis, MO
The excitement is just beginning today. As we enter St. Louis, MO. we immediately notice one of the most recognizable structures in the US, the Gateway Arch. The gleaming , stainless steel structure welcomes travelers heading from East to West. It lay along the banks of the Mississippi and is an absolute engineering wonder. Be sure to use your leisure time to visit and explore this truly amazing landmark. And for all of you nostalgic Ice Custard fans, be sure to visit the world famous Ted Drewes frozen custard stand for a frozen treat. St. Louis offers such numerous attractions as the St. Louis Cardinals baseball stadium, the Anheiser Busch brewery, and exciting trips on the "Mighty Mississippi." In the evening you'll be sure to reflect on how lucky you are to be on the EagleRider route 66 tour.
Day 4 : St. Louis, MO – Joplin, MO
Today you'll be amazed with the fabric of countryside and the scenery the Midwest has to offer. The roads out of Rolla are a riders dream. We begin to navigate the gentle winding roads that put us into the rhythm of the ride. We take our time to through the "Devils Elbow" to view what once was the deepest road cut in Missouri. After our visit to the Devil, we make our way out of the valley where we are immediately bombarded with fields and pastures of green ushering us down the road. Soon we'll get a taste of what the real Route 66 was like. You see, when Route 66 was in its heyday folks knew this was an opportunity to make a living selling all sorts of sundries, offering hospitality and lodging to weary travelers, and re filling their cars thirsty gas tanks every few hours. Many savvy businesses came up with all sorts of interesting ways to grab attention and get folks to stop and spend a little money while filling up. One of the few characters left on the Old Route 66 stills exists in Paris Springs Junction, MO. The Gay Parita Sinclair has the charm with bit of panache that shows us how they drew customers in by the hundreds. You'll have one of the best days so far after our visit her that you will leave smiling. We end our day in Joplin, MO. For a well deserved night's sleep.
Day 5 : Joplin, MO – Oklahoma City, OK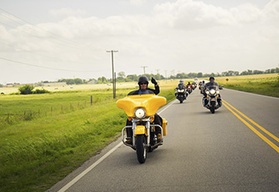 We eagerly start today to take an early voyage to the Route 66 Museum in Clinton, Oklahoma. This is a favorite of all the museums along the route, as it walks visitors through each era of Historic Route 66 from the 1920's through present time. Not to mention they have an incredible gift shop with some of the best Route 66 memorabilia anywhere. Oklahoma is where it all started. The folks that took the undertaking of creating "The Motheroad" were from Oklahoma. All across this state and scattered along your ride today you'll see a plethora of Googie" architecture that was predominant for so many years. The buildings are immediately identifiable. Your head will be on a swivel looking at all of these small, unique landmarks that pepper the country side. From Clinton we will settle back into our saddles and ease our way across the northern stretch of America's largest state, Texas. Rolling green meadows and cattle ranches lend to a landscape that has become part of the mystique of Texas. When we get to Amarillo, may we suggest you visit The Big Texan steakhouse. If you're hungry you can take a seat at the big table and try your hand at finishing their world famous 72 ounce Rib Eye and all the trimmings in under an hour. For those who want a few more miles under their belt today, you might explore the stunning Palo Duro Canyon.
Day 6 : Oklahoma City, OK – Amarillo, TX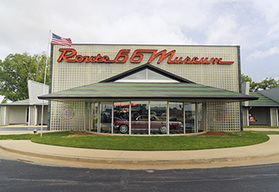 We rise early for our journey into Texas full of prickly pear and into the "panhandle" continuing through the oil town of Shammrock. We'll gas up at one of the original gas stations of the old Route 66 and then on to McLean. Get ready for a steak "Texas Style", like a 4 1/2 pounder! We ride up to Amarillo, up in the northern Panhandle. Amarillo may seem cut off from the rest of Texas, but it stands on one of the great American cross-country routes.
Day 7 : Amarillo, TX – Santa Fe, NM
Say goodbye to the wide open spaces of Oklahoma and Texas as we make our way into the heart of the Western United States and one of her most beautiful cities, Santa Fe, New Mexico. This quaint mountain town is nestled high in the Sangre de Cristo, or Blood of Christ, mountain range, which are thought to have been names for the deep red hues of the mountains during some sunrises and sunsets. Santa Fe is rich in Spanish and Native American history and culture, a unique blend that is reflected in the local art, architecture and cuisine. Our home for the next two nights is a small boutique hotel in the heart of Old Santa Fe. You can't spend more than just a few minutes walking the narrow streets of Santa Fe before you fall in love with this city and her people.
Day 8 : Santa Fe, NM
Today is a free day in Santa Fe. Relax in the hotel spa, enjoy the many fine art galleries, or just explore the heart of Santa Fe. The local native Indians are offering their superior craftsmanship products throughout the market square. Stop and look at the detail of the jewelry and you you'll see why handmade jewelry is still truly and art. Don't forget to try the Green Chili Stew that has become a favorite of locals and visitors alike. The gastronomic selections increase here in Santa Fe. If you have been waiting for a fine culinary break Santa Fe offers it. If you feel like a ride today we can organize of day trip into the fresh mountain air of northern Arizona and southern Colorado. The trip north to Taos is stunning. The scenery changes as one heads north. It's hard to miss the great northern Arizona grandeur. One could spend a week here exploring the corner regions.
Day 9 : Santa Fe, NM – Gallup, NM
The road leads down the hill this morning and we get a chance to see the lands that entranced and sustained the Native Americans for centuries. Albuquerque is high desert and we see a change in scenery. The red dirt plateaus and cactus blooms are an artist's dream. There are some examples of adobe architecture along our ride this morning so take some time to see how beautiful and unique they are. As the day goes on we start to see rocks. Why are rocks interesting you say? Their petrified! The Petrified Forest National Park is a must see. We'll stop in and watch a short video that explains it all. Once we leave the visitors center you'll see miles of petrified logs, rocks, and artifacts. New Mexico is the home to one of the oldest constantly inhabited cites in the America. Sky City is Native American city on top of massive rock outcrops. We'll detour to see this once in a lifetime view before continuing on to Gallup. If you haven't purchased any Native American jewelry or artifacts yet, Gallup is the place to buy your pieces. They are plentiful and available.
Day 10 : Gallup, NM – Grand Canyon, AZ
It seems that our ride is just getting better and better each day. Many of the Route 66 riders are aware of these famous landmarks and today you'll see a few more. The hotel rooms in Holbrook, AZ. that are built to look like teepees is on the list. The Eagles band must have passed through Winslow, Arizona and had some time on their hands. There is a fantastic and must have photo op here. Once we finish singing the song "Standing on a corner in Winslow Arizona" a few times in our head we remount and continue on to Flagstaff. The miles of road just before Flagstaff are great riding. We'll stop in Flagstaff and peruse the local flavor. Flagstaff is turning out to be a burgeoning town with a hip, uptown flair. Good architecture isn't this town's best known feature but there are still a few hidden old route 66 remnants that we saw day in and day out back east. Next up: The Grand Canyon.It is GRAND. It's hard to explain just how big and marvelous the Grand Canyon is. No picture truly captures the grandeur and enormous size of this natural wonder. Here is where your tour leader shines. We'll show you how to find the best photo stops and navigate this park with ease. Today is an opportunity to just admire the park at your own pace, take in a 3D movie about how the canyon evolved, or to get that just right picture. Eagle Rider can also assist you taking an aerial trip of the canyon. Helicopters are running at full steam ferrying guests to the best seat in the house. Take a half hour or hour tour of the canyon by yourself or with some friends. You won't be disappointed with this option. You're tour leader may offer a side day trip today to the east around the canyon for a different view of it all. The Desert View Watch Tower on the east side offers a glimpse of the canyon you will certainly appreciate. Today will be one of the days in which you will fulfill one of your dreams of exploring one of the Seven Wonders of the World.
Day 11 : Grand Canyon, AZ – Laughlin, NV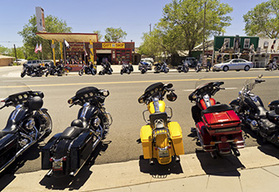 Your passion for motorcycle riding will be repaid today as we open the throttle and let the wind fly by. The mornings view is outstanding. The sounds and smells of the road are you reward. They are some long stretches and a few twisty curves in the morning but later on it all opens up. Seligman, AZ. Is a town that takes its cues from back east with Googie architecture and the "Spirit of Route 66" still lives on here. By the afternoon we are treated to an odd and wonderful sight as we approach the scenic vistas just before coming into Oatman, AZ. This town has a standing army of burros that roam free and you get a sense of what the mining days of the Wild West were like. Oatman is a jump into the past with its various shops and saloons that have long welcomed a tired and thirsty miner or road weary traveler. Vegas isn't the only place to gamble in Nevada. The town of Laughlin lay along the Colorado River and if you've come to cash in your gold to try your hand at Blackjack them your opportunity has arrived. The winking lights and bells are a gamblers delight for those with nerves of steel. You can enjoy a large steak in a riverboat hotel that is built alongside the Colorado River. Just be ready to leave early in the morning.
Day 12 : Laughlin, NV – Las Vegas, NV
They call it an adult playground. Las Vegas offers fine dining, gambling, grandiose shows, and entertainment galore. Its all available in Las Vegas. Vegas offers everything your heart desires. Outside of the strip, Las Vegas has great attractions in Hoover Dam, desert plains driving, and beautiful night rides.
Day 13 : Las Vegas, NV – Victorville, CA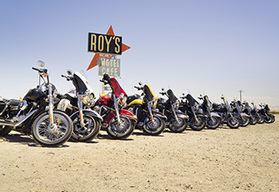 The Mojave desert offers stillness and interesting colors that only a few riders ever explore. One only needs to set the throttle on cruise and enjoy the ride. Originally Route66 wandered its way into the San Fernando valley via old trails that were difficult to pass. Today we work our way into town to Pasadena. Route 66 has been resurrected in the drive into Pasadena and all along the way. All of the small towns have embraced "The Mother Road" and today the road is alive and well.
Day 14 : Victorville, CA – Los Angeles, CA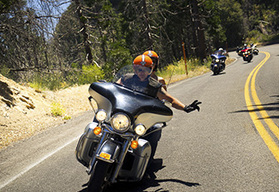 We are almost home now. We gather our belongings and ride into one of the most famous cities in the world. Hollywood stars are as plentiful as gumdrops and if you look close you just might see one as we trek along the final leg of our journey. Keep that camera handy as Los Angeles has so much to see that you just might miss it if you're not ready. Glitz, glamour, palm trees and fresh ocean air permeate our drive westward. Your Tour Leader takes you to the final destination of Route 66 where you can see the Santa Monica pier and visit the plaque that announces that you have arrived at our final destination. After we linger and admire this sight we'll grudgingly return our trusty bikes to EagleRider's World Headquarters in Los Angeles. Tonight we celebrate. We'll gather at the restaurant and reminisce about our trip together and bond relationships that were forged over this ride. It's the last night of the ride but the beginning of a long friendship and many stories.
Day 15 : Los Angeles, CA Departure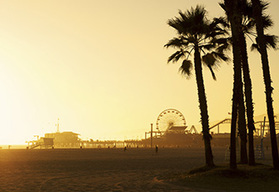 Eagle Rider Motorcycle Tours has given you something that you never will forget. A storied ride through the famous Route 66 with new friends all while riding the bike of your dreams. We thank you for your business, we'll miss you, and we hope we can arrange for another adventure in the future.
Interested in the EagleRider Route 66 Guided Motorcycle Tour? The Lost Adventure is an Official EagleRider Tour Operator with the most competitive prices – contact us!