I've completed The Lost Adventures annual Coast to Coast trip five times now and every year friends and family ask me if I'm doing it again and when I say yes it's always "why – aren't you bored with it ?" so I thought I'd share why I don't think you could ever bore with it.
My first trip was a group of four friends although we gained two more along the way! A couple of us had done trips in the USA before but for all the notion of crossing from one side to the other was an adventure with slight trepidation. Months of route planning meetings, often with a beer or two involved resulted a in route with identified stops etc. We within a couple days of leaving Orlando that was shot. Travelling as a group was great and ticked many boxes but as you can imagine involved all us of compromising on things we wanted to see. For me I possibly compromised a few too many and felt the need to go back and see them.
Thus trip number two came about. This was planned on being a solo trip but I ended up riding some stages with groups I'd met along the way also doing the trip. This has pretty much been the case for trips three to five also. Riding with these groups has led to some lasting friendships and meet ups back in the UK and also friends from foreign lands who are regularly in contact.
Every trip and in between them I have come across new places I want to see or visit, stretches of road that are recommended to ride etc. I have come to love small town America and most of my overnight stops or mid-day visits will result in people saying "Where ? Never heard of it … ". For most people, especially those who see it as a one-off I fully understand the need to party in New Orleans, visit the Alamo, get to Grand Canyon etc. and over the trips I've done those things but having done so I think now I am largely seeing the "real" America. I do stay in chain motels (for cost more than anything) but wherever possible avoid chain bars and food places. I've found local bars to be a goldmine of information for places to go and roads to ride. Local independent diners, where the locals go for breakfast, will be no more expensive than a Denny's and the food will be 10 times better I guarantee.
America being the size it is the options for routes are endless and sometimes the unscheduled stops in a small town prove to be the best. Most recent trip for example we were forced off the road due to the storms and stayed in a small town called Cuero. The sort of town normally you might stop for fuel or most likely just roll on through on the way to somewhere else, as we would have, en route to Austin. It turned out this town had one diner option for us … which by half way through our meal was packed with locals and some of the best food I had on the trip. Strolling around the town itself it turned out to be the oldest town in that county with an abundance of history going back to being settled by largely German immigrants and this German influence still being very apparent even today. Not Disney I know but for me personally very interesting.
Five hidden gems such as this I've found are:
● Jerome, and especially it's Grand Hotel. Found it on the 89A between Prescott and Sedona. A recommended road. Took me 7 years to finally stay at the hotel.
● The Bear Wallow Cafe, Alpine, Arizona. Found again because of a road, the Devil's Highway. Probably the best Huevos Rancheros I've had in America .. and I've had them in quite a few places.
● Hells Kitchen on the Ortega Highway (see a pattern forming ?) in California. A great bike hang out and diner one of on America's greatest roads to ride.
● Buckeye Lake, Ohio. Again another town you'd normally just ride on through. Picked it as a stop as liked the name! Ended up having a great night in the locals "bar and grill" that had no name and no grill. Breakfast by the lake in a proper locals diner (recommended in the bar) turned it into one of those trip memories you don't plan on.
● The AMA Motorcycle Hall of Fame, Pickerington, Ohio. On the way to Buckeye Lake spotted a sign for this and had time to kill. I'd never heard of it but it's probably one of the best collection of motorcycles, predominantly but not exclusively, "sport" oriented. Certainly not as famous Barber but the some of the exhibits probably even rarer.
I'm not the only person who has done this trip multiple times and I'm glad to see the number of repeat offenders growing each year and I think if you ask any of them their reasons for doing it again would largely be the same as me .. or maybe not ! I think the flexibility of this trip lets you make of it what you will. If you want to hit the "tourist" spots you can or if you want to go off the roads most ridden you can. For me it allows me go places no guided tour is ever going to go, interact with the locals, and genuinely have an adventure … and occasionally getting "lost".
Am I going again? Hell yeah.
Backstory
Matt's been riding bikes of all sorts since the age of 16 and is very experienced in US riding, starting off with a Fatboy on a guided tour with a luggage/support vehicle. He followed that with a solo trip of a similar route with another trip a year later, where he guided four friends.
Then, since discovering The Lost Adventure, he's completed three Coast to Coast runs, taking a different route every time. As Matt says "There are literally an unlimited number of routes you could take. On the first trip I was part of a group of six, the next two trips were technically solo, but riding with others as and when you meet them… and you almost certainly will. I've done it twice on Street Glides and once on the Chieftain and both bikes have been perfect for my trips. Undoubtedly the best part for me is the lack of schedule and fixed route – and the friends you make. Every trip I have come back with more friends, many of which I keep in touch with on a regular basis and meet up with."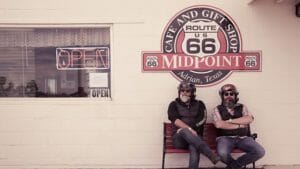 The Hairy Bikers - love them or hate them they certainly know how to plan a good road ...