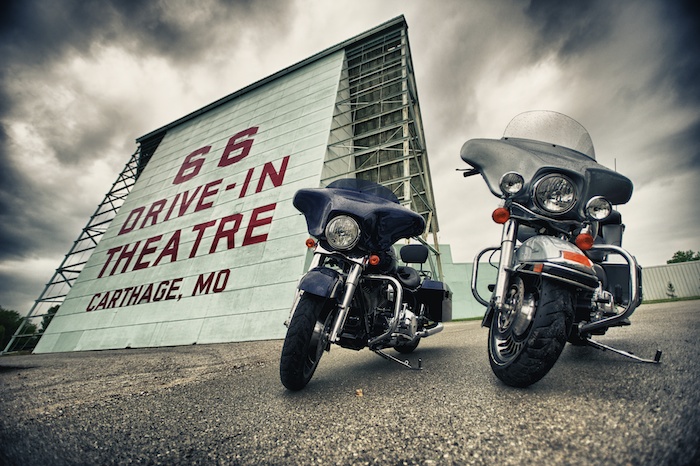 Route 66 is the ultimate bucket list ride for any motorcyclist. It's a journey through time, and while it may not be technically challenging from a riding standpoint, figuring out where the road goes can be extremely difficult. Route 66 was decommissioned as a National Highway in 1985, and many portions of the road have been bypassed. We've ridden Route 66, and have collected a few thoughts on how to make your ride on Route 66 as enjoyable as it can be with these 10 Tips For Riding Route 66.
1) Give yourself a minimum of two weeks to do Route 66. You're riding more than halfway across America, if you rush you're going to miss some incredible sights. There are many museums, great places to eat, historically significant spots, not to mention the endless side journeys you can take to see things just a short distance off Route 66. Any day spent on the Mother Road can be incredibly rich – in fact, even if you do have two weeks, you'll miss some things. Be sure to take your time, don't rush, the slower you go the better time you'll have.
2) Ride the right bike. On a typical motorcycle tour, you look for great roads, twisties, diamond smooth tarmac where you can hustle the bike around a bit and get your  pulse going. Route 66 isn't like that – the pavement can be awful in some spots, you've got long sections of straight road, and in some places the scenery can be quite desolate. Trust us, the best bike for a Route 66 tour is a Harley, or similar big displacement V-twin. You don't need a fast bike with razor sharp handling, you need a bike with maximum rider and passenger comfort that feels great doing 30-70 miles an hour, with lots of low rpm torque. Plus, doing it on a Harley really adds to the nostalgia of the tour, seeing all the neon reflected in the headlamp nacelle of a Road King is another sight you'll never forget. We wouldn't recommend a Harley for a tour in the Alps, nor would we recommend the full Charlie & Ewan BMW GS regalia on a Route 66 tour.
3) The best time to go is mid-May to mid-October. We've ridden 66 at various time during the year, the earliest was mid-April. We encountered freezing temperatures, hailstorms, pissing rain, howling winds, and dust storms. Luckily, we didn't have the wives sat on the back for that one! Don't forget, Route 66 crosses most of America, and the weather can vary depending on where you are. We've been in Amboy California in July and it was 118 degrees in the shade! Truly our favorite month for riding 66 is September, weather is gorgeous and there are less people on the road, but really if you go any time between mid-May and mid-October you'll have a great time. Be sure to bring rain gear and if you're going in the high summer then read our tips for staying cool here.
4) Plan your Route 66 tour. If you just turn up expecting to follow signs and ride Route 66, you're going to get very frustrated and very lost. Route 66 highway signs get stolen all the time (they do look pretty cool) and in may places you'll be going along following signs and suddenly there will be nothing. You need a good map America, we find the Rand McNally Road Atlas to be indispensable, Michelin has some great regional fold out maps as well. GPS is great and can be hired with the bike, but we'd take a great map over a GPS unit any day. We also consider the Route 66: EZ66 Guide For Travelers by Jerry McClanahan to be a must buy. Drew Knowles' Route 66 Adventure Handbook is a great book too. Don't wait until you're sitting on the airplane to read these books – study them and mark down the things that you really want to see before you go.
5) Get to know the word "alignment". Sections of 66 were repaved, diverted, extended, and widened during different periods – these were called alignments (or re-alignments). You'll come out of a town and see three signs for Route 66, one saying something like "Historic Route 66 1921-1934" and the others giving different years. Which do you take? There might be only one right way depending on where you are. Even before it closed, Route 66 had been "realigned" so many times in it's history that there isn't really just one road – it evolved substantially since it was first paved. So know going in that there isn't really one Route 66 to follow.
6) Be sure to travel some of the "old road". The oldest parts of Route 66, dating back to the 1920's, are truly fascinating because they're often hand-laid brick or asphalt, and very narrow. You really get a sense for how small American cars were before the second world war, and how little automobile traffic there was on the roads. You'll never forget like the sound of a Harley's front wheel thumping over the bricks on a 1921 section of Route 66.
7) Be sure to talk to locals. A huge part of the character of Route 66 is the people. The Mother Road is making a fragile comeback as more and more people tour it every year. But it's still hard work for the people who live on Route 66; they say adversity breeds character, and the people you'll meet while traveling 66 have character in spades. You'll meet folks who've lived on Route 66 their whole lives, as well as young entrepreneurs trying to bring beautiful old motels and restaurants back to life. Take the time to talk to these people, it will make your tour a far richer experience. If you're open to conversation, you'll find that the people of Route 66 are friendly, helpful, and in most cases more than willing to share their stories.
8) Pay very close attention to the road. With all the great things to see, the low speeds and straight roads, you can find yourself paying a bit less attention to your riding, which can be a costly mistake. In parts of 66, the tarmac has seriously degraded, with bumps, potholes or cracks that have been filled with very slippery tar (the segment from Cool Springs to Oatman is plagued with "tar snakes" and requires special attention). And on the very old road, sometimes you'll come over the crest of a brow in the road and find suddenly the tarmac has changed to deep gravel – not something you want to see at 60 mph (this happened to us just outside Miami, Oklahoma). Be diligent at all times when you're on the bike, please.
9) Links to some places you must see: Route 66 Vintage Iron Motorcycle Museum, The Blue Swallow Motel, The Blue Dome District in Tulsa, OK, Oklahoma Route 66 Museum, The Powerhouse Route 66 Museum, Joe and Aggies, Mr. D'z Route 66 Diner, Cadillac Ranch, Roy's Cafe, Galena, Kansas, Route 66 Drive In Theatre, Tower Station and U-Drop Inn, Cool Springs Camp, Motel Wigwam, Chain Of Rocks Bridge, Santa Monica Pier
10) Lastly – consider a Guided Tour. If you just want to have a good time, see all the sights, have a support vehicle carry your luggage and be guided by someone who knows Route 66 really well, it's the smart option. Of course, you can always do a self-drive tour, where the accommodations are booked for you, you get a bike and a road book with directions. And of course if you want a true DIY experience, you can hire a bike – we can help you with all of the above, with great prices. Check for more details here.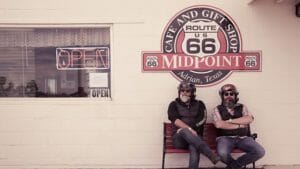 The Hairy Bikers - love them or hate them they certainly know how to plan a good road ...