How To Pack For A Motorcycle Tour

Recently, one of our customers who's going on a two week tour asked us about fitted pannier bags. He'll be riding either a Honda Gold Wing GL1800 or a Harley Davidson Electra Glide. Both have topcases and hard panniers. Was there a fitted bag that would fit both, he wondered? The answer is well, not really. The big touring bikes all have different pannier shapes and capacities, making it impossible to find a bag that will fit all of them and not waste space. A quick Google search of the terms "fitted pannier bags" or "motorcycle luggage" reveal a dizzying array of bags that are highly specific in their application, but no "one size fits all bag".
So if you're going to another country on a hired motorcycle tour for a couple of weeks, what do you do about bags? Here are our thoughts on How To Pack For A Motorcycle Tour.
Firstly, if you're on a Guided Tour (such as those we sell), you've got no worries, there's typically a support vehicle that carries all your bags. Even if you have large suitcases for you and your pillion, there's no bother, it will ride in the van. If you're planning on staying a few days somewhere after your tour, this is all the more reason to do a Guided Tour.
But if you're hiring a bike, especially if you're bringing a pillion, you're going to have to pack very wisely. Fitted bags typically don't come with hire bikes, and they'll waste much needed space if they're not made for that exact model bike. We would not recommend the purchase of fitted bags for a specific hire bike (like a GL1800) unless you own that same bike back home. Fitted bags are usually quite costly, not a good option if you're budget conscious in the slightest.
What we usually do is get a small canvas or faux leather bag that's very flexible, with no frame, which will conform to the shape of the panniers. We bring plastic bags and put underwear, socks and other things we don't mind getting wrinkled at the bottom of the panniers, then put the canvas bag on top. Sometimes we leave the plastic bags at the bottom of the panniers until they're needed – so the first few days of socks and underwear on one side, some t-shirts on the other, things we'll need sooner on top, then a canvas bag with things we don't want wrinkled or that are fragile in the topcase.
Another way to pack efficiently is via "planned disposability". Bring old, worn out t-shirts and underwear on your tour. When they get dirty, bin them! It's a wonderful thing to have your load get lighter as your trip goes on, plus you have more room for souvenirs. If you need new stuff, you can always stop into a Target, Wal-Mart or K-Mart and buy everything from underwear to hygiene products, at bargain prices. And these stores are commonly located in or near most American cities.
We are all guilty of buying too much stuff in advance of a trip, then dragging it along with regret after we realize we just didn't need it. Here are things we consider absolutely essential to pack on an extended motorcycle tour:
1) First Aid Kit: make sure you get one with sunburn creme, antiseptic, bandages and other basic First Aid necessities. We're amazed how often our friends pack a collection of electronic gadgets, and nothing to deal with even sunburn or an insect bite. Don't buy a cheap one, they always seem to be overloaded with band-aids and nothing else too useful. Oh, and make sure to bring sunglasses as well.
2) Maps: We'll take a good map over a GPS unit anytime. Of course, it's a luxury to have both, but the ability to get a larger sense of where you are and where you're going will only be provided by a map. And we've seen many instances where GPS units seem to be lacking in common sense about how to get somewhere. Plus, when you get back home, your map will be written on, there will be coffee, beer, food and rain on it, and it will be a lasting treasure from your tour. We always prefer Michelin maps, as they're utterly reliable, visually cool and printed on high quality paper. For travel in the USA, the Rand McNally Road Atlas is recommended as well.
3) Bottled Water, At Least a Litre Per Person At All Times: It is critical that you are properly hydrated when riding a motorcycle. When you get dehydrated, fatigue sets in, and it's all downhill from there. You should not wait until you're thirsty to drink, by then you're behind the eight ball. Keep an adequate water supply on the bike at all times, and make stops as necessary to refresh yourself. Healthy snacks like granola bars or fruit are a good idea too. Riding in the summer? Read our article about how to deal with the heat here.
4)  Something to Recharge Your Cell Phone: This is hugely important – some of the best riding in America is in low traffic/sparsely populated areas. If you need help, you'll need a fully charged cellphone. If you're taking videos and photos on your smartphone, the battery will drain down quickly. There are many options on the market for recharging your cell without a wall outlet – we highly recommend you buy one for your trip.
5) Small packet of Microfiber Towels: for cleaning helmets and windscreens, nothing beats a microfiber towel. Keep a small package in your topcase, and use some bottled water to moisten the towel. The slightest moisture really helps the microfiber towels clean perspex. They're washable, but don't put them in the dryer, as that ruins them.
With the five things listed above, our riding kit, a pair of jeans and a few changes of underwear, we've ridden Coast To Coast across America. Mind you, we looked and smelled like the dog's dinner at the end of the tour! But the point is, you don't need to bring that much stuff with you when you tour. If you have a pillion, if your partner is along for a wonderful holiday, then again, we'd suggest a Guided Tour, as really that's the easiest way to do a tour. Of course, don't let limited pannier space scare you off having an adventure.
If you're interested in hiring a motorcycle to tour America, or want to do a Guided Tour, contact us.  We're an Official EagleRider Agent and we've got great prices on motorcycle hire and tours, including Route 66, the Wild West, Coast to Coast, Florida and others. Thanks for reading!
Cheers
Jim McDermott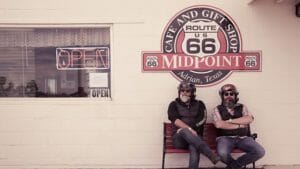 The Hairy Bikers - love them or hate them they certainly know how to plan a good road ...