On the very first evening of our journey, down a foggy coastal Florida backroad, tree branches drooping down overhead, I got the feeling. A distinct oneness with the bike, the road, and the unknown miles to come. The golden Indian on the Chieftain's tank stared outward, stonefaced and resolute. 3600 miles, 14 days……. it would be a special ride, of that I was sure.
It's one thing to derive impressions of a new motorcycle from a brief encounter under ideal conditions, like the model launches that bike journos attend. That's like a "hot date". It's quite another to spend 14 consecutive days in the saddle, developing a relationship with a motorcycle over 3600 miles. We did just that for our 2014 Indian Chieftain Coast To Coast Ride Review, starting in Orlando on March 21st and riding the Southern States to arrive in Los Angeles on April 4th, 2014. We saw temperatures ranging from 3 to 35 degrees, pouring rain, high winds, open roads and epic traffic jams. We did day long interstate runs at 85mph, pulse pounding rollercoaster rides on tight desert backroads, and rode our favorite pockmarked segment of Route 66.
Although we can't confirm it, we believe we're the first (non-Indian employed) people to have ridden the 2014 Indians Coast to Coast across America. Our pal Shawn Fechter at EagleRider hooked us up and got a new Chief Vintage and a Chieftain for us to ride from EagleRider Orlando to their HQ in Los Angeles, as part of our Low-Coast Coast To Coast Hire Special. This motorcycle got ridden hard, make no mistake. (Note: we have well over 100,000 miles of experience riding Harley Davidson motorcycles in America, including several Coast To Coast rides. We've owned Harleys, love them for what they are and have no bias against them, nor do we look at them (or any other motorcycle brand) through rose-coloured glasses. And it's logical to think that some HD riders might be tempted to move to an Indian. Therefore we do draw comparisons between these two iconic American motorcycle brands in this review).
It's great to see the iconic, American Indian Motorcycle brand active again. After going bankrupt in 1953, the memory of Indian stayed strong in the imagination of motorcyclists the world over. The brand was relaunched in 1999 and struggled with quality and management issues, until it was acquired by the Polaris group in 2011. Polaris, a Minneapolis based manufacturer, manages Victory amongst other brands. Victory motorcycles have a reputation for being high quality performance cruisers, but have struggled image-wise versus Harley Davidson as they have no brand history. Before riding the Chieftain, we wondered: would this bike possess the performance DNA of the Victory bikes, AND an increased cool factor? Let's find out! Here is our 2014 Indian Chieftain Coast To Coast Ride Review:
ENGINE:
Let's get this one out of the way: the 111 cubic inch (1819 cc) motor in the Indian Chieftain absolutely trounces any stock Harley Big Twin we've ever ridden. The acceleration, even in top gear at 70 mph, is very impressive, requiring no downshifts to hit triple digits speeds before you think to look at the speedometer. Executing an emergency pass while next to a tractor trailer that suddenly started shedding retread rubber in West Texas, I was amazed at how quickly the Chieftain hit the ton, even with 225 pounds of meat popsicle onboard and fully loaded panniers. The motor feels refined, not rough, and does not generate intolerable amounts of heat. Riding through El Paso, the ambient temperature was 95 degrees, and I never was distracted by heat from either the motor or the exhaust. I found this very impressive; a bone stock, freight train of a motor that inspires hooliganism, but doesn't roast you or feel like it's going to shake itself out of the frame, with a deliciously deep tone coming from an EPA approved exhaust. How exactly Indian does it, I don't know, but we sure are glad they did!
Of course, with such a fun, big mill, one has the temptation to thrash it often, which kills fuel economy. Combine the Chieftain's thirstiness with a 5.5 gallon tank (touring Harleys have a 6 gallon tank), and you'll be gassing up more than you expected. The Indian rider's Harley mounted friends may lose patience as the Chieftain needs to pull in for gas 50-60 miles earlier, again, depending on how often you trash the thing.
HANDLING:
We have very deep experience riding heavy, domestic brand long wheelbase cruisers with floorboards (or as they're otherwise known, touring Harleys!) They are very enjoyable to ride, so long as you respect the limitations of their performance envelope. To ride one of these bikes at anything approaching a brisk pace, you need to be very smooth, know just how much ground clearance you have left, and stay on your chosen line to avoid upsetting the chassis. This is due to a combination of factors including (but not limited to) basic design, chassis rigidity, and the suspension components used.
Mounting up on the Chieftain, I had similar expectations of the handling; big heavy bagger, floorboards, don't overdo it. So I was literally shocked by what the Chieftain's handling was really like: taut, poised, responsive, balanced, confidence inspiring. Really, the complete opposite of what I was expecting based on my experience riding Harley baggers. The Indian Chieftain outhandles any Big Twin Harley has ever made, period, end of story. There's little to no fork dive, no hint of flex in the suspension even when you dig hard into the throttle in an 80 mph sweeper (yes, in West Texas the speed limit is 80 mph). If you push a Harley tourer, it taps you on the shoulder and says "you really shouldn't be doing this" fairly early in the game. You wish you could get more out of it……where on the Indian Chieftain, I found myself riding it like a sportbike, lightly trail braking into corners, getting the bike upright and onto the gas hard. Like I'd ride a sportsbike! Mid-corner, if there was debris in the road, just think about picking up your line, adjust and then fall right back in, the bike just carves. I relished every opportunity to get the Chieftain over on its side – AND I never touched down the floorboards! Not sure how Indian does this, it seems a bit magic. If you like twisties as much or more than you like cruising, you will absolutely love this bike. One look at the headstock area provides a clue as to why the Indian has such great handling: the lower fork clamps is beefy and extremely rigid looking, like something you'd see on a sportsbike. Compare just this one component to the same piece on a touring Harley, the difference is quite shocking.
GEARBOX
Neutral was incredibly easy to find on the Chieftain, and shifting under even fast, hard acceleration was much smoother and took less time between gears than most touring Harleys we've ridden. Harleys shift with a "THUNK", sportbikes with a "Click", the Indian was somewhere between (Tim did find neutral difficult to find at a stop on the Chief Vintage he was riding, and found the gearbox to be quite tight – not sure if this was a setup or manufacturing issue, and we didn't have time to find out.) I was glad that unlike some other nostalgia flavoured cruisers, Indian didn't include a heel & toe shifter, a setup which is at best a nod to simpler, cruder mechanical era of motorcycling, and at worst is a clunkier, slower way to shift that limits where you can place your feet on the left floorboard. The single shift arm was set up with plenty of clearance for large motorcycle boots.
SUSPENSION & BRAKES
The suspension on the Indian Chieftain could almost be described as "European" in feel. The ride is firm and controlled, it eats up the bumps and you keep going. We did find that while riding Route 66 through western Arizona into California, where the road is pretty bad, that the ride on the Indian could feel a bit choppy, more so than on Harleys we've ridden on the same bit of road. We've always thought that Harleys offered a "Cadillac Ride Quality" versus other bikes, with lots of soft fork travel. Many people find this pleasant, part of Harley Davidson's unique feel. Of course, the tradeoff is that soft suspension does not inspire handling confidence at higher speeds. Indian has decided to go for a firmer ride and superior handling, so on bad roads, you're going to feel it more than on a Harley.
We've always found that to ride Harleys properly, you need to balance front brake use by applying the back brake too, otherwise you'll get excessive fork dive. This was not the case with the Indian, you could grab a big handful of front brake and the bike just slowed down without excessive dive. We're assuming the brakes are linked as the bike has ABS; the ABS activation is subtle to the point where we didn't feel it kick in over 3600 miles, despite several unexpected short, hard stops – including one where we got the front tire to chirp. These are excellent, unobtrusive and confidence-inspiring brakes.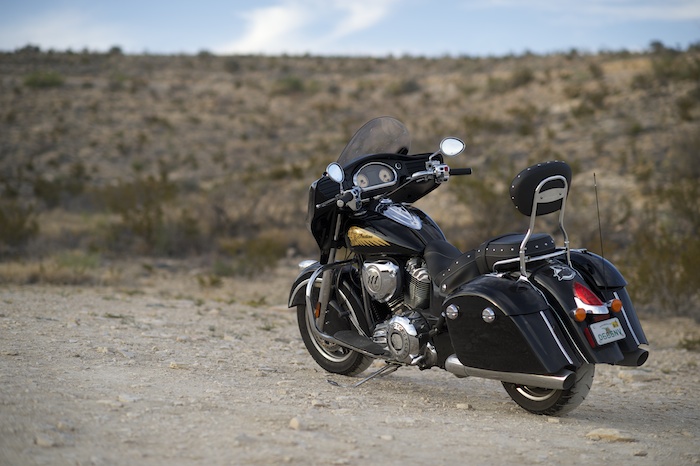 RIDER COMFORT and ACCOUTREMENTS:
The vintage look, black leather saddle of the Indian Chieftain is super comfortable once broken in. Initially, it felt a bit firm, without much padding, reminding us a bit of the aftermarket Corbin saddles we've used in the past. To be honest, we don't really like super cushy saddles. After about 1,000 miles, the saddle was more compliant, but still provided a firm platform which reinforced the overall feeling of being connected to the bike, in control. The large fairing, fixed to the forks not the frame, provided excellent wind and weather protection, and the electronically adjustable windscreen is a luxury we wish all touring bikes had. On cold mornings, we cranked it up and stayed out of the wind. In the searing temperatures of El Paso Texas, we set it in the downmost position and got great windflow right into helmet face level.
The bars stretch out very wide, and in our opinion could pull back a little more than their stock position. We suspect that the wide bars in part contribute to the feeling of excellent balance at slow speeds; I was less worried about dropping the Indian (even at low speeds on broken shale_ than any other bike I've ridden. The low center of gravity and long wheelbase just add to the feeling of comfort and confidence you get riding the Indian Chieftain. This bike has Cruise Control, which works well, although we found it to be slightly less smooth to use than the current Harley Davidson Cruise module.
There's a saying: "There is no such thing as a perfect motorcycle" – and unfortunately, the Chieftain's audio controls ensured this old maxim stayed true, both aesthetically and functionally. Huge chrome pods sit near both bar ends, comically oversized. In the setting sun, they cast a bright reflection, like a mirror shining directly in your face (late in the day, we started riding with a thumb over the tops of the control modules so we weren't blinded). Our Chieftain's audio controls were among the worst we've ever used –  the buttons far too small, hard to press and lacking in response, and laid out in a confusing manner. The text on the buttons, which have a rubberized texture, is written in white lettering, which rubbed off and became illegible within the first few days of our ride. Sadly, the superb electrically adjustable windscreen controls are on the left pod and the button used to raise and power it required so much force that it caused physical pain to my left thumb. Seem like we're nitpicking about these controls? Well, the rest of the bike is so spot on mechanically and aesthetically, that it just puzzles us –  how was this critical element of the tactile interface bungled? in 3600 miles, I used the radio once or twice, and I love listening to music on long rides. That says it all about the audio controls, really. We hope these controls are redesigned by Indian in future model years.
AESTHETICS AND DESIGN
The front fairing of the bike is a bold design, referencing the steamliner age of locomotives. Unlike the anonymous Batwing fairing, the Chief's calls attention to itself, and takes a bit of getting used to. At first glance, we weren't crazy about the look of the fairing, but grew to love it. The locomotive metaphor works, as this bike just chugs and pulls with real force. The Indian logo and Chief graphic are tastefully used throughout the bike; it would have been easy to overdo it and make the bike gaudy, but the brand visuals are tastefully integrated with the bike. You get a real sense of pride riding this bike, it feels classy, and turns heads. Pride of ownership will be strong with whoever plunks down money on the Chieftain.
The remote locking panniers look beautiful and work well, although they hold a bit less than you'd think given their size. This is down to their sculpted shape, and the electric locking mechanism, which is incorporated into the top lid, and protrudes down into the case, limiting the height of available storage. Still, it's nice to be able to lock the panniers, hear the satisfying clunk when you press the remote lock, and know that you're not going to have them open at speed on the highway.
IN CONCLUSION
In case it didn't come across in the review, we LOVED THIS BIKE. It was truly a sad moment when we handed it back to EagleRider in Los Angeles after 3600 hard miles. The handling, braking, and that brilliant engine really impressed us, as did the overall design and aesthetics of the Chieftain. The only black marks the bike receives are the reduced fuel economy and range versus a touring Harley, and the audio controls. We didn't experience the slightest glitch during our coast to coast ride – for a first model year bike to deliver on this level is hugely impressive. As standard, this bike is more expensive than most Harley Big Twins, but you get what you pay for, and the platform is so complete mechanically and visually we can't see the need to spend much money on aftermarket accessories, except perhaps for an exhaust and stage one kit. You could spend thousands of dollars on a new Harley and trust us, it will never handle as well as the Indian Chieftain.
We'll continue to ride Harleys, our fondness for their unique feel and personality remains undiminished. But our preferred long distance touring cruiser is now unquestionably the Indian Chieftain – a result we would never have predicted before riding this bike across America. We can't wait to see how Polaris will grow the Indian brand over time, given how exceptional this motorcycle is already. Thanks for reading our  2014 Indian Chieftain Coast To Coast Ride Review!
(Interested in hiring an Indian Motorcycle to do some touring in America? Several hire locations are currently available, contact us for details!)
Ride safe,
Jim McDermott
The Lost Adventure, Ltd.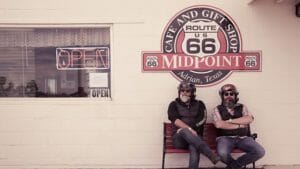 The Hairy Bikers - love them or hate them they certainly know how to plan a good road ...