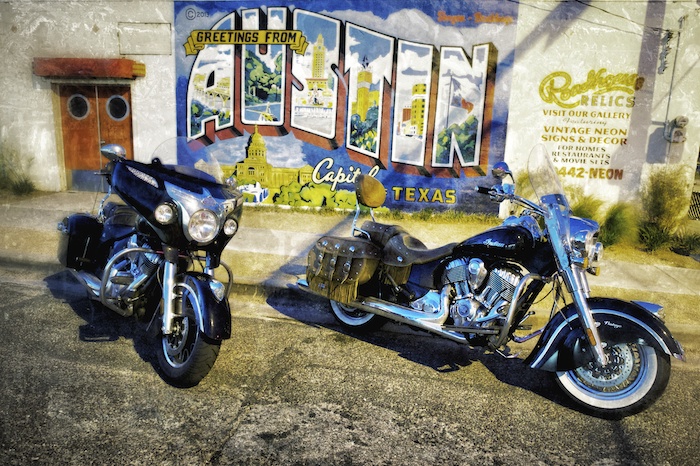 The new Indian Motorcycles are beautifully designed, with aesthetics that respect the history of the marque, with modern accents. We found that no matter where we rode these bikes, when we stopped, people wanted to talk about them. It's unavoidable when you ride the Indians (note, if you're interested in renting an Indian Motorcycle to ride in the USA, or doing a Guided Tour of Route 66 or the Wild West on an Indian, contact us!).
The Southwest provides a rich backdrop in which to photograph these machines, so we mounted up with the intention to scout out some shooting locations. The photographs below were taken primarily in Texas: Austin, Sanderson, Terlingua Ghost Town and Big Bend National Park. We also snapped a couple on Route 66, in Amboy and Essex, California. To be honest, it's hard to take a bad picture of these bikes, especially the Chief Vintage, which looks great from all angles. The Chieftain's imposing front fairing  is the thing one notices first, as your eye is drawn to the large chrome accent which recalls streamliner locomotives of the 1930's. Next time we ride these bikes, we hope we get them in the other available colors, a really deep vintage red and a stunning antique blue. When a bike looks this good in basic black, you know it's going to be gorgeous in color.
GEEKY PHOTOGRAPHY GEAR STUFF:
The equipment used to take these photographs is as follows:
Nikon D4 DSLR
Nikon 24mm 1.4G Wide Angle Lens
Nikon 85mm 1.4G Telephoto Lens
Photos were taken in RAW (NEF), Processing was done in Apple Aperture, with noise and other effects added in Nik Software's Snapseed. We love to use Snapseed for aging a photograph, which seems to work especially well on bikes with vintage design elements. Although it may seem silly to use a pro-level DSLR to take high-resolution photos and then degrade them dramatically, we find that starting with a large, high detail level file provides the best results, especially with the white balance and exposure flexibility that the RAW format provides.
Thanks for checking out our Indian Motorcycle Photo Gallery!
Ride Safe,
Jim McDermott
The Lost Adventure, Ltd.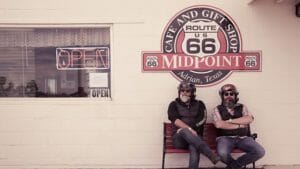 The Hairy Bikers - love them or hate them they certainly know how to plan a good road ...