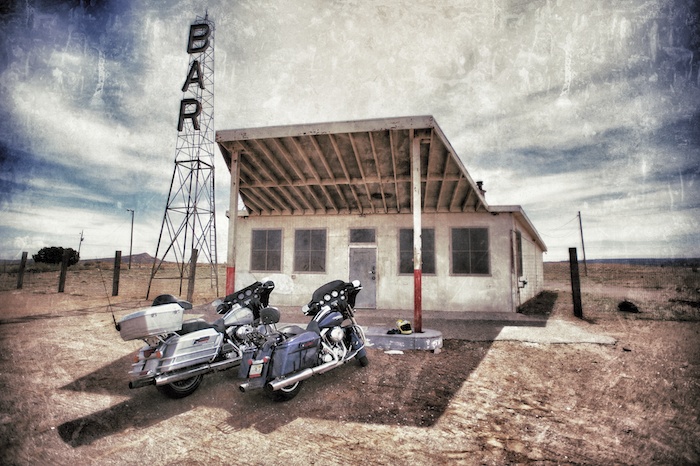 JOIN THE LOST ADVENTURE AS WE RIDE COAST TO COAST IN MARCH 2016!
Have you dreamed of riding a Harley across America, but want to save some money? Join The Lost Adventure on an epic Coast to Coast ride. From March 18 to April 1, 2016 we're doing a special road trip, from Orlando to Los Angeles, at an unbelievably low price: just US$1498 £899 with basic insurance and one way dropoff fee included! This is our low cost Coast To Coast Motorcycle Hire Special, and the hire price is only valid for this ride. Contact Us for more information or to book!
Why is the cost of the rental so low? Well, at the end of the Florida Rental season there are a lot of bikes that need to get back to California for the west coast summer season. So instead of letting all those Harleys sit in trailers on interstates, we've partnered with EagleRider and come up with a great way to get the bikes back west, while offering an unbeatable price for those riding them. NOTE: This low cost HARLEY ONLY hire includes a 2700 mile allowance (not unlimited miles). If the 2700 mile allowance is exceeded (quite likely if you explore a bit), extra miles will be billed at .39 cents per mile – so be sure to zero your odometer when leaving Orlando so you're aware of how many miles you've done. Note this is NOT an organized tour, the £899 is for the bike hire only; there will be no support, we have no hotels booked (there is an optional upgrade that includes hotels in Orlando and Los Angeles, ask for further details), you are responsible for all additional costs, like any other rental.
We first ran this special for March 2014, and had over 60 riders from 10 countries including the UK, Australia, New Zealand, South Africa, Denmark, Spain, USA,  and others join the trip. Everyone set off from Orlando, some as pre-arranged groups, some solo riders, and many people connecting with others they had never met before. It was an incredible way to make new friends, riding together for a ways then splitting off, re grouping, having individual road trips and then finally coming together in Los Angeles with incredible road stories. From Florida to California, people in the group kept meeting on the road. It was a unique ride – collectively, we logged over 225,000 miles in 14 days.
This Road Trip is for those who enjoy a spontaneous tour, where every day is an adventure and you have only a rough idea where you might finish the day. Roll out of bed, look at the sky, unfold a map and trace a weathered hand across the twistiest bit of road…..then go explore it. Want to ride 500 miles in a day and then spend three nights in a hot tub in Vegas? That's fine, so long as you're in LA on April 3rd (extra days can be added at a discounted cost but do not include additional miles over the 2700 allowance). Want to ride with us? The more the merrier! But we carry our own bags, fill our own tanks, and pull our own weight. We'll be a band of brothers, riding where the wind takes us. And we'll rejoin on Santa Monica Pier before returning the bikes to EagleRider.
FIRST AND LAST NIGHTS ACCOMMODATION OPTION:
We also offer an option of booking the first and last nights accommodation for you. We will be arranging a get together close to the Rosen Inn so even if you don't want the accommodation try and stay near by as its a great way to meet up with the other riders. Most of the groups that ended up riding together this year met on this first night. We will also be arranging a group transfer from this hotel to EagleRider on the morning of the 20th to help speed everyones departure.
If you want to book these nights let us know when you book as we only have a limited number of rooms.
Orlando Accommodation – Room Only.
Rosen Inn @ Pointe Orlando (3***)
Check-In: March 17, 2016 / Check-Out: March 18, 2016
Los Angeles Accommodation – Room Only.
Crowne Plaza LAX (3 ½***)
Check-In: April 01, 2016 / Check-Out: April 04, 2016
COSTS:
· King/Single Room / 2 People = US$275 £165 / per Room, for both nights (not including breakfast)
· Twin/Double Room / 2 People = US$275 £165 / per Room, for both nights (not including breakfast)
· All prices above include room rate, mandatory porterage and taxes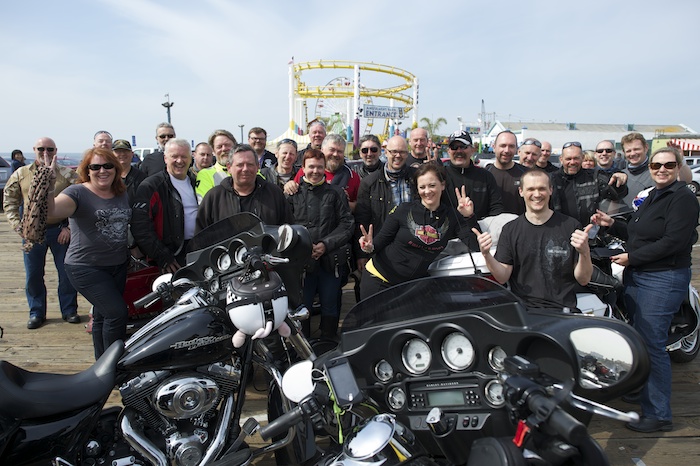 Some of the things you may see: Louisiana swamp land, Galveston, New Orleans, Texas Hill Country, Austin Texas, Big Bend National Park, Tombstone Arizona,  the Aircraft Grave Yard, Vegas, bits of Route 66, San Diego, Hollywood. And the weather? Cold, hot, dry, rainy, humid, windy, sunny, all the colors of the rainbow as we make our way along the Gulf Coast towards California. We'll be staying South, closer to the sun, but feel free to go North so long as you're wearing the right kit. There are sure to be days where the weather is challenging.
To help plan your trip and connect with others, the ride has a dedicated private Facebook group page where you can ask questions, post routes, and share incredibly rich information in the months leading up to your ride. And when you're on the road, the page is used by the entire group to share great roads, things to see, safety updates, and to meet up.
Testimonial
Melisa Lewins and her husband John from Australia did this ride in 2014, here's what Melisa had to say: "John and I had the most wonderful time on this amazing adventure. We made new friends, saw some of the most breathtaking scenery, met such friendly locals along the way and enjoyed exploring the southern states. We travel extensively but this was our first motorcycle trip (overseas) and it is just so different to see things from a bike rather than in a car. It just seems more real – the smells, the weather, the freedom. Our ElectraGlide from EagleRider never missed a beat – we felt comfortable and safe on "Lucille". And the boys from The Lost Adventure are warm, friendly and just really lovely people. And then there was the price … what a bargain!!! This has fuelled our desire to do more motorcycle tours – Vietnam next I think. The best advertisement is that I would do this again in a heartbeat and definitely plan a return trip in the future. Tim and Jim – thank you so much for lifetime memories!"
Thanks Melisa! Read her blog about the trip here.
POTENTIAL COSTS:
Here is a rough idea of some of the likely additional costs along the way, so you can budget accordingly:
Fuel: average $4 per gallon. 2500 Miles (approx) = $200
Food: from $30 a day (You can spend more, but this amount would be quite possible) = $420
Hotels: average from $60 per room (You can get cheaper but will probably also have the option of paying by the hour in these places!!)
You can of course pay a lot more and if you head into many cities the price will go up. Here are some examples of city hotel costs on the possible route
Per Room:
Mobile, AL: $60 (out of town)- $150 (Downtown)
Galveston, TX: $60 (out of town)- $150 (Downtown)
Austin, TX: from $100 (Downtown)
Phoenix, AZ: $40 (out of town)- $60 (Downtown)
San Diego, CA: $80 (out of town)- $150 (Downtown)
Los Angeles, CA: $200
Extra Miles: America is a huge country with so many places to explore. Most of the riders in 2014 chose to surpass the 2700 mile allowance, and again, it's 39 cents per mile over 2700. Still, £100 buys you roughly 430 miles, and how many times are you going to cross America by motorcycle in your life?
Additional insurance: the rental price includes the basic level of insurance but to reduce your risk you might want to look at the following supplementary insurances –
EVIP-0 reduces Collision Damage Waiver to $0. It also covers tire repair and breakdown plus offering replacement vehicle cover (14 days cover @ £21 per day = £294)
SLI Offers $1,000,000 Third Party Liability insurance (30 days cover @ £17 per day = £238)
You don't have to take this insurance but if you choose not to you will be liable for damages to, or loss of, the motorcycle and your 3rd partycover will be to the state minimum requirement.
Read more about this offer in our FAQ by clicking here.
If you're interested in riding Coast To Coast across America, and saving a lot of money while doing it, contact us! We can't wait to do this ride with you.
Tim & Jim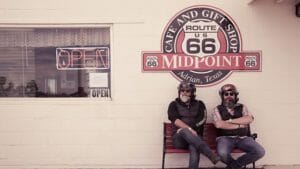 The Hairy Bikers - love them or hate them they certainly know how to plan a good road ...