Our Tips for Riding A Motorcycle Safely in America – read on.
So, you've finally decided to do it, you've booked your dream tour to America, riding down Route 66, the Pacific Coast Highway, Yellowstone, Sturgis or one of the many beautiful places to see by motorcycle. Even if you're a highly experienced rider at home, hiring a big touring bike and dealing with the unique dynamic of American roads and drivers can be challenging. We've learned a few things over the 100,000+ miles we've ridden in the USA, and we thought we'd share our 7 Tips for Riding A Motorcycle Safely in America, so you can have the best and safest time on your guided or self drive tour or rental. Here goes:
1: Distracted Driving is An American Epidemic
Riding in America, it's simply shocking how many drivers you see texting, talking on the phone, doing their makeup, eating – anything but concentrating on the road. It's the worst on highways around heavily populated areas – on a recent ride into L.A., Tim and I were riding along and were overtaken by a car on each side, going 85 mph in a 70 zone, one driver had his hands thru the steering wheel texting, the other was staring down in her lap texting. When you're riding in less populated areas like on Route 66, or the National Parks where speed limits are enforced harshly, it's not as much as a worry. But generally speaking, you'll encounter more distracted drivers than in Europe. What can you do about it? Drive defensively. Assume that cars don't see you, and if you do see a driver texting, get away from them, perhaps by letting them pass. Riding a motorcycle requires an enhanced level of situational awareness at all times, but when you absolutely know a driver isn't paying attention, you need to be ready for anything – cover your clutch and brake, check your speed, and wait until numpty drives off.
2: Being on Holiday Isn't An Excuse Not To Wear Proper Safety Gear
It's a bit odd how often we see this – riders who have 1000cc sport bikes at home, Arai helmet & full Alpinestars kit, but when they come to America and ride a Harley, it's a t-shirt, jeans, and a pisspot helmet. There's a temptation to look the part, ride free and all that, but just because you're on holiday doesn't mean you should leave your safety kit at home. In fact, because you're riding in what is likely an unfamiliar environment, proper safety gear is even more important. For us, that means a full face helmet, abrasion resistant jacket and trousers, preferably with armor, over the ankle boots, and gloves that fully cover the wrist. A back protector is a good idea as well. Al this gear doesn't look as cool as bare arms, wraparound shades and the wind in your hair, but nobody who ever had an incident on a bike ever wished they were wearing less safety gear.
3: Familiarize Yourself With The Hire Bike
The overwhelming majority of hire bikes in the US are Harley Davidson, although we can get you a Honda GoldWing, BMW GS & RT, Triumph Bonneville and more from EagleRider. Unless you ride the exact same model back home, it's likely that there will be some key differences in each of the hire models. Some have fork locks separate from the ignition; some have ABS that needs a few feet before they set; some have heel and toe shifters, and they all have turn signals in different locations! Also, even among the different Harleys, ground clearance varies. If you ride a sport touring bike back home, you may be shocked at how much less ground clearance is available on a touring bike with floorboards. So take some time and get truly acclimated to your hire bike, know where all the switches are, what they do. Get a sense of the brake strength and ground clearance – don't wait until you need to know this information before you know it. Take it slow for the first day or two, don't rush it, make sure you "click" with your hire bike.
4: Don't Allow Yourself To Get Distracted
With all the great scenery you'll be seeing on your tour, it's sometimes a struggle to pay attention to the road while taking it all in – but it's really important that you do. Decreasing radius corners are often not adequately marked, even on roads like the Pacific Coast Highway; if you're distracted, you can easily be surprised. We sometimes see riders playing with the radio, or their gloves, MP3 player, GPS – you cannot do this safely, especially when riding in a group. It's best to pull over, take your time with whatever you're doing, and catch back up to the group safely. Typically you are provided with contact and destination information on Guided Tours, plus there's a chase vehicle that stays at the back of the group, so don't worry about getting lost or left behind.
5: Ride In Staggered Formation
When you're riding in a group, it's essential that you ride in staggered formation. Riding "staggered" is fairly simple: if the rider in front of you is in the left side of the lane, you ride one second behind, to the right (or vice-versa). This provides plenty of stopping room, without another bike directly in front of you. On tight, twisty roads, it's very difficult to ride staggered, so instead ride single file, with a two second gap to the rider in front. What you don't want to EVER do is follow directly in the wheel tracks of the rider in front of you, close and at high speeds. Always leave yourself some space if you have to maneuver or brake hard. Now sometimes in large groups on open roads, you'll find the rider in front of you either rides smack in the middle of the lane, or does not hold a consistent place in the lane, making it impossible to ride staggered behind. In this case, drop back several seconds and give yourself space.
Here' a visual illustration of staggered formation riding from the Motorcycle Safety Foundation:
6: Be Conscious of What's Behind You
Remember the distracted driver or rider we mentioned earlier? If you're stopped at a traffic light, and they're fiddling with something, there's a good chance they might not notice the light and be able to stop in time. It's incredibly important, especially at traffic lights and when riding in large groups, to be aware of what's happening behind you, and be ready to accelerate if you need to. As often as possible, keep your motorcycle in gear when stopped at a light, and have an escape route planned – you obviously don't want to ride straight out into traffic!
7: Riding On The Right (Wrong) Side Of The Road
If you're from the UK, OZ or SA, it's going to take a short bit to get used to riding on the other side of the road. All your reactions, where you look for traffic, which lane you get in after a turn – you'll be riding in an entirely counterintuitive world. It's amazing how easily the brain adapts, and most people get it by the end of day one. But we have seen a few people have a hard time with it on the first day. If you're riding on a Guided Tour, and have never ridden on the opposite side of the road, consider coming in and picking up your bike a day early to practice. Getting used to this "mirror riding" on your own, without a large tour group around you can be money well spent, as you'll be that much more confident on day one of the tour.
So there you have it – some basic Tips for Riding A Motorcycle Safely in America, or really, anywhere in the world. It's not rocket science, it's all simple stuff, information that experienced riders probably know intrinsically. But some of us can get a bit lazy about safety on holidays, and it's good to refresh the basics. Hope you found this information helpful!
If you're interested in hiring a motorcycle in America, or doing a Guided or Self-Drive tour, contact us! We're Official EagleRider Tour Operators with great prices.
– Jim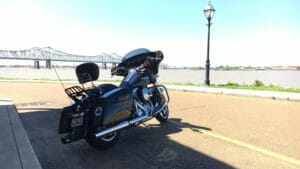 2018 Milwaukee 8 Street Glide ErgonomicsMaybe I'm just lucky but the new M8 Street Glide is a perfect ...