Triumph Bonneville Ride To The Rock Store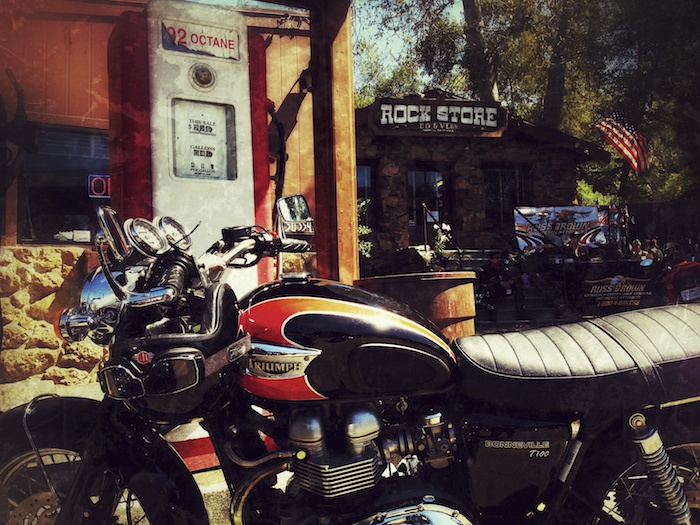 Triumph Bonneville Ride To The Rock Store! If you're visiting the Los Angeles area, you've got to hire a bike and make a pilgrimage to arguably the most famous motorcycle hangout in America, The Rock Store. Located on Mulholland Highway in Cornell, California, The Rock Store sits in the hills above Malibu, and the only way to get there is via twisty roads, a motorcyclist's dream. Open only on Fridays, Saturdays and Sundays, The Rock Store attracts a large crowd of motorcyclists on a wide variety of machinery. Celebrities often turn up, but the bikes are the true stars – you'll see choppers, vintage British Iron and sportbike exotica parked outside.
Our favorite way to get to the Rock store is to ride Santa Monica Boulevard west through Hollywood to the Pacific Coast Highway north. PCH takes you past the famous beachside homes of Malibu; there can be a lot of traffic on this road on the weekends so make sure to head out early, before 10am if possible. After several miles, we hang a right on Latigo Canyon Road, which is just a superb bit of tarmac to ride. Take Latigo to the end, then make a right on Kanan Dume Road. You'll ride Kanan Dume Road for a very short bit, then turn right onto Mulholland Highway, which leads you to The Rock Store.
Click here to view this ride on Google Maps (note this link may not work on your mobile device)
A word of caution: you need to pay attention while riding this bit of road and be very alert. On the weekends this road is thick with sportbike riders, many of whom ride over their heads. This almost guarantees a heavy police presence on the roads, and they have little tolerance for speeding or unsafe riding. This doesn't stop some riders from hooning it down Mulholland – it's absolutely imperative that you stay clear of the center line, especially on blind corners. Remember, not everyone is as good a rider as you are!
You can get breakfast and lunch at The Rock Store. Operating hours and the address are as follows:
The Rock Store
30354 Mulholland Highway (between Malibu Canyon/Las Virgenes Road and Kanan Road)
Cornell, California 91301
Store Phone Number 818-889-1311
Office Phone Number 805-375-7432
Open
Friday (9 am to 6 pm)
Saturday and Sunday (7 am to 6 pm)
In April 2012, we had a great ride to The Rock Store on Triumph Bonnevilles. We shot some on bike footage of the Mulholland Highway portion of the ride, watch the video below (or click over to YouTube to watch in 1080P HD). Bonnies are available for hire via EagleRider at their Los Angeles Airport location – for great rates on all EagleRider bike hire and tours, please contact us!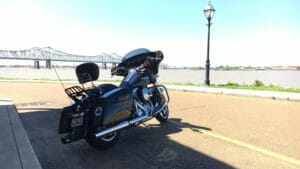 2018 Milwaukee 8 Street Glide ErgonomicsMaybe I'm just lucky but the new M8 Street Glide is a perfect ...