Route 66 Treasure: The Blue Swallow Motel

Riding a motorcycle down Route 66, especially through the more sparsely populated areas out west, you often get the feeling as though you're traveling in another time. Where you settle in for the night can either highlight this feeling, or detract from it. If you're doing a fully Guided Tour, with accommodations booked for you, there's no need to worry about this. But if you're riding with no set schedule, pulling in when you get tired at the day's end, lodging can be a throw of the dice. The big name motels are so often lacking in character, the hospitality can seem insincere. Privately owned historic motels on Route 66 can be very dodgy and run down. We absolutely recommend that you check the room before deciding to check in at any motel – just because a place looks good from the outside doesn't mean the rooms will be nice.
When it comes to lodging, there are of course gems on Route 66, and the jewel in the crown is the Blue Swallow Motel in Tucumcari, New Mexico. Built in 1939, the Blue Swallow is listed on the National Register Of Historic Places in new Mexico. From the outside, the Blue Swallow is a dream of pink stucco and blue neon. Named by Smithsonian Magazine as "the last, best and friendliest of the old-time motels", the Blue Swallow is completely authentic: you sign a book when you register, the owner shows you to your room, and there's a small garage with each unit where you can pull in your bike for the night. The rooms are quaint, with period furnishing and decor, right down to the toiletries.
We arrived at the Blue Swallow after a long day's ride (nearly 500 miles) from Tulsa, Oklahoma. Completely knackered, it felt very special driving down 66 and seeing the blinking neon swallow on the road up ahead, knowing we were home for the night. Current owners Kevin and Nancy Mueller gave us a very warm welcome and a tour of the motel, even though it was nearly 10PM, when the front office closes (make sure to plan ahead to arrive before this time). Without hesitation, we can say that our favorite place that we stayed on Route 66 was the Blue Swallow, the overall feel of the place is so authentically 66.
In the summer months room availability can be an issue, as there are only 12 units available, and many people want to stay at the Blue Swallow. So be sure to book ahead! Also, if you're riding a motorcycle, be very careful when crossing west Texas into New Mexico. Speed limits are fairly high, and huge lorries carry cattle and other cargo on the roads. These lorries often shed tire retreads, which sit in the middle of the road like a big rubber carpet. Hitting one of these at high speed would not be pretty, so be sure to keep your eyes peeled for them, especially if you're riding at night (don't ask us how we know about this!)
Here's a short iPhone interview we did with the Muellers during our stay at the Blue Swallow:
httpvh://youtu.be/gO61Qd3EhsA
To read about the history of the Blue Swallow, read here.
The Blue Swallow Motel is located at:
Historic Route 66
Tucumcari, New Mexico 88401
Phone number: (575) 461-9849
blueswallowmotel.com
Interested in hiring a motorcycle or doing a Guided Tour of Route 66? The Lost Adventure is an Official EagleRider Tour Operator with great prices – contact us!
Route 66 Treasure: The Blue Swallow Motel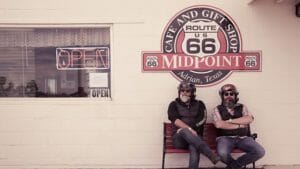 The Hairy Bikers - love them or hate them they certainly know how to plan a good road ...