Route 66 Vintage Iron Motorcycle Museum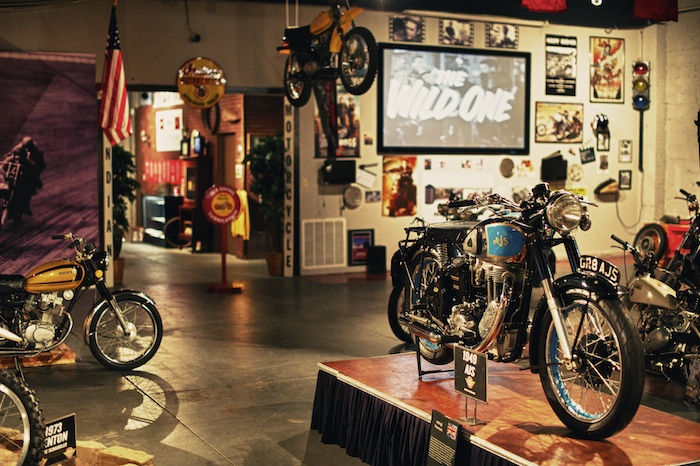 To see everything there is to see on a journey down Route 66, you'd need at least a month, more likely six weeks. But most people tour 66 in just two weeks, which means they have to be selective about where they stop and what they see. Planning ahead, getting together a list of "must see" destinations on Route 66 is an important part of planning your trip (unless of course you're doing a Guided Tour, when it's all pre-arranged for you.)
One of the places we strongly recommend stopping at is the Route 66 Vintage Iron Motorcycle Museum in Miami, Oklahoma. The 2,000 square foot museum has an eclectic collection of rare vintage motorcycles, including a 1917 Harley Davidson, a 1949 AJS, and a 1957 Ariel Red Hunter. There are also some very rare trials and off road bikes, and a huge collection of memorabilia and gear from the 50's and 60's.
There is a rotating "special exhibition" space at the Route 66 Vintage Iron Motorcycle Museum which at the moment features a collection of Evel Knievel artifacts, including his actual Snake River Canyon Jump Mission Control Van – very cool stuff. And if you need gloves, goggles, or a helmet for your ride, Route 66 Vintage Iron Motorcycle Museum has a great riding accessories shop right when you walk in. There is a huge selection of very cool t-shirts with logos of long gone motorcycle marques – how about a Greeves or Bultaco shirt for your collection?
Best of all, entrance to the museum if free, although donations are appreciated. You can easily spend an hour here, looking at the bikes and trying to decide what souvenirs to take home. If you're riding Route 66, we strongly recommend you park the bikes when you get to Miami, Oklahoma and explore both this museum and the town.
The Route 66 Vintage Iron Motorcycle Museum is located at:
128 South Main
Miami, Oklahoma 74354
(918) 542-6170
Click here for hours and directions.
If you're interested in riding Route 66, contact us! We've got the most competitive prices on EagleRider Guided & Self Guided tours, plus Harley Davidson, Honda Goldwing, BMW and Triumph motorcycle rentals.
Here's a selection of photos we took during our visit to the Route 66 Vintage Iron Motorcycle Museum in April, 2012, click to make the photos larger: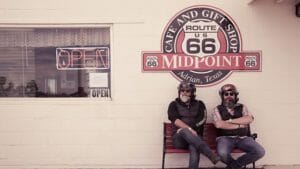 The Hairy Bikers - love them or hate them they certainly know how to plan a good road ...