November 2014 – spontaneous email from Tim of the Lost Adventure asking me if I'd be interested in a short cheap trip somewhere interesting in USA. A check of remaining holiday balance later and I'm in !
EagleRider were doing a celebrity trip from Los Angeles to Cabo San Lucas in Baja Mexico … not this trip for me but the return leg where the bikes needed to be returned to Los Angeles. 5 day trip covering pretty much the same ground but without the celebrity accompaniment
Flight to Los Angeles with the exceptional Air New Zealand who I would recommend flying from London to Los Angeles to check out. A day mooching around the human zoo that is Venice beach, including freak and show and the most excellent Bartels Harley Davidson (one of the oldest dealerships in USA) before a short flight down to Cabo.
A most excellent evening meal including said celebrities before we set off in the morning – instant bonus for me was inheriting the Indian Chieftain motorcycle your man Charley had ridden down there.
The ride up through the Baja peninsula is simply stunning – the Sea of Cortez is without a doubt the most "blue" sea I have ever laid my eyes upon. We were a mixed bunch of Brits, Aussies, Kiwis and Americans, mostly Harleys and Indians but a couple adventure bikes also. Our tour guide was Eagle Rider legend Steve Feather – veteran of many a tour and if you ever get him as a tour guide you will be in for a treat – the guy knows his stuff and is hilarious also.
I was interesting riding through some of the areas as levels of living for many in the area are not high. One highlight was San Ignacio – beautiful town some of the best tacos I have ever had .. cooked on a hot plate with power from overhead cable .. not sure of the hygiene star rating but fantastic.
Last night Baja side was Ensenada – the biggest of the towns we stayed and a real eye opener being so close to the USA border as so different from the towns we had been passing through. Tequila may have happened.
Crossing the border was long winded but not unexpected followed by a great, but slow ride up the Pacific Coast Highway back to Los Angeles. Being California us Brits were in our "lane splitting" element whilst for the Americans this was a whole new experience that they seemed to enjoy.
I would wholeheartedly recommend EagleRiders Baja tour and certainly a return to Baja is on my agenda.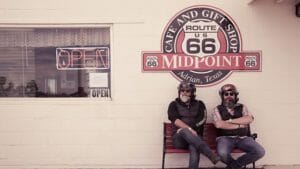 The Hairy Bikers - love them or hate them they certainly know how to plan a good road ...