Travel Channel Presenter and Former BBC Bard Charlie Ottley, face of the hit Travel Channel "Flavours Of", recently sorted a bike through us for a Coast To Coast ride across America. Charlie rode a Heritage Softail which he picked up at EagleRider HQ.
Charlie's ride started in Los Angeles in late January 2014, and finished up in Orlando in early February. It apparently got a bit chilly during the final leg: "It's been ridiculously cold, even wearing two pairs of jeans," said Charlie, "but the bike has been going beautifully!" Although he had requested a lighter bike for the tour, something like a Sportster, we suggested one of Harley's Big Twins would be more stable and less tiring on such a big mileage trip. Turns out Charlie agreed. "I opted for the Heritage Softail, rather than the Electra Glide, bit lighter and more flexible. Although it's still quite heavy compared to what I'm used to, the center of gravity is low so it's surprisingly easy to maneuver." Given Charlie's epic adventures around the world, this was probably a doddle by comparison, but Charlie certainly seems to have enjoyed himself on the ride.
Charlie was kind enough to send us some photos of his ride, which we're posting here (thanks Charlie!). We'll be doing almost this exact route in reverse, on our March 2014 Low Coast Coast To Coast Ride. If you're interested in riding Coast To Coast across America by motorcycle, contact us! We've got multiple options starting and finishing on either Coast, at great prices.
Thanks again for sharing your journey with us, Charlie!
Jim McDermott & Tim Orr
The Lost Adventure, Ltd.
Follow Charlie Ottley on Twitter
Charlie Ottley Rides Coast To Coast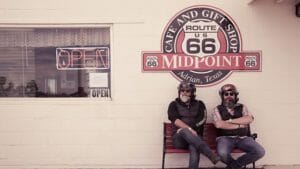 The Hairy Bikers - love them or hate them they certainly know how to plan a good road ...