One man, a camera, one brand new Harley M8 Street Glide and 3000+ miles of open road!
Follow guest blogger and veteran Lost Adventure customer, Matt James day by day on his solo, 14 day ride from Chicago to Biketoberfest in Daytona on a new Harley-Davidson M8 Street Glide – the last big ride of the 2017 season. His chosen route includes parts of Route 66, the Indi Speedway Museum, Gettysburg, the Appalachian trail, Blue Ridge Mountains, Deals Gap (Highway 129 – The Dragon!),  Barber Vintage Motorcycle Museum, the Gulf Coast and ending with one of the best Bike Meets in the USA!
At the end of the trip, Matt wrote up a review of the Harley M8. Read his article here.
It's 2000 miles to Orlando, he's got a full tank of gas, half a pack of cigarettes, it's dark out, and he's wearing sunglasses. What could possibly go wrong!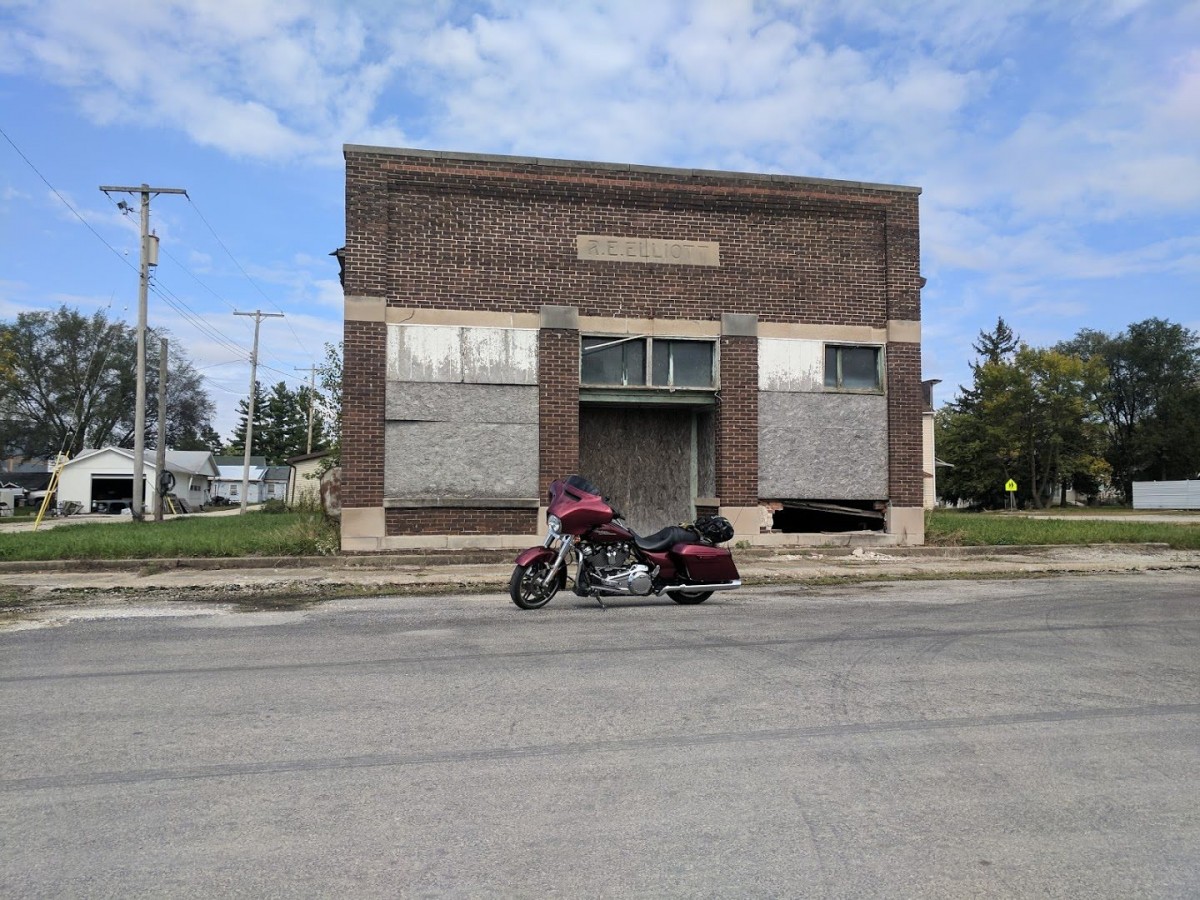 Matt starts his ride from Chicago to Biketoberfest in Daytona. He's already stayed in the best bike hotel in the US – the famous 'Iron Horse Hotel', Ridden a day on 66 and made a Blue's brother Pilgrimage. Oh yes! And he's managed to stab himself (it's a long story).
Sections of the old Route 66 before Matt's route takes him East.
A grey start, but again he's managing to avoid the rain (for the most past) visiting the Indy Speedway and museum, a great Bar and Grill (with no Grill) and is currently fuelling up in a locally recommended diner. He's now continuing East with Gettysburg as a target.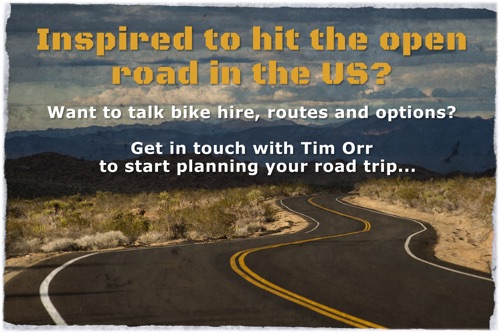 Matt still hasn't started heading south. Battlefields and a big detour for a photo took up a lot of today.
Starting to head south. Through the twisting roads of the Appalachian trail which lead to Shenandoah and the Skyline drive. Simply stunning!!
He met some old friends and made some new ones. Riding the Blue Ridge in Autumn should be high on any bikers bucket list.
Matt meets "The Dragon" on his journey from Chicago to Biketoberfest in Daytona. He needs to be in Daytona by the end of the week but spent a day on and around the Dragon. Who can blame him.
He survived the Dragon! The next day starts with him leaving Lynchburg disappointed (no one told him it was a dry county!! ) and ends with a visit to possibly the worlds best motorcycle museum.
Matt swaps BBQ for Oysters as he hits the Gulf Coast. Only a day more to ride before reaching Biketoberfest in Daytona. After his epic ride from Chicago he needed a little assistance getting to bed 😉
Matt hits Biketoberfest in Daytona. After a 14 day ride from Chicago he can kick back at one of the best US bike meets.
Great ride!
3393 miles, 22nd sheet of Hillbilly sat nav and 3 mins to spare … Matt finishes his ride from Chicago to Biketoberfest in Daytona.
Find out what Matt thought of the M8 Street Glide – read his review. 
Here's what Matt has to say, looking back on his road trip:
Well, two weeks on the road in the mostly Eastern states of the USA did not disappoint. Roughly 99% of places were all completely new which satisfied the explorer in me.  My rough outline plan was mostly stuck to but as always speaking to locals or getting tips from afar (wonder of the internet and people knowing where you are) meant there were unplanned deviations such as the wonderful town of "Intercourse" where the local Mennonites served up some of the best "home cooked" food of my trip. To be honest this only occurred due to me spending far longer at Gettysburg than planned but wanting to put some miles in that day.
So many boxes were ticked on this trip, Gettysburg, HD musuem, Barber motorcycle museum, Joliet (Blues Brothers), Lynchburg (Jack Daniels), Chattanooga (the song), Indianapolis (the race track), Tail of the Dragon, Harpers Ferry (Civil War) etc. looking back on it hard to believe it all happened within 14 days.
I guess the only "low" of the trip for me was part of the ride to Gettysburg where I'm certain Maryland was drenched in heavy rain and misty from one side to the other – which was a shame as what I could see of the mountains and scenery looked like it was probably sstunning!
The ever changing scenery and people when travelling America never ceases to amaze me – sometimes by the evening it can be like being in another country.  I can think of no better way of travelling America than by motorcycle and once again the staff and service of Eagle Rider were faultless as was the bike provided.
Some Statistics
Miles covered: 3393 miles.
States visited: 12
Fuel cost: $195.58
Sheets of sat nav paper used: 22
New t-shirts bought: 4
New beers tried: 21
Backstory
Matt's been riding bikes of all sorts since the age of 16 and is very experienced in US riding, starting off with a Fatboy on a guided tour with a luggage/support vehicle. He followed that with a solo trip of a similar route with another trip a year later, where he guided four friends.
Then, since discovering The Lost Adventure, he's completed three Coast to Coast runs, taking a different route every time. As Matt says "There are literally an unlimited number of routes you could take. On the first trip I was part of a group of six, the next two trips were technically solo, but riding with others as and when you meet them… and you almost certainly will.  I've done it twice on Street Glides and once on the Chieftain and both bikes have been perfect for my trips.  Undoubtedly the best part for me is the lack of schedule and fixed route – and the friends you make.  Every trip I have come back with more friends, many of which I keep in touch with on a regular basis and meet up with."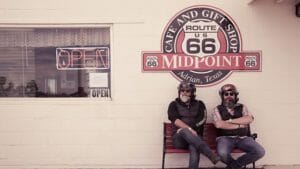 The Hairy Bikers - love them or hate them they certainly know how to plan a good road ...