Easy Rider Movie Motorcycle Tour
We're so excited to be able to offer this tour – EagleRider has obtained the rights and has introduced the Official Easy Rider Movie Guided Motorcycle Tour, with departures starting in May 2013.
In terms of motorcycle films, it just doesn't get more iconic than Easy Rider. Looking back now, it's easy to forget how groundbreaking this film was when it came out. At the time, Hollywood movies were big, schmaltzy productions – musicals, westerns, and syrupy dramas. Dennis Hopper's directorial debut hit the scene like a bombshell. The establishment didn't get it, but the film brought the counterculture into the mainstream, and ushered in the New Hollywood era of filmmaking in the 1970's – Peter Biskind writes of the impact of Easy Rider in his superb book, "Easy Riders And Raging Bulls: How The Sex Drugs And Rock-N-Roll Generation Saved Hollywood" (we highly recommend this book if you're a film buff!)
We have to admit, we roll our eyes when we see motorcycle footage and the Steppenwolf track "Born To Be Wild" plays as the soundtrack. It's become a cliche, but again, it's easy to forget how stunningly cool it is to hear this song played while Hopper and Fonda hit the road on their choppers. There have been other motorcycle films made (and one could argue that Easy Rider isn't just a biker movie), but really, it's hard to think of a cooler bike flick.
Which is why the prospect of reliving this ride is so appealing, traveling the same route taken in the film, Los Angeles to New Orleans (minus the abrupt ending of course!) We've ridden through much of the country that this tour will journey through, and it's inspiring to say the least. This will be a life-changing ride for most who take it. And with the destination set as New Orleans, for sure there's going to be one big party at the end of the tour. The food, music, people and overall vibe of New Orleans is totally unique and very special.
The Lost Adventure, Ltd. is an Official EagleRider Tour Operator, with great prices on all EagleRider Guided & Self-Drive Tours and Rentals. For more information on the EagleRider  Easy Rider Movie Tour, click here.
Thanks for looking and we're looking forward to helping you!
Jim & Tim
Easy Rider Movie Motorcycle Tour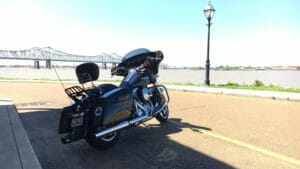 2018 Milwaukee 8 Street Glide ErgonomicsMaybe I'm just lucky but the new M8 Street Glide is a perfect ...