Great Motorcycle Rides from Las Vegas
EagleRider has over 70 locations in the USA, in just about every major city, and within reach of pretty much any tourist destination you'd want to visit. One of our favorite places to start a ride is Las Vegas, which is home to an EagleRider corporate location just ten minutes from the Strip. Las Vegas is an incredibly exciting place, but if you want a change of pace after a few days of partying, there are some great sights within reach of Sin City. You can hire a bike for just a day, using Las Vegas as a base, or pick up your bike and head out for a few days and do a loop. Or, go for a longer ride and maybe drop the bike off in Los Angeles, or San Francisco! There are tons of options. Here are three of our favorite short rides out of Las Vegas (click the names of any of the places for links to more information):
Mount Charleston: located about 45 minutes out of Las Vegas, Mount Charleston is a mountainous area and a really good, short ride to acclimate yourself to your rental bike. After about 18 miles of highway riding on US 95 North, turn left on Kyle Canyon Road/NV- 157. Then you've got an enjoyable 20 miles of open, sweeping roads as you climb up the mountain. You get a nice break from the heat the further up you go. Stop for lunch at the Mount Charleston Lodge; the portions are huge and we usually get a burger, a chicken sandwich or a salad. Being up in the mountains amongst the pine trees is quite a contrast from the Las Vegas Strip!
Death Valley: Located about 130 miles from Vegas, Death Valley National Park boasts unbelievable scenery, and a stillness that soothes the mind. Although summer temperatures routinely hit 120 degrees, there are many days where the temperature is manageable and pleasant. Bring plenty of water to drink, dress properly and wear sunblock. We've been in the park when the sun went down, and it was almost a religious experience watching the bright moon come up, illuminating the desert. This is an inspiring place to ride a motorcycle, just remember that a round trip ride will take a full day. Click here for a list of suggested Death Valley rides from Las Vegas.
Hoover Dam: The Hoover Dam is an incredible feat of human engineering, and only 30 miles from Las Vegas. We used to ride over the bridge on our way to Kingman, Arizona, to connect with Route 66, but there is now a bypass which diverts traffic around the Dam. The Dam is now a one-way destination; this is a good thing, as there's far less cars going over the bridge, and you can enjoy the scenery a lot more. When entering the Dam area, you'll stop at a security checkpoint where you'll be asked for ID and your bags may be searched – be as cooperative as possible (unless you enjoy full body cavity searches!)
So, if you're planning on a trip to Las Vegas, take some time to hire a bike, and please be sure to contact The Lost Adventure for the most competitive rates on all EagleRider rentals, guided and self guided tours. Click here to reach us…..
Great Motorcycle Rides from Las Vegas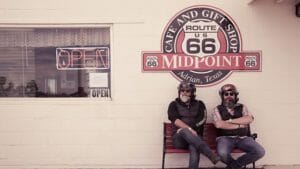 The Hairy Bikers - love them or hate them they certainly know how to plan a good road ...