Rent a Triumph in America
httpvh://youtu.be/pg5GpCL-hLQ
The Lost Adventure is an Official EagleRider Tour Operator with the most competitive prices. Triumph Bonnevilles are available for hire at several EagleRider locations:
Los Angeles, California
Miami Beach, Florida
Chicago, Illinois
Albuquerque, New Mexico
Richmond, Virginia
2012 Average Rental Rate (Per Day):
1-10 Days £74 or $116
11-20 Days £69 or $106
21+ Days £61 or $95
Includes Taxes, fees, helmet rental, basic insurance, pick up & drop off within 7 miles of EagleRider location
Does not include optional additional insurance or one-way fee (if applicable)
Contact us for a detailed quote
Thinking of renting a bike and doing some riding in the USA? The large spaces, open roads and lower speed limits of America (versus Europe) encourage a laid back riding style, which is one of the reasons why Harley Davidson motorcycles are so popular. The vintage feel of a Harley transports you back to a simpler time, and cruising down Route 66, you have to remind yourself it's not 1955. It's a time machine on two wheels.
But what if your black and white memories of the 50's travel back to Cafe Racers, to British Iron, to rockers, Eddie Cochran, Steve McQueen and the Ace Cafe? Well then, you have to rent a Triumph Bonneville. With similar horsepower to the bigger Harleys, but with a 200+ pound weight advantage, the Triumph is a more spirited, nimble ride. Of course there's little wind and weather protection, and the Bonnie is not as comfortable as the HD on longer, sustained high speed roads (65-70 mph). But there's a simplicity to the Bonneville, a minimalism that makes for a more adventurous-feeling ride. You have to carry less, as there is little or no luggage capacity on the Bonneville. And the standard seat can be a bit hard on tender bottoms (bicycle riders will find it quite plush). Pillions will find the Bonnie hard work on longer days.
We've ridden the Bonneville on tighter roads, especially in Northern California, and it was quite a bit less work than any of the Harleys. Ground clearance is better on the Bonnie, and with 200 pounds less weight, transitioning from side to side is something you think about and it happens. The engine note, riding position and overall feel of the Triumph Bonneville are authentically 1950's/1960's British, and the bikes have bulletproof reliability.
Imagine yourself on the Bonnie, twisting down the eight hairpin turns of Lombard Street in San Francisco. Or heading down Santa Monica Boulevard through Hollywood, headed out to the Pacific Coast to dip your toes in the water. Or perhaps stopping in Oatman, Arizona on Route 66, parking your Triumph outside the Oatman Hotel, and going inside to see the room where Clark Gable and Carole Lombard stayed on the first night of their honeymoon. Or perhaps you'd like to journey across America on a Bonneville, ride Coast To Coast?
The Triumph Bonneville is available in limited supply and only in select EagleRider locations, here's the list:
EagleRider Los Angeles, California
EagleRider Miami Beach, Florida
EagleRider Chicago, Illinois
EagleRider Albuquerque, New Mexico
EagleRider Richmond, Virginia
It is possible to have a Bonnie transported to a EagleRider agent pickup location of your choice for an additional fee. If you're interested in hiring a Triumph Bonneville in America, and want the most competitive rate possible,  please contact us!
Rent a Triumph in America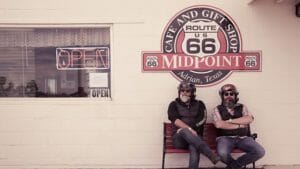 The Hairy Bikers - love them or hate them they certainly know how to plan a good road ...