Great Motorcycle Rides From Atlanta
Renting a Harley from EagleRider Atlanta
Atlanta may not be the first location in America you might think of renting from, but with some of America's best roads less than half a day's ride away, we think it's a great place to start your adventure. There are two EagleRider locations in the Atlanta area:
EagleRider Atlanta Harley http://www.eaglerider.com/atlantaharley/atlantaharley.aspx
EagleRider Atlanta http://www.eaglerider.com/atlanta/atlanta.aspx
Arriving in Atlanta
Getting from the airport to the city via the MARTA Rail System ($6 return) couldn't be easier. The train leaves from within the terminal buildings and if you use the hotel we recommend the same train drops you one block away. Atlanta is a great city with a long history and a cool live music scene. Our recommendation is to stay in one of the mid town hotels, close to restaurants and entertainment. When we stay in Atlanta we use the Georgian Terrace Hotel http://www.thegeorgianterrace.com . Although very modern this hotel has been a part of Atlanta for nearly 100 years. It has a great bar, and is right across the street from the Fox Theater, which offers live music on many nights. Across the street on the same block as the Fox are a couple of bars which serve good food, stay open late and also often have live music. The hotel is within the 7 mile free transfer radius for both EagleRider locations.
Great rides from Atlanta
The following are just three highlights in rides easily reachable from Atlanta. Between them are many, many other great roads. So, while these roads offer some pretty spectacular highlights, they only scratch the surface of the rides available from this location.
The Tail of The Dragon
Designated US 129 but known by to motorcyclists by it's nickname "The Tail Of The Dragon", this stretch of tarmac has 318 corners in 11 miles. Not that well known outside of the US, it should be high on any motorcyclists bucket list. Running to the West of the Great Smoky Mountains between Robbinsville and the Tennessee state line, The Dragon offers one of the most intense rides you're likely to come across anywhere in the world. There are plenty of places to stay in and around the area, but our favorite by far (although a bit pricey) is The Snowbird Lodge http://www.snowbirdlodge.com . It is situated very close to the Cherohala Skyway, and makes for a great loop using both the Dragon and the Skyway as day rides. Note the Snowbird has a two-night minimum stay; when you check in, you'll want to stay longer, the food, view and overall vibe of the Snowbird is very special.
Cherohala Skyway
$100 Million and 34 years in the making, this road has a very different feel to the Tail of the Dragon. The Skyway is a much more open road, offering long and sweeping mountain curves. Climbing to an elevation of 5,400 feet, it offers views every bit as spectacular as the more famous Blue Ridge Parkway, with much less traffic.
The Blue Ridge Parkway
Within easy reach of Atlanta, the Blue Ridge Parkway is a 469 mile stretch of pristine National Park highway. With not a stop sign, traffic light or junction along its whole length, this is one of America's finest roads. The parkway has a low speed limit for its entire length (30-45 mph) which can be frustrating for some, but given the views from nearly every corner and the abundance of animal life crossing the road you won't want to go that fast anyway. The full parkway will take around three days to ride and explore, and riding northbound leads nicely into Skyline Drive which ends just 70 miles west of Washington DC. If you don't fancy a round trip back to Atlanta, you can return your bike at EagleRider D.C. http://eagleriderdc.com located in Falls Church, Virginia.
If you've ridden in America, perhaps in California or on Route 66, you know how beautiful the riding is. But there's plenty of wonderful riding on the East Coast as well, and Atlanta is a great place to start your adventure. For more information on things to do and see in Atlanta, visit http://www.atlanta.net/
To hire a motorcycle in Atlanta or anywhere in the USA, contact us!
Cheers,
Tim
Great Motorcycle Rides From Atlanta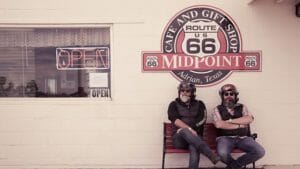 The Hairy Bikers - love them or hate them they certainly know how to plan a good road ...