Route 66 Motorcycle Tour
(UPDATE: We're back! Check our  website and Facebook page for photos, videos and stories about our ride down Route 66!)  It's been an incredible journey so far – to see all the latest photos and videos from our tour of Route 66, visit us on Facebook by clicking here.
In April 2012, Tim and I took a ride down Route 66, and wrote about our journey along the way. We posted frequent updates and answered questions about the Route on our Facebook page. We'd done large segments of Route 66 over the years, but riding it in early Spring was both thrilling and challenging. The weather was extreme at times, but we had the road nearly to ourselves. It was really special – as is any ride down legendary Route 66. If you have questions about the ride, or are interested in touring The Mother Road yourself, please join our ride on Facebook!
Best,
Tim & Jim
http://www.facebook.com/thelostadventure
Route 66 Motorcycle Tour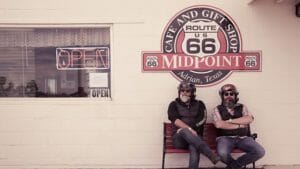 The Hairy Bikers - love them or hate them they certainly know how to plan a good road ...