Great Motorcycle Rides Out Of Seattle : The Pacific Northwest is one of the best riding destinations in America, with incredible roads, scenery, and food. In our experience, Seattle is just about the perfect location to start a west coast tour. Many riders choose to pick up their bikes at EagleRider Seattle, and head south along the Coast on the 101, Highway 1 and the Pacific Coast Highway to Los Angeles.
But if you're looking for something different, then depart Seattle and head inland. The Pacific Northwest has a reputation for being wet, but the summer months will give you a far higher chance of sun than (for instance) the UK. Head inland from Seattle, and the weather gets better while the traffic all but disappears along spectacular roads.
During the summer months, there are hundreds of Festivals and events celebrating food, beer and music throughout the Northwest. They all make great destinations, but if you're a petrol head, there's one event that you have to check out: Car D'Alene. It's a classic car weekend for pre-1975 cars and trucks. Add some really cool bars and streets that are curb to curb with Custom and Classic Cars and a sprinkling of bikes and you have CAR D'ALENE. Run every June in the north Idaho town of Coeur d'Alene, it's a great event with a huge number of classic cars both on show and driving the streets. The ride to Coeur d'Alene and back from Seattle curves through some of the area's most beautiful landscapes.
CAR D'ALENE http://www.cdadowntown.com
Getting There: Now here's the good bit!
Heading east out of Seattle you'll head straight into the Northern Cascade Mountains.  These mountains sit right up on the Canadian border and the scenery is spectacular. Cascades Scenic Highway 20 runs through the heart of the area.  At 450 miles it makes a perfect two-day ride with a stop in the great little town of Winthrop, WA (click to watch YouTube video)
Returning back to Seattle you can head south into the Palouse, an area of outstanding beauty, and some great little back roads including the Spiral Highway (click to watch Youtube video)
As a destination, the Inland Pacific Northwest has more than enough to offer for a 2 week tour. But you could always just keep going: to the east awaits Yellowstone, Glacier National Park and the Little Big Horn, all within a couple of days ride. There are many other Great Motorcycle Rides Out Of Seattle, it really depends on how much time you have and which direction you want to ride.
If you're interested in hiring a bike to ride in the Seattle area, either over a few days or as part of a longer tour, either returning to Seattle or in one of our 70+ locations around the USA, contact us! We'll be glad to help you and have the most competitive prices on the web. 
Thanks for reading!
Tim Orr
The Lost Adventure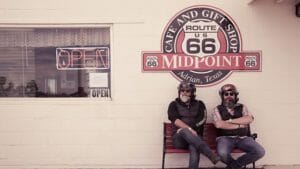 The Hairy Bikers - love them or hate them they certainly know how to plan a good road ...