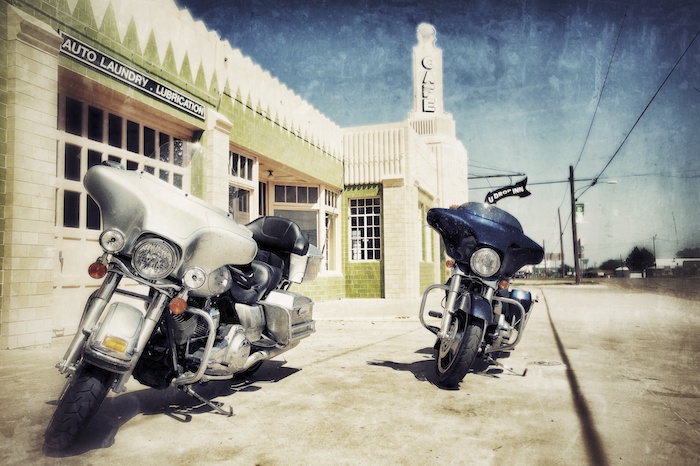 UPDATE: Since this article was written, The Lost Adventure has expanded the range of bikes offered for rental, self-guides and fully guided tours to include the Indian range.
We rode them Coast to Coast to explore the differences between this range and the Harleys. Read what we thought of the Indian Chief, Chieftan and Roadmaster.
There's also an in-depth review of the Indian Chieftan.
If Harley's are your thing, read on…
Which Harley Should I Choose For My Tour? If you're not a Harley Davidson enthusiast, it can be a bit difficult to figure out what the actual differences are between models. While traditional and cool, names like "Street Glide", "Road Glide", or "Electra Glide" don't really provide any clues as to the features of each bike. And even the written specifications of the bikes aren't that helpful – many of the bikes share chassis and engine configurations. So how do you know which Harley to choose if you're doing a Guided Tour or bike hire, covering thousands of miles? (Note: we also have BMW GS & RT, Honda Goldwing, and various Triumph models available. Contact Us! for your bike hire needs!)
First thing to understand is that there are four categories of bikes in the Harley Davidson lineup: Sporter, Dyna, Softail, and Touring. As there are not too many Dynas in the EagleRider fleet, we'll stick with the most popular lines: Sportster, Softail and Touring.
1) Sportster: The Sportster has a few things going for it: low seat height, light weight (compared to other HDs), lighter handling and simplicity. If you're concerned about your physical ability to put both feet on the ground while sitting on the bike or the weight of the machine, the Sportster is a good choice. It's a wonderful bike for shorter rides. Unfortunately, it's smaller displacement (883 cc) and petrol capacity (3.3 gallons) relative to the bigger Harleys becomes inconvenient on longer rides. On a long day's ride, you'll be fueling up quite a bit more often than bigger bikes, with their 6 gallon tanks. As such, we don't recommend the Sportster as the ideal choice for touring. For riding around Hollywood or the Vegas Strip looking cool however, two thumbs up!
2) Softail: The Fat Boy and the Heritage Softail are the two most popular bikes in this line. Softails are named so because while they look like rigid, hardtail style bikes, they have a hidden shock absorber under the bike that soaks up the bumps. So you get a very clean look without exposed shock absorbers, and a much more compliant ride than a hardtail. These bikes also feature the HD "B" motor, which has a counterbalancer inside to decrease vibration. Softails have a unique mechanical feel due to this motor and suspension combination that's hard to describe – we'd say it's a slightly more hardcore ride than a pure touring Harley. Also these bikes typically feature pegs for passengers, not floorboards, and more narrow pillion accommodation than the touring models. The Heritage Softail provides the most pillion comfort of all the Softail models, so if you're planning on bringing a passenger along, choose the Heritage.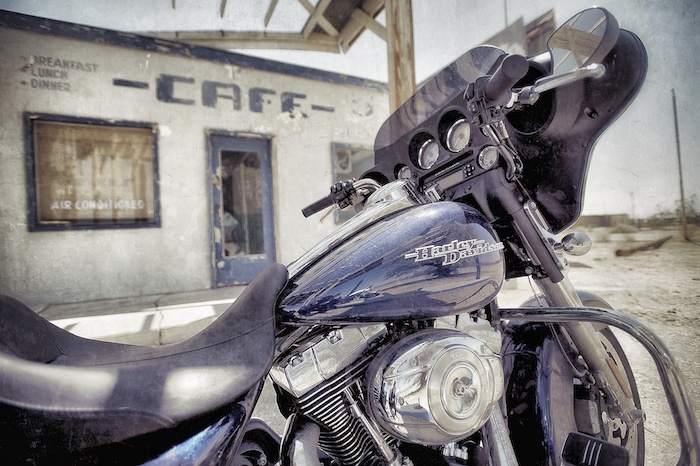 3) Touring: OK, we'll admit it: the touring models are our favorites of the Harley Davidson range. Why? Because to us (and mind you we have over 100,000 miles of touring experience in America) they just feel the best to ride long distances on. Much of this is down to two things: their chassis, which features a dual shock air suspension, and the rubber mounting of the engine, which isolates the rider and passenger from much of the vibration. The touring chassis has just superb road feel, there's something about it that's very special. But even between touring models, there are significant differences. The Street Glide and Electra Glide feature the classic Harley "Bat Wing" fairing, which provides superior wind and weather protection, and includes speakers and a CD Player/radio. The Road King models, which we absolutely love, have a detachable windscreen, providing less wind and weather protection and of course no CD/radio. But it's very nice to take the screen off on hot days or rides around town, provided you have someone to carry it for you.
The touring models all feature floorboards for the rider, and most also include floorboards for the pillion as well, which provides extra comfort and a feeling of increased stability for passengers. The Street Glide, however, uses passenger footpegs, which we feel are a bit less comfortable than floorboards (the Street Glide also has a slightly lowered suspension for a "slammed" look, which makes it somewhat less bump compliant than the other touring models). Lastly, the only Harley with a stock topcase is the Electra Glide Classic; we love the topcase as not only can it carry a lot of additional luggage, but it acts as a backrest for pillions. (Note: some locations can attach an optional topcase to Street Glides and Road Kings, ask about this when enquiring).
A Note About Weight and Size
Often times, people will mention to us that they don't want to hire an Electra Glide Classic as they feel it will be too big, too heavy or unwieldy. They're missing out because the Electra Glide is the most comfortable Harley, especially for a pillion. If you're not height challenged, have average upper body strength and are an experienced motorcyclist, you should have no trouble with the bike, with any Harley really. They all have low centers of gravity. Of course, if you fully pack the panniers and top case, and add a pillion, you need to adjust and find the balance point, as you would on any bike. We find that balance only becomes an issue at low speeds, especially in parking lots. But again, that's on any fully loaded bike with a pillion.
A Note About Ground Clearance on Harleys
If you've never ridden a Harley before, then you need to adjust to the Harley's reduced ground clearance versus other bikes. A Harley is a cruiser, low, long, and lazy – if you throw it into a corner like a sportsbike you're first going to hear a lot of grinding metallic sounds as it warns you "hey, I'm not that kind of bike!" If you persist in leaning further, chances are you'll end up on your ear. You need to roll into corners on a Harley, and feel out how much clearance you have – this applies to almost every Harley, especially the bikes equipped with floorboards. Once you get used to it, you can ride a Harley in a very spirited manner through the corners, but remember: there's an adaptation period.
We hope this article has been helpful to you. Please leave any comments below, and of course, if you're interested in a Guided or Self-Guided Tour, or Bike Rental, please contact us. We'll work with you to get the most competitive price on the internet!
Cheers,
Jim McDermott & Tim Orr
The Lost Adventure, Ltd.
[one_fourth]
[/one_fourth] [one_fourth]
[/one_fourth] [one_fourth]
[/one_fourth][one_fourth_last]
[/one_fourth_last]
[one_fourth]
[/one_fourth] [one_fourth]
[/one_fourth] [one_fourth]
[/one_fourth][one_fourth_last]
[/one_fourth_last]
[one_fourth]
[/one_fourth][one_fourth]
[/one_fourth][one_fourth][/one_fourth][one_fourth_last][/one_fourth_last]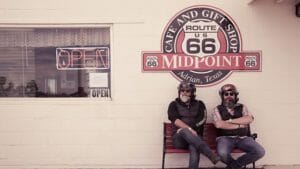 The Hairy Bikers - love them or hate them they certainly know how to plan a good road ...