Removable Windscreens: On or Off for Touring?
(Note: we're got very competitive rates for all EagleRider bike hire, self guided and guided tours, no matter where in the world you are. Contact us here.)
Ok, not the most exciting of subjects, but every time we do a tour, when everyone is picking up their bikes at EagleRider, the first question we get asked is "should I bring along the windscreen?"
Well, it depends, we answer (this of course only applies to bikes with detachable screens like the Harley Davidson Road King, Fat Boy, or Heritage Softail (not the Electra Glide or Gold Wing with fixed screens). Here are some things to consider when you're trying to decide:
1) What is the temperature? If it's hot, most people remove the screen to get a direct blast of air and keep cool. But if it's really hot, like California desert in July hot, the screen can actually keep warm off of you, and make for a more comfortable ride. In 90 + degree weather, we always wear hydration vests, which are soaked in water and keep your body temperature down (which is VERY important on long days). We found that with the screen off, the direct flow of hot air actually caused the vests to dry out faster – it's like riding into a hair dryer at 60 mph. So in super hot weather, we keep the screens on. And of course when it's cold, the screen is a Godsend.
2) Is it going to rain? Then you'll want the screen. But keep this in mind: if you're  shorter rider, and have to look thru the screen when you're riding, it will be very difficult to see at night. All those droplets of rain get illuminated when headlights from oncoming traffic hit the screen, and for a moment your vision will be reduced. In that case, make sure the bike is parked before it gets dark outside.
3) What kind of helmet are you wearing? I wear a full face helmet which, while being bulkier and warmer in summer, provides more protection and is quieter. Tim swears by his 3/4 helmet. Most of the clients we bring on tour seem to want that full on Harley rider look, and choose a pisspot (or shorty helmet for those of you less crass than I). EagleRider provides helmets with every rental (unless you bring your own).  What does this have to do with whether to use the windscreen or not? Well, if you're wearing a full face helmet and an insect hits your head at 70 miles an hour, you hear a THUNK, and laugh at the lovely splat on your face shield. But if you're wearing a pisspot and get hit in the face by an insect (or a pebble) at that speed, you won't be laughing. We've seen riders get permanent marks on their face from at-speed hits. If you have a windscreen on the bike, chances are it will take the hit instead of your face.
4) Are you riding at higher speeds for extended periods of time? When you're in the saddle going 70 miles an hour for 7 or 8 hours a day for multiple days, you'll appreciate a windscreen. You don't really think about it but your body is like a sail in the wind without a screen, and your muscles are fighting those forces while you're riding. On our high mileage guided tour days, it's easy to pick out the people who rode without a screen – they're complaining about their sore neck and shoulders, and are usually off to bed early. Of course, do it often enough and your muscles develop and it doesn't hurt as much – who knew you could get a workout just by sitting on a bike all day!
On a warm day, riding for a few hours, we leave the screens behind. But if you're going on an extended tour, bring the screen along. More often than not, you'll be happy you did.
Removable Windscreens: On or Off for Touring?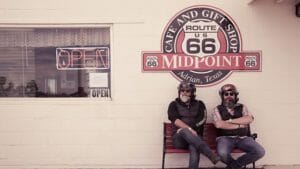 The Hairy Bikers - love them or hate them they certainly know how to plan a good road ...