(Note: we're a fully licensed EagleRider tour operator, offering the most competitive prices on rentals anywhere. If you're interested in hiring a bike for motorcycle touring in America, be sure to get a quote from us, we'll help you save money and time. Contact us here.)
So you're going to America to do some motorcycle touring and plan to hire a bike – great! Here are four important things to consider before booking a motorcycle rental:
1) Are you doing a round trip, or one-way? This is a very important question. Many small motorcycle rental companies (and even some larger ones) require that you return the motorcycle to the same place you rented it. That's OK if you're staying in one place and doing local riding, or if you can loop back on a longer ride. But what if you want to ride from Las Vegas to San Francisco, ride the Four Corners, or perhaps do a US Coast to Coast ride? Check with the bike hire company and make sure you can do a "one-way" rental. We chose to work with EagleRider because they have many franchise locations across the USA, which enable you to chose where you'll pick up and drop off your bike. This enables you, the rider, to custom build a tour itinerary that works around your schedule. In most cases, a one-way surcharge fee applies.
2) Touring solo or with a pillion? A Harley Fat Boy or a Triumph Bonneville may look cool cruising down Sunset Boulevard, but if you run into a rainstorm high in the Colorado Rockies, you'll be wishing you rented an Electra Glide or a Goldwing. For longer tours, where you'll be out on the road for days, we recommend renting a purpose built touring motorcycle. They always have better weather protection, luggage capacity, passenger comfort, and surprisingly, are no more expensive to rent than other bikes in the EagleRider fleet. If a big touring bike seems intimidating, the Harley Davidson Road King is a good alternative. It's got less luggage capacity and passenger comfort than an Electra Glide, but a lower center of gravity for easier control at low speeds.
3) How many days and miles will you be riding? Even if you're not bringing a pillion along, you might want to consider hiring a bike with good luggage capacity. We always seem to bring along more gear than we need on longer rides, and the saddlebags always seems to be smaller than we need! Dedicated touring bikes like the Honda GL 1800 Goldwing or the Harley Davidson Electra Glide include a topcase, with plenty of space for camera gear, laptop, or a full face helmet. Of course, a longer tour minus the mod cons can be very satisfying, and if you pack very light, a Triumph Bonneville with a windshield would make for a memorable ride. A BMW R1200GS is a good compromise as well, as it offers light, crisp handling, good weather protection and hard bags with good capacity.
4) What level of insurance is offered for your rental? This can seem a bit complicated, but it's not really. Basic liability insurance is required for all motorcycles to be ridden on public roads in America, but you can also purchase insurance that covers damage to the bike, with a set deductible. You can also purchase additional liability insurance in case you injure someone else. When calculating how much your total rental quote will be, make sure to consider what basic insurance fees will be required, and what if any supplemental coverage you'll wish to take. Make sure to ask about the various coverages when reserving your bike rental, so you're not surprised when you get to the rental location.
5) Lastly – you MUST be a licensed motorcyclist and provide documentation which proves this. Make sure to bring your license as most bike hire companies will not rent you a motorcycle without proof you're licensed to ride in your home country. Also, most companies require that the rider is a minimum of 21 years of age.
Hope this was helpful! Wherever you live in the world, if you want to rent a motorcycle for your holiday in America, be sure to contact us for a quote.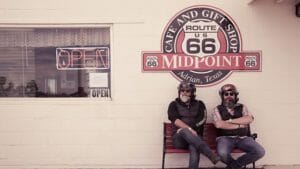 The Hairy Bikers - love them or hate them they certainly know how to plan a good road ...