What's The Best Time Of Year To Ride Route 66? People ask us this question all the time. The season starts in May and runs through October – before or after that, you risk running into cold weather, especially in the midwest and the higher elevation portions of 66. We're ridden Route 66 as early as the beginning of April, and had to deal with pouring rain, hailstorms, even a blizzard! Here are our thoughts on what's the best time of year to ride Route 66:
1) Weather: Really anytime between mid-May and mid-October you should have a lovely ride. There's always a good chance you'll see rain, as Route 66 is more than 2,300 miles long through varied terrain. Be sure to bring rain gear, and if you're riding in the high summer, also consider a cooling vest, which can make your ride far more comfortable and safe. And even if you're riding in the summer, bring a warm, light base layer – it can be quite cold in the desert in the morning and evenings. And in the midwest, there's always the risk of a tornado -plenty of excitement on The Mother Road.
Want to get an idea of the temperature in one of the highest elevated portions of Route 66? Click here for the current weather forecast in Williams, Arizona (and pay close attention to the lows).
2) Tourist Traffic: Let's face it, Route 66 is growing in popularity, and not only motorcycles but even large tour groups in buses are traveling The Mother Road. While 66 is inherently never going to be as busy as any given Interstate in America, chances are you'll encounter more fellow travelers in June, July and August. From the first week of September on, there will be less people on the roads as the summer's over and people return to work. May is a good month too, although the spring weather can be more of a risk. Don't get us wrong, a ride down Route 66 in the summer months is wonderful, just expect to see more people than you would in the off months.
3) When do you have the time? Really, this is the most important question of all. We all seem to have little things in our lives like work, family, health and other obligations that interfere with our riding! Guided tours have preset dates (click here for the current schedule we offer), but if those dates don't work, you can always hire a bike and arrange your own trip, and/or do a self-drive tour, where the hotels are pre-booked for you. Just make sure to ride anywhere between May and October; November to April the weather is a bit too risky.
So if pressed, in our opinion, what's the best time of year to ride Route 66? Mid September – mid October is our favorite time, but really, we'd ride it any time between May and October. It's the ride of a lifetime no matter what the weather's like.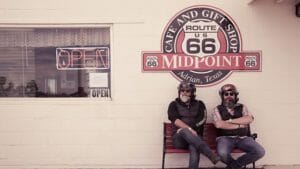 The Hairy Bikers - love them or hate them they certainly know how to plan a good road ...