50 Things I Learned in 25 Years Of Riding Motorcycles Part One
(Testing the Multistrada for http://www.superbikeplanet.com in Lanzarote, 2010 – photo courtesy of Ducati)
I've been riding motorcycles for 25 years. It's really hard to believe I've been doing anything that long; many other hobbies and dalliances have come and gone over those years. But riding, and the very culture of motorcycles has lodged itself into my being, in a way that few other things have. Why? I don't really understand it. Chatting with my riding mates, we all have so many anecdotes, so much information we've gathered from all that seat time. There's a clarity in the experience, a richness that accumulates. The best, most experienced riders don't really think about it that much, they just get on with it, and their riding seems effortless. But we're all striving for that. I guess the 25 year mark just got me thinking about it a bit.
So here's a bit of what I have learned over 25 years of riding. I doubt everyone will agree with all of it; hopefully you'll recognize some of it from your own experiences.
1) If you're meant to be a biker, nothing will stop you: not lack of money, nor discouragement from friends and loved ones. Call it love, a malady, an obsession, some of us have riding in our bones. Do you?
2) Even after 25 years of riding, I learn something every time I get on the bike. But you need to be open to the lessons.
3) I was never a fast rider, but I eventually became a smooth rider. Between the two, the latter is better for the streets.
4) Learn to be fast AND smooth – do track days, take a class (http://www.superbikeschool.com/) or if you've got the bottle, race.
5) Feet belong on the pegs or on the pavement, minimize their time spent anywhere in between. Only Fred Flintstone drags his feet when he slows down.
6) You need to be aware not only of what's happening in front of you when riding, but behind and to the sides. It's better to predict than react.
7) Farkles like GPS, Satellite Radio, iPhones etc are a massive liability to your attention on the bike. Keep that crap in the panniers.
8) If you believe that everyone eventually crashes, then you should believe it most when you're getting dressed for every single ride.
9) Spending $500 on a premium full face helmet is smart, as is replacing it every five years. 1/2 and 3/4 helmets may channel air better to your face, but they channel the tarmac better as well.
10) At 18, I had a big bicycle crash. While I sat in emergency having gravel scrubbed out of my palms with a wire brush, screaming, I decided to thereafter always wear gloves when riding. This is even more important on a motorcycle.
11) Riding off-road makes you a better rider on road, because you learn how to handle situations where traction is dodgy, and deal with obstacles. It's fun, but you do fall down a lot and compared to road riding, it's hard work.
12) Big horsepower bikes are really only fun to ride when you let them off the leash. Really any bike is the most fun when you're caning it (except Harleys).
13) Cafe racers and supermotos are so much fun because when you're doing 60, it feels like you're doing 100. On a litre bike, you need to be going 140 to feel like you're going 100.
14) After chasing the latest and greatest for 20 years, I finally realised that less it more: less money, less weight, less horsepower, less technology, less "design", less hype, less gadgets. The only way I've found to get back to that feeling I had when I first started riding is to strip away the unnecessary.
15) "Family Of Origin" issues: just like a child's environment influences who he/she grows up to be, so too a beginning motorcyclist needs to be mindful of who they ride with when first starting. You can pick up a lot of bad habits from the wrong people. If you're lucky, you'll find a mentor who's been riding for ages and is willing to share some of what he/she knows.
16) The earlier you get up to ride, the better your ride will be.
17) Go to another country and ride. Mark Twain put it rather eloquently: "Travel is fatal to prejudice, bigotry, and narrow-mindedness, and many of our people need it sorely on these accounts. Broad, wholesome, charitable views of men and things cannot be acquired by vegetating in one little corner of the earth all one's lifetime."  More quotes on travel here:  http://www.goodreads.com/quotes/tag/travel
18) The hardest days you have on a bike will be the ones you remember. Hailstorms, hurricanes, and breakdowns test you, and often require you to seek the assistance of others. We've always found that people go out of their way to help, especially in remote areas. These experiences have always given us renewed belief in the inherent goodness of man.
19) I realise that many people will strongly disagree with me, but I found the book "Zen And The Art Of Motorcycle Maintenance" to be boring rubbish that didn't stir any of the emotions I get from riding. Ted Simon's "Jupiter's Travels" on the other hand, is a must read, ticks all the boxes.
20) "Present moment living" –  there are books published about it, classes given, lectures. We don't need any of it, because riding a bike is about as pure an exercise in "present moment living" as you can have. Our bodies and minds meld with the motorcycle, the controls an extension of our thoughts. When we ride well, there is little conscious thought involved, it's just being and doing. People who don't ride will never understand this.
21) Being biased for or against a particular brand of type of bike is a fool's game. Harley, Ducati, Honda, BMW, Triumph, Kawasaki, Moto Guzzi, KTM – Tim and I have ridden or owned all of them (and many others). You eventually get old enough to understand that nearly every motorcycle has something worthy about it, and being prejudiced against any of them limits the quality of your life. A bit like other people and cultures.
22) Because of riding, I've traveled the world, eaten wonderful food, seen incredible racing, and made lifelong friends. If you let them, motorcycles will enrich your life in ways you could not fathom when you first threw a leg over one.
23) Buy yourself a set of these, they work especially well when you have a long day's ride ahead, and a friend comes down with a massive hangover and sees them under his bike just as you're about to ride off: http://www.aerostich.com/fake-oil-pools.html
24) It always cracks me up when the guy on the GS in the full Ewan and Charlie regalia laughs at the Harley dude with the beard and the beer belly in the leather vest, who's laughing at the guy riding the GSXR thou in a full Dainese suit and stuck in traffic, who's laughing at the guy in the waxed cotton Belstaff that's cursing past the pipe in his mouth as he tries to kick his Commando to life.
25) Every day spent above ground is good. Every day spent on two wheels is better.
Part 2 to to follow. Thanks for reading and as always, ride safe!
Jim McDermott
(Testing the Kawasaki KLR 650 for http://www.superbikeplanet.com in Sonoma, California. Image courtesy of Kawasaki)

[one_fourth]
[/one_fourth] [one_fourth]
[/one_fourth] [one_fourth]
[/one_fourth][one_fourth_last]
[/one_fourth_last]
[one_fourth]
[/one_fourth] [one_fourth]
[/one_fourth] [one_fourth]
[/one_fourth][one_fourth_last]
[/one_fourth_last]
[one_fourth]
[/one_fourth][one_fourth]
[/one_fourth][one_fourth][/one_fourth][one_fourth_last][/one_fourth_last]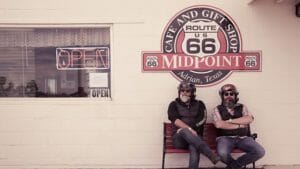 The Hairy Bikers - love them or hate them they certainly know how to plan a good road ...