Tips For Solo Motorcycle Touring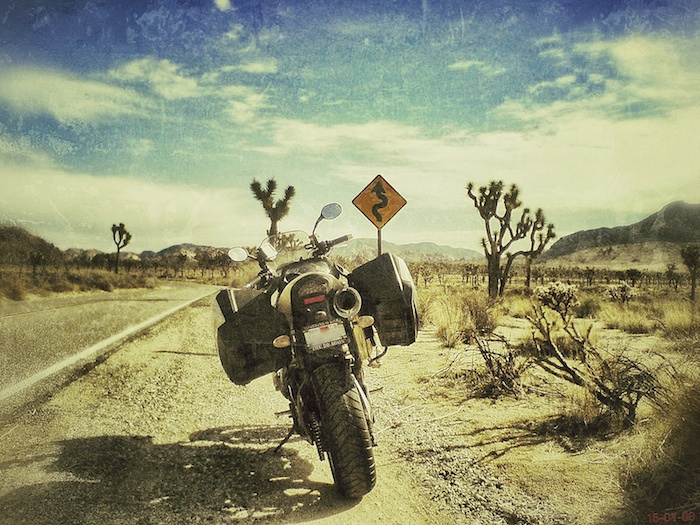 Heading out on a long distance solo motorcycle tour? We've got tens of thousands of solo long distance miles under our belts, including coast to coast rides across America. Here are some of the things we've learned, which we hope will be helpful. And remember, if you need to hire a motorcycle for your American, Canadian or Australian tour, contact us! We're an Official EagleRider Agent with great prices.
1) File a daily "Flight Plan" with friends and relatives. When you're putting in big miles in unfamiliar places, especially in remote areas, it's a good idea to give friends and family an idea of where you'll end up every day, and when you'll be checking in. At the least, this will give your loved ones a sense of ease about you riding alone. As riders, we often discount the concerns of others, because we know the rewards of motorcycling. But if we do have some issue, out on the road alone, it's wise to have someone back home who's thinking about us, and who can reach out if you don't check in after a reasonable amount of time. 99 times out of 100, the "Flight Plan" helps our families feel better more than it helps us. But you never know.
2) Start early, finish early. When we're on the road, we like to be up at 6:00am, shower, breakfast, pack and on the bike by 8am (earlier if possible). It's an incredible feeling watching the world wake up from the seat of a motorcycle, and if you're planning to do big miles, the earlier you start, the earlier you can finish. As a rule, we are off the bikes before dusk, certainly sunset. Why? Well, dusk is when critters like to run out in front of bikes. The changing light can also make it harder for drivers to see you, and it's harder for you to see road hazards. Pull into a town in the late afternoon, choose a place to stay at leisure, park the bike, get a quick nap and shower, dinner early, bed by 10pm. That's a recipe for being fresh on the bike, getting in some good miles, and staying safe.
3) Earplugs. Always wear earplugs, not just to protect your hearing, but to dramatically reduce fatigue. Helmets are noisy places, especially at higher speeds on bikes without big windscreens. Your brain tries really hard to process all the wind noise and determine if there's anything important in there it needs to hear, which is an ongoing mental strain. Earplugs cut out most (not all) of the noise, and once you get used to them you can actually hear what's going around you much better. One real area of benefit is your increased ability to ear any mechanical noise coming from your bike, which is a huge safety plus. Note: we don't recommend custom earplugs with audio capability for MP3 players or phones. In our opinion and experience, they are distracting and you end up cranking the volume up to compete with wind noise and can damage your ears.
4) Use technology to regulate your body temperature. There have been tremendous advances in cooling and warming technologies for riders, so there's no need to suffer in the heat or cold weather. From Coolmax underwear that wicks moisture away from the skin, to lightweight base layers of merino wool that provide warmth with maximum mobility, you don't even need power to stay cool or warm. Of course, if you're riding in the early spring or late fall (in America), an electric vest is a very nice thing to have. We love Gerbing products. And if you need to stay cool in the summer months, we recommend a cooling vest by Silver Eagle Outfitters.
5) Inspect the bike regularly. It's critically important that you are aware of any mechanical issues your bike might have before you start it, ESPECIALLY on a long distance, solo ride. So check your bike in the morning before you start it, check it when you wipe it down when you park it for the day, check it when you fill up, when you stop for lunch, for a photo……often! The main things to check are: tires – tread ok, no cords showing, no punctures, nail heads? Chain and sprocket – any kinks, broken teeth, metal shavings? And leaks beneath the bike, any oil or anti freeze on the cases of the bike? Especially with suspected leaks, clean the bike, start it, let it sit and run for a minute, check again. Take care of your bike and it will take care of you.
6) Travel light. When we first started touring, we had a tendency to overpack. We brought all sorts of gadgets and farkles, so much stuff our bags hardly had room for a change of clothes. Now when we tour, we can go out for three weeks with one small bag. How do we do it? Well, we stick to the essentials, iPhone with a charger, wallet, maps, led flashlight, multitool, couple of pairs of underwear and socks, jeans and a few t-shirts. And a microfiber towel for cleaning visors and windscreens. And a first aid kit. And a damned good noir detective story. Call us salty, but everything else is a waste of space. Leave the crap at home! Traveling light is liberating and it takes way less time to pack and unpack the bike twice a day.
7) Paper maps and GPS We absolutely HATE GPS units attached to bikes. They're distracting and we've seen way too many close calls when people are screwing around with them instead of watching the road. This behavior can be especially dangerous in a group riding situation. Instead, we recommend getting the Google Maps (or your preferred GPS app) for your phone, and using it only when you're off the bike. And we love paper maps, because you can visualize a much greater area than the area of any GPS screen. Paper maps actually make a GPS unit far more useful, and they fit nicely in a tank bag. Also, they don't cause you to swear for 1/2 hour when a clamp comes loose and they bounce down the pavement at 70mph, unlike a GPS unit!
8) Eat smart. You know that food coma you get after lunch every day, the one you try to fight off with an espresso, black coffee or some awful energy drink? You don't want to fight that fight on a bike, so you need to think differently about what you're eating when you're riding. It's hard to resist that slice of pie when you're in some cool little diner, especially if you don't have a mate there to remind you not to eat it! We try to have a reasonable breakfast, eating heavy carbs like pancakes or potatoes in moderation. Lunch should be light, and daytime snacks should be healthy energy like fruit, granola or yoghurt. An early dinner is where we splurge – steak, pie, beers…..you're off the bike and you've got a couple of hours to digest your food before bed. Eat a big meal just before bedtime and you'll have a rough night's sleep. We usually have dinner and then go for a long walk back to the motel, maybe a swim if it's summer in the motel pool. And of course, alcohol in extreme moderation, nothing worse than a big mileage day with a hangover on board.
9) Hydrate smart. Very few of us drink enough water every day, and this is a mistake you cannot make on a motorcycle. Dehydration even in its early stages induces fatigue, and as it progresses you can get headaches, muscle pain, nausea, and pass out. None of these things are good on a bike! It sounds like a cliche, but in the warm weather, if you wait until you're thirsty to take a drink of water, you're already too late. You need to drink a liter an hour in hot weather, so plan ahead and bring enough water to supply you if you aren't near a service station. Also, don't forget that you need to drink water in the cold weather too, as conditions are typically very dry.
10) Use social media to enrich your trip for yourself and others. If you don't have a Facebook, Twitter or Instagram page, consider starting one before your trip. Friends and family will enjoy following you on your journey, seeing what you're seeing every day. A huge side benefit to this is that some of the people following you may have traveled in the same places you're touring, and can suggest places to eat or stay and things to see (as well as things to avoid) while you're there. You might even have friends come out to meet you along the way. And it's easy enough to upload photos, videos and status updates to any of these sites with your smartphone. Trust us – it will make your tour more fun not only for you, but for your social circle as well.
11) Make your emergency contact and medical information easily visible. If for some reason you become unable to speak, the people trying to help you will need to know what if any medical conditions you have, including prescriptions and allergies, and also who to call. They'll look for a medical bracelet first, but if you don't have one, how will they know how to properly treat you if you need help? The best way we've seen to deal with this is via a small pouch that sticks to the outside of your helmet, and includes a form inside that you fill out with the relevant information. This way emergency personnel can get your details before they even remove your helmet. Some riders we know just write their information down on a small piece of paper, then cover it with see through waterproof tape and stick it on the back of their helmet….we can't see spending half a grand on a new Arai and doing this though, so we prefer the little pouch 🙂
Hope you found these tips helpful. If you have any thoughts or comments, please write them below, and if you need a motorcycle in America, Canada or Australia, contact us!
Ride Safe,
Jim McDermott
[one_fourth]
[/one_fourth] [one_fourth]
[/one_fourth] [one_fourth]
[/one_fourth][one_fourth_last]
[/one_fourth_last]
[one_fourth]
[/one_fourth] [one_fourth]
[/one_fourth] [one_fourth]
[/one_fourth][one_fourth_last]
[/one_fourth_last]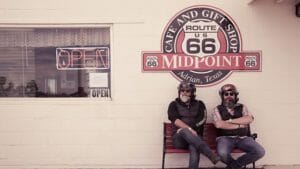 The Hairy Bikers - love them or hate them they certainly know how to plan a good road ...