Lou Reed Took His GPz For A Ride
Lou Reed left the planet on the 27th of October, 2013. Living and working in New York, I saw him around town many times over the past 30 years, keeping a low profile at hip cultural events, or just walking on the street, usually downtown. Tough, smart, suffering no fools, Reed flirted with danger at a Pro level for a good portion of his life, which likely contributed to his departure. Its feels a bit empty not having him here anymore; on some microkarmic level, just the fact that he lived here kept the flame burning, the badass old NYC that he was a reflection of.
At 19, I was obsessed with three things – girls, music and motorcycles. I wasn't yet old enough, or hip enough to know Lou Reed's work with the Velvet Underground, or his classic solo work like "Transformer" or "Berlin". As a High School Senior on Long Island in 1983 (where Lou also grew up), I had heard the live version of "Sweet Jane" from "Rock N Roll Animal", and "Walk On The Wild Side" a thousand times on local FM radio (WPLJ or WNEW of course), but I never spent money on one of his records. That changed in 1984 when Reed released the album "New Sensations", and MTV started airing the video for "I Love You Suzanne". The clip was classic 80's cheese, but the song was catchy, and Lou rode a motorcycle in it. He had appeared in some Honda Scooter ads (Hey, don't settle for walkin') which seemed awkward and forced, robbing a little bit of his cool. He looked a lot more rock and roll on a bike.
In the 80's, MTV airplay sold a lot of albums to kids like me, so I bought "New Sensations". I remember not liking most of it, thinking it was weird. But last song on side one, the title track, "New Sensations" was funky, confessional, and even a bit pastoral; weird, but in a good way. And in the last verses, Lou professed his love for his Kawasaki GPz, my dream motorcycle. In 1984, I had a poster of a GPz 550 on my wall alongside an 500 Interceptor (and, as I recall, Heather Thomas, who coincidentally, just turned 56. Christ.) I couldn't believe a rock star was singing about the GPz on a record.
A lot of rock critics (whom he almost universally despised) described Reed as a poet; certainly he's been referred to as such in many of the tributes that have appeared since the news of his passing broke. And of course, he was a poet. Lou's description of riding his GPz in "New Sensations" solidified for me everything I thought owning my own GPz might be like: solitary adventures on a bright red motorcycle, too fast to get more than a glimpse of the lives others lived far more safely, and far less interestingly. The song brought those feelings into my heart, made them almost real. "New Sensations" made me want a GPz, or really any motorcycle, so much more badly. These are the kind of emotions well written prose is supposed to stir.
"I took my GPz out for a ride, the engine felt good between my thighs
The air felt cool, it was 40 degrees outside.
I rode to Pennsylvania near the Delaware Gap, sometimes I got lost and had to check the map
I stopped at a roadside diner, for a burger and a coke
There were some country folk and some hunters inside,
Somebody got themselves married, and somebody died
I went to the jukebox and played a hillbilly song
They was arguing about football as I waved and went outside
And I headed for the mountains feeling warm inside
I love that GPz so much you know I could kiss her."
I never did get a GPz, but I got other bikes, and riding changed my life, dramatically. The fact that The Lost Adventure exists at all is due in part to this song.
Godspeed, Lou Reed, and thanks. We don't have you anymore, but we still have the songs.
Jim McDermott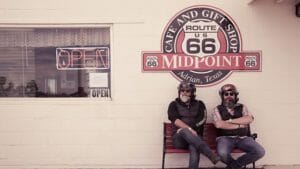 The Hairy Bikers - love them or hate them they certainly know how to plan a good road ...