A ride on Route 66 is at or near the top of many a motorcyclist's bucket list. The Mother Road is unique in the sense of nostalgia one derives while riding it; after all the heyday of Route 66 is what many Americans themselves one of the greatest times of the country's history, post World War II, pre-Vietnam. In our minds, we dream of one long road from Chicago to Los Angeles, which is what Route 66 was. What Route 66 is now is a mix of roads, all of which were official "alignments" of the road during certain periods, and they range from well maintained to nearly impassible. If you're planning to show up and just ride the road without a guide or any planning, you're in for a rude awakening, as you'll spend the next two weeks both enthralled and confused.
If you're doing the ride yourself, without a guide, you really must do some planning, and have good maps and books that tell you where to go, and how. We haven't read all of them, but we've read most of them; and these are what we consider to be the Best Books For Planning A Route 66 Trip. Amazon.com has all these books available currently. Here goes: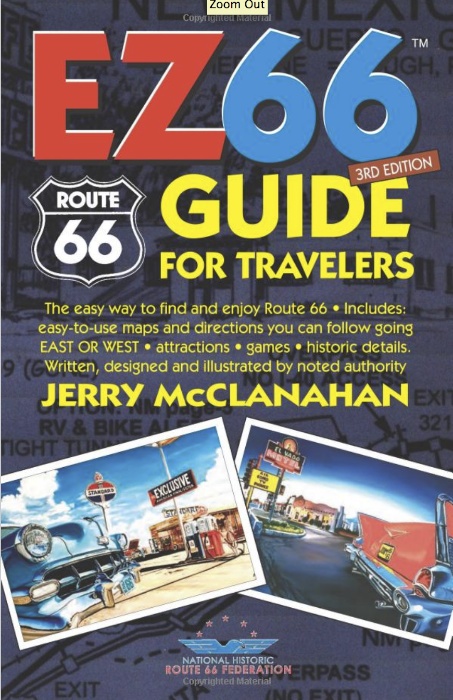 1) EZ66 Guide For Travelers, by Jerry McClanahan This book is one of our two "must buy" recommendations. Spiral bound, each page is an "old school style" illustrated map with written notes and highlights, so if you see something of interest marked it shows you and tells you right there how to get to it. We used this book to find the ruins of John's Modern Cabins, a decaying (but very cool) old 66 site. The author, Jerry McClanahan is a noted Route 66 historian and revises the book every few years, so be sure to get a current edition (at Fall 2013, the time of this writing, it's on the 3rd edition). If you're riding Route 66, do yourself a favor, purchase this book a few months before you go, and read up as you count the days until your trip. It's a retro-cool and incredibly useful tool.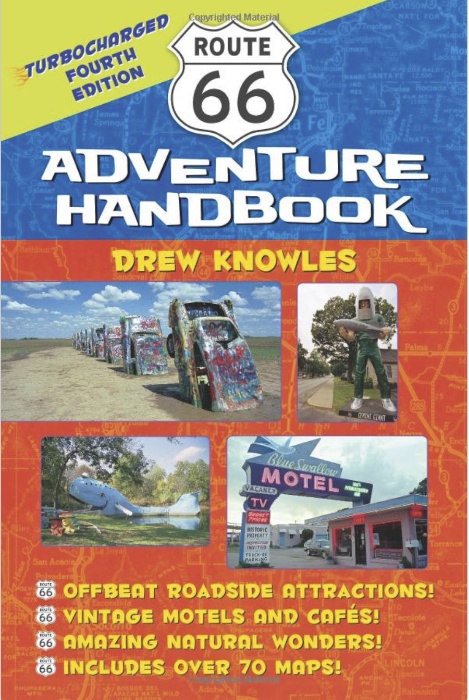 2) Route 66 Adventure Handbook, by Drew Knowles Laid out in more modern style than the EZ66 Guide, the Route 66 Adventure Handbook by Drew Knowles is more akin to travel books by Frommer and Lonely Planet, albeit far less dry. There are plenty of photos (black and white) and detailed tips about almost every attraction on The Mother Road, along with historical information and anecdotes. This is our other "essential buy" recommendation; an incredibly detailed but entertaining read. Our only knock on this book is that for the price, we wish some of the photos were in colour, as they're quite good but a bit drab solely in black and white. That said, buy it!
3) Ghost Towns Of Route 66 by Jim Hinckley and Kerrick James Route 66 is essentially a 2500 mile long archeological site, with many buildings and even whole towns fallen into disrepair or abandonment. This superb book features haunting photographs and the stories of these towns, their rise, fall and current condition. Nothing ever stays constant in these towns – animals, the elements, vandalism, and fire could consign them to oblivion at any moment. So in effect, Ghost Towns Of  Route 66 is a valuable historical document. While not large or exorbitantly priced like other coffee table books, it is nonetheless very high quality and can help you choose which of these sites you'd like to visit on your 66 tour.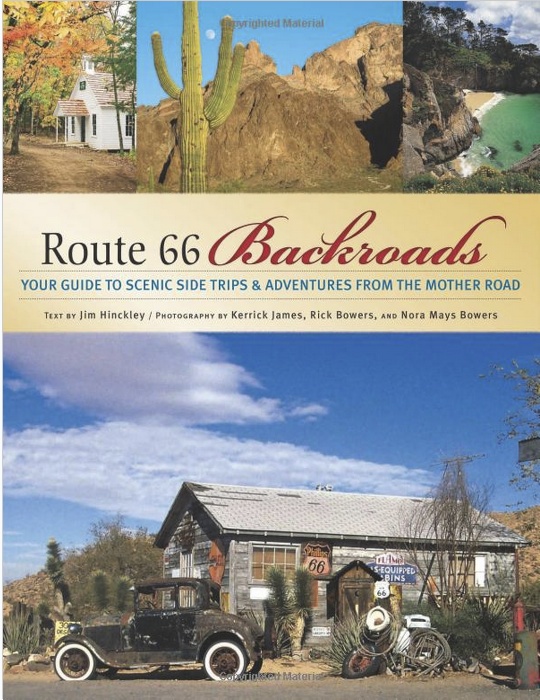 4) Route 66 Backroads by Jim Hinckley and Kerrick James, Nick and Nora Mays Bowers We've ridden Route 66 enough times to know that you find something different every time you travel it. But there are many interesting side trips not too far off 66 which can add variety to your ride, and Route 66 Backroads is an excellent resource for exploring them. Organized by State, starting with Illinois and following the Route to California, there are six or seven side trips in each section. For instance, the section on Missouri highlights the KATY  Trail System, a 240-mile recreational rail trail system (you can't ride a motorcycle on it, but if you want to park the bike and do some hiking, it's beautiful.) As in Ghosts Towns of Route 66, the photography is excellent and the text compelling. The latter portion of the book, which features the western States, has suggestions for side trips to incredible scenery. While this book is our least essential recommendation if you're planning a 66 only ride, those who believe variety is the spice of life will find much to enjoy in this book.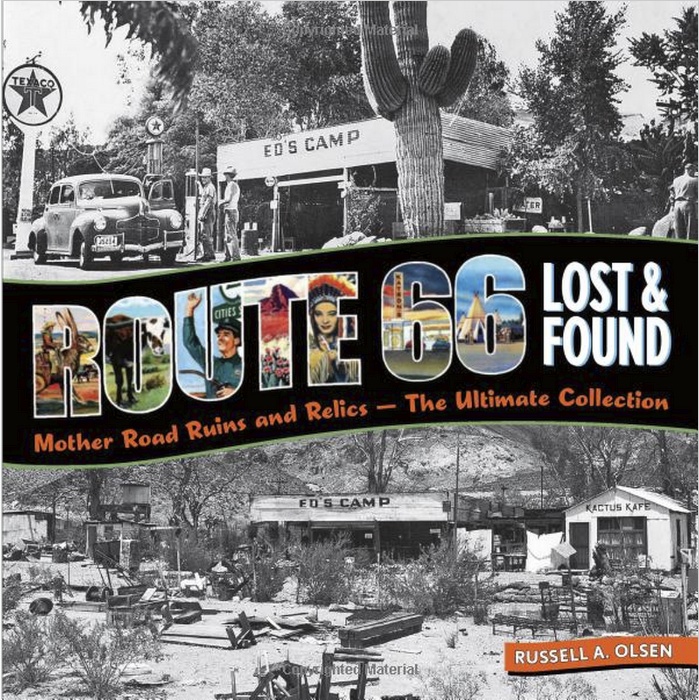 5) Route 66 Lost And Found: Mother Road Ruins And Relics: The Ultimate Collection by Russell A.Olsen This is just a really cool book with photos of many special places on Route 66 taken "back in the day", along with descriptive text and often, modern day photos which show what the sites look like now. These "before and after" shots really provide an entertaining although sometimes heartbreaking view of how things have changed over the past 80 years on The Mother Road. The superb photography will help you choose which of these sites to visit on  your own Route 66 ride.
So there you have it, our Best Books For Planning A Route 66 Trip. There are obviously dozens of books about Route 66 available, with more coming out all the time – this isn't meant to be a comprehensive guide, just a short article on which ones we've found to be the most useful. We hope you've enjoyed reading it, and by all means, if you have suggestions on other Route 66 books that you've enjoyed, please leave a comment below. Thanks! Check out our tours that do the planning for you!
Jim McDermott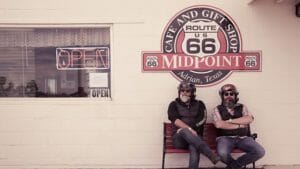 The Hairy Bikers - love them or hate them they certainly know how to plan a good road ...