Our 2011 Coast To Coast USA trip starts today in Boston, with everyone arriving from the UK, and one rider from Australia. We pickup the bikes from EagleRider Boston tomorrow at around 8:30am, then head off to NYC, the long way.
So, why leave from Boston? Well, EagleRider has a corporate office here, which means we were able to get better rental rates for the customers. Plus, we've got a great ride planned, thru Fall River along the coast to New London, where we'll ferry to Orient Point, Long Island. Eastern Long Island has some great scenery, with wineries nearly all the way to Riverhead. And we'll be riding along Ocean Parkway, eventually stopping in Coney Island for dinner and amusements. Tomorrow night, we're hanging our helmets at the Paramount Hotel in NYC, just off Times Square. Should be a great day!
And we've got another 16 after that, stopping in Chicago, Milwaukee, Jackson Hole, and San Francisco, amongst other places. We're uploading plenty of photos and videos to our Facebook and Twitter pages, plus we've got a Flickr feed – please join us and follow along on our 2011 USA Coast To Coast motorcycle tour!
The Lost Adventure on Facebook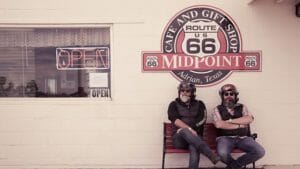 The Hairy Bikers - love them or hate them they certainly know how to plan a good road ...