Rent a Triumph Bonneville in America
httpvh://www.youtube.com/watch?v=pg5GpCL-hLQ
Interested in renting a Bonnie for a ride in America? EagleRider has the Triumph Bonneville available for rental in several locations, and we have the most competitive prices. contact us for details.
For our 2011 Coast To Coast tour, we decided to change things up a bit and add a Triumph Bonneville to the mix. Typically we tour on Harleys, which comprise the overwhelming majority of the Eaglerider bike hire fleet. Tim had a Road King for the Boston to Chicago leg of the tour, then picked up the Bonnie for the Chicago to San Francisco leg. We took the bike through a wide variety of riding conditions: cities, mountain roads, interstates, dirt road detours, thru pouring rain and scorching desert heat.
Obviously, there's a HUGE difference in feel between the two bikes – the Triumph is about half the weight of a fully loaded dresser Harley, and has a little more than half the engine displacement. In terms of acceleration and outright speed, they were surprisingly close. The touring Harleys offer much better wind and weather protection, luggage capacity, and seat comfort. The Triumph however, has wonderful maneuverability and offers a purer riding experience than the Harleys.
Why purer? The light weight, lack of bells & whistles and well, decreased comfort versus the Harleys all conspire to make the rider feel more connected to the bike, the road, and the environment around him or her. Mind you, on a longer trip and especially in bad weather, the Triumph Bonneville can feel a bit too pure! But a minimalist approach to touring can yield rewards if you're willing tolerate some inconveniences.
Have questions about our experiences riding the Triumph Bonneville? Please post your comments below.
Rent a Triumph Bonneville in America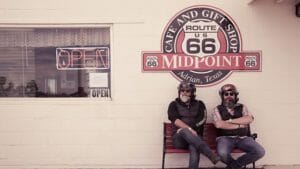 The Hairy Bikers - love them or hate them they certainly know how to plan a good road ...