Looking forward to getting your kicks, as you roll on down the highway like a bat outta hell?
Join radio DJ and Lost Adventure customer Oliver Lodge on a musical journey along the Mother Road as he evokes some of what he calls 'road emotion'.
2,3,4…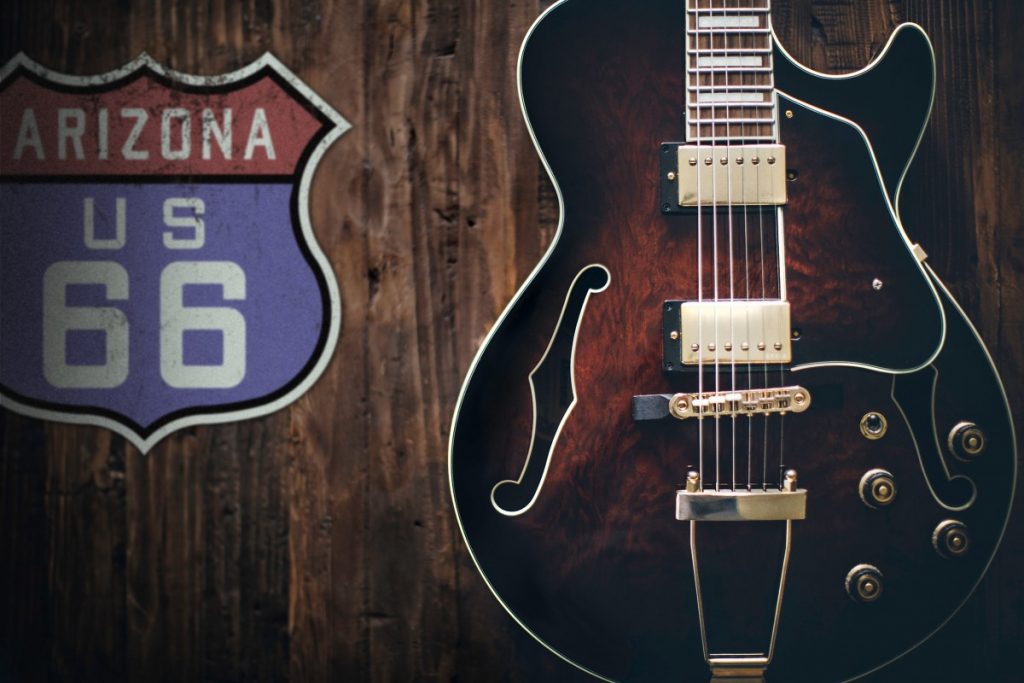 Well I have road tripped the Good Ol' USA a few times now and those wide-open plains, mountain passes and beautifully metalled roads deserve two things;
a) a big 110 cubic twin and
b) a classic rock soundtrack!
Now I was thinking I would do a Top 12, not Top 10 as we are bikers, we are not the norm, we like noise, adventure, surprises! So, you might think the obvious, yes, Steppenwolf or Chuck Berry, but then there are just so many great tracks that will just see you grin from ear to ear as you twist the throttle, hear the "potato-potato-potato" of the exhaust and set your sights on the next leg of your journey.
So, let's just quickly tell you the obvious two tracks to start you off on your ride…
First track for the Route 66 ride? Well, you just have to have the song "Route 66", which is as American as they come, but, as a curve ball I suggest that besides the original by Chuck Berry, I think the best version and just right for your ride is; The Rolling Stones – (Get your kicks on) Route 66. There are even more versions of this brilliant road song and perhaps you might enjoy an alternative take? Check out Asleep at the Wheel or Diana Krall's versions, though for me, The Rolling Stones nail the vibe to ride…
An alternate first track and one I love listening to as I set off on another day's ride just must be Steppenwolf's "Born to be wild" from that opening line "Get your motor running" and the superbly fitting "lookin' for adventure". We all remember this iconic track from the superb road movie Easy Rider and I love the version that starts with the sound of their motorcycles pulling fast off the verge as they set off on their bikes. Alternatively, other tracks from same band, same movie soundtrack could make your list, I'm thinking; The Pusher or Magic Carpet Ride, but, it just must be this as the ultimate road trip track.
Well there's your opening tracks to set you off on Route 66, and, so your off riding Route 66 and you need more classic rock, you need a whole album of road songs. Well, you cannot have a more classic slice of road trip song Americana than some Eagles and whilst "Hotel California" might well feature in your destination plans I have chosen "Take It Easy" on my Route 66 compilation.
Firstly, because that is just what you must do; take it easy, the miles will tumble, the engine will be true and you will just grin every day you ride. Secondly, because a town on Route 66 gets a front and centre mention; "well, I'm standin' on a corner in Winslow, Arizona" and if you get there, you've just got to go and stand on that corner…
A great American next, some might think, The Great American, Mr Bruce Springsteen and his ultimate road song "Born To Run". When I have road tripped America I always feel re-newed, fresh, re-invigorated, having left any woes and problems behind me as the road beckons and adventure is just around the corner. This song is essentially about running away and whilst perhaps we don't really run away, it feels great on the road, on a motorcycle with not a bill in sight! Lyrics; "At night we ride through mansions of glory in suicide machines." "Just wrap your legs 'round these velvet rims." "The highways jammed with broken heroes on a last-chance power drive." Getting onto your big twin and running away has never sounded so essential…
Here's a driving song for the day that starts with clouds or rain; "I looked out this morning and the sun was gone, turned on my music to start the day…" two more lines and then there's that driving riff. It's Boston with "More Than A Feeling" one of the most played, best loved and great road trip songs. As a man who loves lists as well as road tripping America, here's a piece of trivia; this was voted the 39th Greatest Song of All Time by VH1, a list for another day!
I think it is time for the slightly unexpected, but at the same time a great record for the road. A tenuous link is that the artist wrote this as a homage to his reaching 40 years old and looking back (a rather early mid-life crisis?) and I believe many who first road trip Route 66 are in that same mind set, you look back and then realise you need to do something epic, and then, Route 66 beckons! The track is Billy Joel with "We Didn't Start The Fire" . The trivia knowledge here is that the list of 100 events in the song are all headlines from the year of Billy Joel's birth, 1949 – did you know that?
Time for a sing-a-long, head-banging, foot tapping classic and yet probably the only tune most know from this band; Ram Jam with "Black Betty". This is a tune I turn to often, not only the epic original that is just one of those songs everyone knows but the many excellent covers that are out there. It was originally an African-American work song that pre-dates all classic rock and first came to audio with Lead Belly Ledbetter but versions out there by Tom Jones, Spiderbait and Jon Spencer Blues Explosion are all fantastic versions often vying for my attention with this, the original.
Now I am sticking to American road trip songs, but I am going to cheat a little here and say the continent of North America as that includes Canada as I want to include this classic road song from Bachman Turner Overdrive, their "Roll on Down the Highway". Yes, yes, rock aficionados, they are from Manitoba, Canada, but I have motorcycled from Seattle into Canada and back out again and the road gets you just the same and this track was just written for taking your big twin into huge epic scenery. It was written for Ford Motor Company for a planned advertising campaign, but they didn't use it, so here I am claiming it for my Route 66 road trip!
Now I think we need a long one, a 10-minute epic, no? A song that whilst it features a calamitous end, that record cover image of a roaring motorcycle is iconic and is just so right in terms of riding along the highways of America. Yes, you guessed it, Meatloaf's "Bat Outta Hell". There is of course the other 10-minute epic you could slot in here as an alternative, Freebird by Lynryd Skynryd but I thought that was a little too obvious and it would hit my "alternates" list.
ZZ Top "La Grange" , not one of the big three from the Eliminator LP that featured those hot girls in the videos but one from their classic Tres Hombres LP because of that driving very steady riff, it just gets me and gets the road. The white line passing by faster and faster as you twist the throttle and that "hmm hmm hmm" vocal, love it. Let alone the superb guitar work as the song closes, just rock steady riffage. A golden nugget of trivia, the "La Grange" that they are singing about is now affectionately known as "The Chicken Ranch" (wink, wink…)
Yes, yes, it is time for a classic rock ballard and yes, yes, it is time for something a little more recent; "I'm a cowboy, on the steel horse I ride! I'm wanted….. ". I'm sure you got it from those lyrics especially as they are just about to lead into the title. I am talking, Bon Jovi "Wanted, Dead Or Alive" pretty much the song that is considered the bands anthem. And of course, this is how you feel, you are on a steel horse, you are on Route 66, perhaps now in the Wild West and we all feel a little outlaw when road tripping America, it's the "road emotion" as I like to call it…
There are many American artists and bands I have yet to mention, but this is just a Top 12, I could run to a Top 100 but you'd get bored and you're a biker, you have your own tastes and opinions! No mention of Bob Seger, Foreigner, Guns'n'Roses, Metallica and so many more. I am going to close out with a road song that says; "there's something good waitin' down this road…." Tom Petty and the Heartbreakers "Runnin' Down A Dream". I think man who understands how we, bikers, feel, how the road takes hold of you and the excitement ahead. Great lyrics, brilliant guitar, a man "who won't back down" …
The list:
• The Rolling Stones – (Get your kicks on) Route 66
• Steppenwolf's "Born to be wild"
• Eagles "Take It Easy"
• Bruce Springsteen "Born To Run"
• Boston "More Than A Feeling"
• Billy Joel "We Didn't Start The Fire"
• Ram Jam "Black Betty"
• Bachman Turner Overdrive "Roll On Down the Highway"
• Meatloaf "Bat Outta Hell"
• ZZ Top "La Grange"
• Bon Jovi "Wanted, Dead Or Alive"
• Tom Petty and The Heartbreakers "Runnin' Down A Dream"
As I alluded to in the Tom Petty paragraph there are so many tracks that can be included in lists of songs to ride Route 66 and I feel there needs to be some honourable mentions; Lynryd Skynryd's "Freebird", Creedance Clearwater Revival's "Fortunate Son", Cheap Trick's "I want you to want me", Allman Brother's "Midnight Rider", Sammy Hagar's "I Can't Drive 55", Metallica's "Nothing Else Matters" and Bob Seger's "Turn The Page" to mention but a few. Then of course we've just touched upon the continent of North America, what about all the great music from Europe I hear you cry (yes, I know Mr Editor I had the Stones in straight away – but on an American song!), songs such as; Golden Earring's "Radar Love", Deep Purple's "Highway Star", Queen's "Don't Stop" or The Who's "I Can See For Miles" ……… Lists are endless and opinions are many.
As a DJ with an albeit modest rock show on BrooklandsRadio.co.uk, I would love your lists or tracks you consider to be the best for motorcycle touring. You can track me down and listen to previous rock shows on www.mixcloud.com/ollie900 and send me a message.
I will add, finally, whether you ride Route 66 (go on, you know you want to) or whether you take any other motorcycling road trip, ride safe, ride free and enjoy the adventure around every corner.
Oliver Lodge.
---
---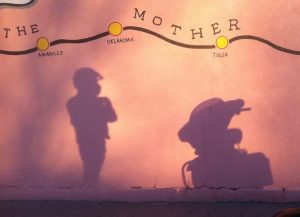 About Oliver
Rock aficionado and part time radio DJ Oliver Lodge knows his music! Check out his show 'Ollie's Rock Block' on BrooklandsRadio.co.uk every Wednesday from 8pm GMT. He has toured with The Lost Adventurer twice, is an avid motorcycle fan, races motorcycles and has written numerous online articles.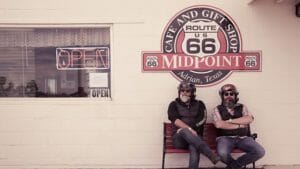 The Hairy Bikers - love them or hate them they certainly know how to plan a good road ...