Motorcycle Hire USA EagleRider Road King
We stopped into EagleRider San Francisco during the first week of February and picked up a Road King (one of our favorite bikes in the ER fleet) to head down the coast and get some pictures and video.
While we were there, we asked our friends at EagleRider SF if we could shoot video of the orientation briefing that every rider gets when hiring a motorcycle or scooter. Each briefing is specific to the bike, as the models all have slightly different features. You'll also go over the bike to check for any damage or scratches, and then sign off on the condition of the bike. James from EagleRider San Francisco shows us how to properly operate a Harley Davidson Road King in this iPhone video – click over to YouTube to watch in full 1080p:
httpvh://youtu.be/r37rqVop5Go
The Harleys operate in basically the same fashion, although some have heel/toe shifters. Also on the Harleys it's very important to understand where the fork lock is and how to operate it properly, as on most HD models you can start the bike and put it in gear even with the fork locked. If you do this, you're going for a very short ride (don't ask us how we know this!) BMW's and the Honda Goldwing in particular have many control buttons, make sure to find out what they do.
If this briefing seems a little…brief, it's because we've ridden tens of thousands of miles on EagleRider Road Kings, so we asked James to give us the short version. Whatever bike you hire from EagleRider, make sure to pay close attention to the briefing and ask any questions you need answered. The last thing you want is to be at a fuel station somewhere wondering what grade of petrol to put in the bike, or seeing a light blinking on your dash and not knowing what it is. Even if you're a highly experienced motorcyclist, we urge you to make the most of your briefing.
Going to San Francisco and need a bike? Contact us. We'll get you the most competitive rate and handle all the details.
Click here to view EagleRider San Francisco on Google Maps
Motorcycle Hire USA EagleRider Road King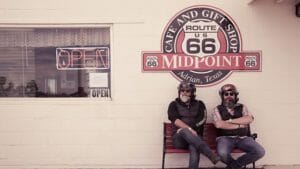 The Hairy Bikers - love them or hate them they certainly know how to plan a good road ...