EagleRider San Francisco Motorcycle ride over the Golden Gate Bridge
San Francisco is an incredible city, one of our favorite places to begin a motorcycle tour. It's probably the most motorcycle friendly city in the US, it's just so much fun to ride around town. The scenery is unforgettable: Fisherman's Wharf, Chinatown, Alcatraz, cable cars, Lombard Street and the undulating hills that Steve McQueen raced around in the classic 60's film Bullitt.
But the most impressive sight of all is the Golden Gate Bridge, which connects San Francisco with Marin County. It's been in so many films that you can close your eyes and picture it….if you're on a motorcycle in San Francisco, you've got to ride across the Golden Gate. On our recent trip to San Francisco, we picked up a Road King 103 at EagleRider, hooked up a GoPro HD Hero 2 camera to the tank, and crossed the bridge as the sun was setting. We found a incredible viewing point in the Marin Headlands, probably the best place in the city to watch the sun set.
The on-bike video starts on the San Francisco side and includes directions to this incredible spot – enjoy! In the last couple of minutes of the clip, you'll see a bit of the Golden sunshine that California is famous for. Click over to YouTube to watch in full 1080P HD.
httpvh://youtu.be/3zoLx6rrHjk
The Lost Adventure is an Official EagleRider Tour Operator, with truly competitive prices. If you're interested in hiring a bike from EagleRider, or joining one of their spectacular guided tours, contact us!
EagleRider San Francisco Motorcycle ride over the Golden Gate Bridge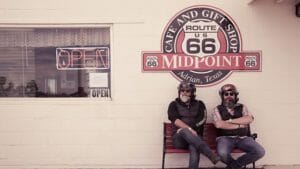 The Hairy Bikers - love them or hate them they certainly know how to plan a good road ...