Great Motorcycle Destinations: Alice's Restaurant
There are plenty of great places to ride to in the San Francisco area, and one of our favorites is Alice's Restaurant. This is one of the most famous motorcycle destinations in Northern California (really, in the whole of the USA) for good reason. All roads that lead to it are highly entertaining to ride; there are almost always a pack of really interesting bikes parked outside; and inside, the menu and decor are "motorcycle-centric". We've stopped into Alice's every year on our Laguna Seca MotoGP tour, which we've been doing since 2005. The food is always great, the staff friendly, and it's really nice after a spirited ride to sit outside in the sun and soak it all in.
The video below is our typical route to Alice's, headed north on Highway 1 to Highway 84 (we ride up on 1 from Monterey). Highway 84 is very easy to find on Highway 1, it's south of Half Moon Bay and north of Pescadero Beach. Once you get on Highway 84, it's a fifteen mile, 22 minute ride to Alice's Restaurant. And what a ride it is! Highway 84 starts with nice open sweepers, but about ten minutes into the ride it gets very twisty as you climb through the hills towards Alice's. The road is well populated so you have to mind your speed, but it's really fun, especially on a Harley, which is a bit more work. Here's some Go Pro Hero 2 footage we shot on-bike, riding an EagleRider San Francisco Road King to Alice's (click over to YouTube to watch in 1080P HD):
httpvh://youtu.be/yAJJdV3dYMg
To view this ride on Google Maps, click here
If you're going to San Francisco and plan on renting a bike, we highly recommend visiting Alice's Restaurant for a meal. On weekends, the place is mobbed, breakfast during the week it's fairly quiet. You can head out from San Francisco for breakfast at Alice's, hang out and be back in SF in time for lunch…or better yet, get back to Highway 1 and head towards Big Sur.
The Lost Adventure is an Official EagleRider Tour Operator. For the most competitive rates on EagleRider bike hire and tours, contact us! 
Great Motorcycle Destinations: Alice's Restaurant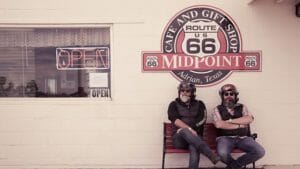 The Hairy Bikers - love them or hate them they certainly know how to plan a good road ...