Ride A Motorcycle Across America
(Click here to read our "50 Tips For Riding A Motorcycle Across America")
(Want to ride coast to coast for an incredibly low hire rate? Click here for our special)
I've ridden across the USA on a motorcycle twice. You get to know America really well from the saddle, it's a unique perspective. Of course you get to know the bike you're riding really well too. The first time was on a BMW K1200LT, my own bike. I rode from New York to Las Vegas; by the time I got to Texas, I hated that motorcycle. The bike was too big, the motor too small, and I shipped it home when I got to Vegas, rode a Harley Road King the rest of the way to San Francisco. Sold the BMW when I got back to New York.
Second time I rode Coast To Coast was this past summer, on a tour we ran for EagleRider, from Boston to San Francisco. I was on a Harley Electra Glide this time, and I loved that bike. We were doing big miles on some days, and on a couple we didn't see a twisty road from breakfast to dinner. I had plenty of fun throwing that bike around in the curves too, make no mistake. The Electra Glide was the right machine for that ride. For every ride, there's a right motorcycle. Tim did half the ride on a Road King, the other on a Triumph Bonneville. Chalk and cheese, but he loved both bikes.
You get to know yourself really well too, on a long trip like Coast To Coast. When you're in the saddle for a couple of weeks, crossing a continent, listening to your own thoughts inside your helmet day after day, it changes you a bit. You start to think and see differently after a while. It's kind of hard to put into words and describe it to people, although when you encounter others who've done similar journeys, they know what you're talking about, without you even having to say it.
We put together a video of a bunch of the things we saw on our Coast To Coast ride, you can watch it below (or click over to YouTube to watch it in HD). It doesn't show everything, but it will give you taste of what it's like. And who knows…..maybe that's all you'll need to get the hunger, and plan your own Coast To Coast ride! If you do, and you need a bike, please contact us, and we'll get you sorted.
Jim
httpvh://youtu.be/ywPm4CL5nuY
Ride A Motorcycle Across America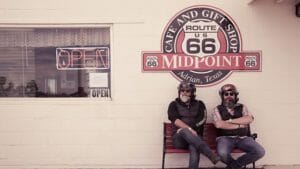 The Hairy Bikers - love them or hate them they certainly know how to plan a good road ...