Great Motorcycle Destinations Eureka Nevada
One of our favorite biking destinations in America is the historic mining town of Eureka, Nevada. Highway 50, nicknamed "America's Loneliest Road" goes right through it, so if you're riding 50 it's a perfect place to stop and get some gas and lunch, or better yet to spend the night. As you can see from the photos, the town is very well preserved, with many of the old buildings intact. Not all of them are still occupied, and many are condemned, but you really get a feel for what it was like in the late 1800's gold rush era. Founded in 1864, Eureka came to be due to the discovery of gold in the area. At one time, more than 10,000 people lived in Eureka, there were 125 saloons and 25 gambling houses, but when the gold ran out, so did Eureka's prosperity. Less than 2,000 people live in Eureka today.
Walking down the streets of this incredible town, you'd never guess there are that many people in the area. It's quiet in Eureka, with an almost haunted feel. The people are friendly yet fiercely independent. There's a distinctly frontier type of spirit here, and many residents own and carry firearms, which somehow seems to make sense. Eureka still feels like the old west.
We like to get up early and walk around town taking photos. Eureka is never exactly overrun with tourists, but the town has a very special feeling while it's still asleep. We typically stay at the Eureka Best Western Hotel, located right on the main street. There are a few choices for food, we've tried the La Fiesta Mexican Restaurant, the Owl Club Casino and the Eureka Cafe. All have good food, nothing that's going to get a Michelin star, but you'll fill your belly and go to sleep with a smile on your face. We've had way too many drinks in the Keyhole Bar, but a word to the wise: things can get a bit weird there late at night.
Raine's Market, located in Eureka has a very good website with a listing of many of the buildings and their histories – click here to view it.
To view Eureka in Google Maps, click here. 
To view a selection of photographs we've taken in Eureka, click here.
The Lost Adventure is an Official EagleRider Tour Operator, with the most competitive prices. If you want to hire a bike, or do one of EagleRider's superb Guided Tours, contact us and we'll get you sorted!
– Jim
Great Motorcycle Destinations Eureka Nevada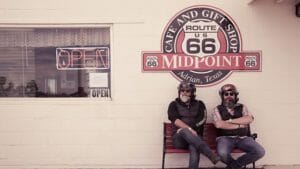 The Hairy Bikers - love them or hate them they certainly know how to plan a good road ...