Union Hotel Los Alamos California
The Pacific Coast Highway is one of THE bucket list motorcycling roads in America, for good reason. With hundreds of miles of dramatic ocean views and twisty cliffside tarmac, PCH is one of those roads you want to ride again and again. We've ridden from Los Angeles to San Francisco on this road at least a dozen times, and each time it's a treat.
There's a common misperception that the PCH and Highway 1/101 follow the coastline the entire way from LA to SF, but in fact, there are portions where you have to ride inland, away from the coast. One of these segments is after Santa Barbara (the wharf there is a great place to stop for lunch), where typically we avoid Lompoc and the Vandenburg Airforce Base. We take Highway 154, which there's an exit for off the 101 not long after Santa Barbara, and ride the Chumash Highway/San Marcos Pass Road. This is a great bit of road that brings you right into one of our favorite stops off the PCH, the town of Los Alamos, California, and the Union Hotel.
Founded in 1876, Los Alamos is in the middle of California wine county. Stagecoaches made overnight stops in the area, and the Union Hotel opened in 1880 to serve these travelers. This rustic, Victorian style hotel is incredibly well preserved, and has an excellent bar with most of the original fixtures intact. It's a great place to stop in for a cold drink on your way up the coast, or better yet, for an overnight stay. The food is very good and the selection of local wines is excellent. If you're riding the Pacific Coast Highway, we highly recommend you stop into the Union Hotel, and take a walk around Los Alamos.
Paul McCartney and Michael Jackson fans are in for a treat at the Union: the video for their 1983 hit duet "Say Say Say" was filmed in the Hotel, and you can actually stay in the room where Paul had a shave! Watch below and you'll see the Union Hotel is a major character in the video.
The Lost Adventure, Ltd. is an Official EagleRider Tour Operator with the most competitive rates on guided and self drive tours and bike hire. Contact us!
Visit the website for the Union Hotel in Los Alamos, California
To see the Union Hotel on Google Maps, click here.
Here's Paul McCartney & Michael Jackson's 1983 hit, "Say Say Say", shot at the Union Hotel:
httpvh://youtu.be/aLEhh_XpJ-0
A short clip of us leaving Los Alamos on a 2011 tour:
httpvh://youtu.be/PKuQL9PIAGg
Don't be surprised to see classic cars on the streets of Los Alamos!
Union Hotel Los Alamos California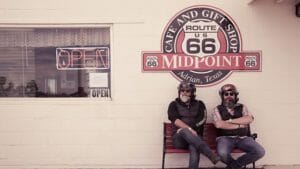 The Hairy Bikers - love them or hate them they certainly know how to plan a good road ...